Making A Baby Tiger Applique With A Stencil
When I was young and all my friends were getting married and starting families I made a quilt for each new baby that came along.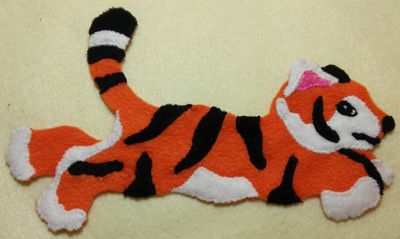 Baby tiger applique made from the stencil

How to Make an Applique for a Baby's Quilt

Not too long ago a friend of mine shared with me that her son used the quilt I made for him in the nursery for his baby daughter. I was so touched! Gifts that come from a store cannot compare to the ones that come from your hands.
So I picked up the tradition of making quilts for new babies when I got the news that a co-worker of mine is expecting. Here's just a part of the project. To see the finished quilt go to Making A Quilt With Zoo Baby Stencils for pictures and a quick re-cap of the whole project.
If you want to see the first chapter in this quilting adventure, just go to Using Multi-Layer Stencils to Create Appliques. That's where you'll find the zebra baby!
I'm using a multi-layer tiger stencil to create an applique and then attaching the applique to the quilt. Easy right? And of course I have the patterns here for you to work with. Just scroll down and print them out!
First, you'll want to look over the patterns and overlays and decide on the colors you want to use and collect the necessary fabrics. Each overlay has a color suggestion but that is only a guide. It's all up to you.
As you look at the pages of the stencils below you'll see how they can be cut out of fabric just as easy as they can be filled with paint (and without the watery mess!).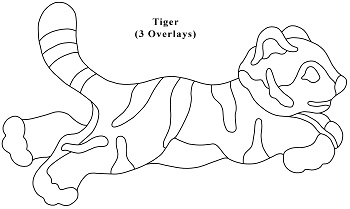 Outline of the Tiger Stencil

How to Use a Multi-Layer Stencil for an Applique

This is the first page of the tiger stencil or you can consider it the pattern guide. Start by cutting this image out around the edges to use as a guide for the placement of the fabric clippings of the different overlays.
As you can see from this page, the stencil has three overlays. So, first we need to address how creating an applique from a stencil is different from painting with one. When you paint a stencil it's on a piece of paper or furniture or wall…you get the idea. It has a backing or base. So you need to establish a base of fabric for the applique. That's easy! Obviously it's going to be one of the overlays so look at your pattern and decide which one will be the best fit to be your base and cut the outline of this image from the color of fabric suggested on that overlay.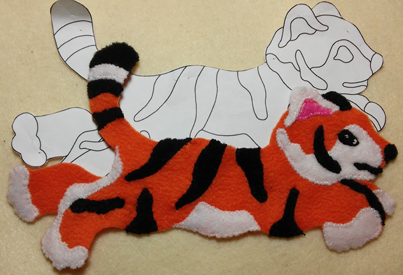 Baby tiger applique made from the stencil (cut-out outline shown in back)

Setting Up the Applique Foundation

Overlay 1 is the best option for the base fabric. The color suggestion on Overlay 1 is Straw but I used a bright orange fleece. Since it's a baby blanket a bright color is a great option.
Here is a picture of the clipped outline and the completed applique so you can see the start and finish side-by-side. I pin the pieces onto the base fabric as they are cut out using the pattern to guide me.
This tiger stencil applique has a friend so don't miss out on Making A Baby Elephant Applique With A Stencil!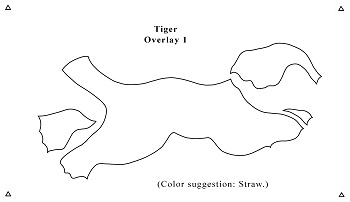 Tiger Stencil Overlay 1

Building the Applique

Here is Overlay 1 and as I said above, the bright orange for this Overlay was used to cut out the base fabric so you can put this page to the side – you don't have to cut anything out from it!
You may be wondering why I added Overlay 1 here if you don't have to use it! Well, I included it here in case you would like to use it for a stencil project. Maybe you want to make a quilt and then paint the elephant stencil on a lamp shade for a theme room. Anyway, it helps to see the whole pattern.

Tiger Stencil Overlay 2

This is Overlay 2 and as you can see it represents the white fleece for his belly, paws, ear, face and tail.
Just a side note: I did all of this by hand. It's a lot of small work for a machine but mostly I set up projects like this to have a few moments here and there to sit relax and stitch. I guess it's like some people like to curl up with a good book. I like to curl up with a fun quilting project.
Hey! Don't miss out on all the other Free Stencils we have here!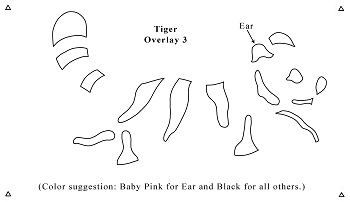 Tiger Stencil Overlay 3

Finishing the Tiger Applique
This is the last overlay and it includes the ear with all of the black stripes.
Sometimes I used the thread to stitch in some details. For the tiger stencil applique I stitched a couple of white lines in the eyes to give the appearance of a glossy gaze.
Don't forget to check out the finished quilt at Making A Quilt With Zoo Baby Stencils for the pictures and a quick re-cap!
Thanks so much for joining me! Enjoy!