All The Animal Stencils You Can Roar About!
Wild about animals? Well, we have the animal stencils just for you - everything from tame and housebroken to wild and wooly!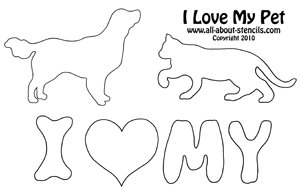 This is the place for you to find all the creatures you love. From the fur babies that sleep at the foot of your bed, to the farm animals you grew up with to the leapers and crawlers that may not have ever been on your pet list.
But let's start with the most familiar - our best friends! I put together some Free Dog Stencil Patterns for you to create a world of goodies. You'll find eight different breed profile silhouettes with a paw and bone and of course the "I heart My" for you to mix and match. Enjoy!
You didn't think I forgot you feline fanatics! Never! Don't miss these Free Cat Stencils!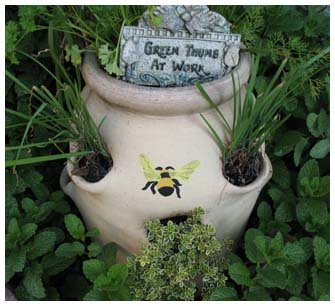 Add a little whimsy to your garden with this adorable Bee Stencil Planter. Like most artists and crafters you most likely have many interests. If gardening is one of them why not bring some of your painting talents to your flower beds. Gardens and critters are a natural match so why not paint animal stencils on pots for plants? Here's a great way to do just that!
If you are looking for some prehistoric fun then consider painting a few dinosaurs and some jungle plants in your project. If that sounds good then dont miss these Free Dinosaur Stencil Patterns.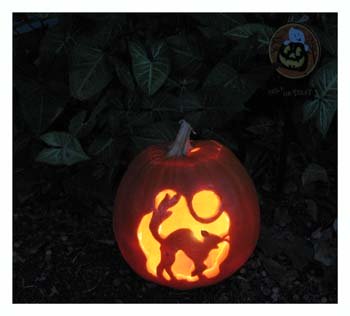 The Black Cat is a natural part of any Halloween decoration. Sleek and sinister they add a little mystery to the holiday. We have one for you to use to create a pumpkin masterpiece and you can find it free at Cat Stencils for Pumpkin Carving along with other cat stencils that will work well with all of your other Halloween Crafts. You'll also find a Cool Cat Stencil that was borrowed from the Cool Stencils Collection.
If the animal stencils that you are seeking belong on a farm then check out the Cow Stencil and her friends.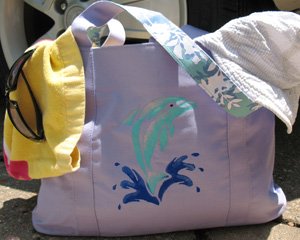 Dolphins have emerged as a creature much loved for its intelligence and seemingly human-like emotions. Not to mention their eagerness to develop relationships with us.
Well, if you love them like I do, then I know you'll really appreciate the free Dolphin Stencil and the project that I have prepared for you. Next time you head out to the beach make a splash with this cute tote bag. Pile all your surf gear inside and make all the other fish in the sea jealous. OK – Enough of the fishy business. Let's get started!
Oh wait! Since we're talking about sea life don't forget all the project ideas for a Fish Stencil.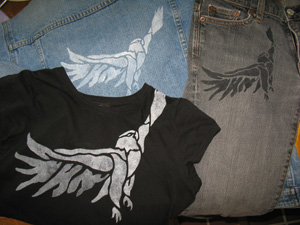 It's the 4th of July and I was inspired to do something Patriotic. So I designed this Eagle Stencil and now I want to share him with you!
He's just one of many Free Animal Stencils that we have on this web site so come back often and keep an eye open for new arrivals.
Also, I want to show you how I re-designed a pair of jeans, an old jean jacket and a black T-Shirt. Watch the video below to follow me through painting the jeans.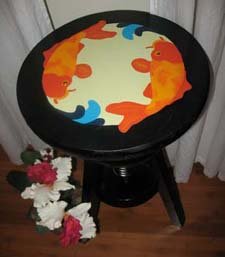 I love working with small pieces. They are easy to maneuver and when finished it's easier to find a space for them in your home. Plus, I don't know about your house but small stools like this one come in handy for an extra seat or a step up to the top shelf. I couldn't believe it when my neighbor had it out for the trash. What a find! All it needed was a quick spray paint base of black paint and my canvas was ready to go.
Since the top of the stool was round I was inspired to find a stencil to mimic the shape. This Yin Yang Koi Stencil fit the bill. Not to mention the color choices that work well with the fish stand out so well on the black background. Make sure your surface is not too glossy or slick that the paints for the stencils will bead up. If you are spray painting a base coat, use a flat paint (you can always come back with a clear coat for protection and beauty when the project is finished). If your item already has a base coat and it's glossy, just lightly sand it down with a fine sand paper.
Well, follow the links for more details on this fishy animal stencils project!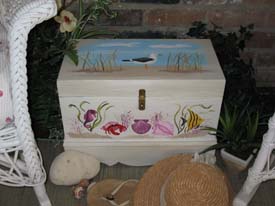 There's nothing like the sound of the waves and the rush of the sea air to wash away all our worries. It's no wonder that a underwater theme is so popular. Join me as I invite a little of the beach into my home by repainting a small chest with these Sea Stencils. Don't miss the animal stencils below where you'll find these designs.
This was an old fishing gear chest that my father built back when I was a little girl. Because of those memories and because my father made this little chest I could never bear to part with it. However, I could bear to part with the army green color he had painted it. So I stated to transform it with an off white base and them swept light tan brush strokes over the whole thing to give it that wind swept sandy look.
The top has a seagull to bring home the beach theme and below him along the front are his underwater pals. All were painted using the stencils available in the book below. They are mostly multi layer stencils which give you a more detailed image than a single layer stencil.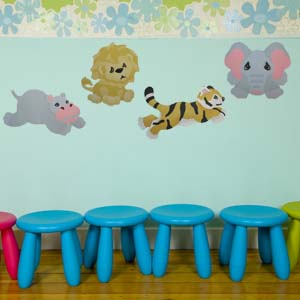 Decorating for children is so much fun. It gives us an opportunity to do more than design – we get the chance to create a fantasy!
A neighborhood Nursery School asked me to add some animal stencils to their small classroom like these giraffe and Tiger Stencils. They wanted pictures to help teach and stimulate the little minds. Taking into account the sky blue walls and the flower border used as a chair rail molding, I decided that the Zoo Babies Wall Stencils would be the perfect match.
The Zoo Babies Book (available below) also includes a cute little Monkey Stencil.

We are thrilled to introduce our selection of downloadable and Printable Stencils. Instant gratification at its finest! You don't need a special printer - these designs are specially formatted to print straight from your home computer on standard letter sized paper. Once downloaded, you will have your complete stencil booklet with patterns and instructions. Just click, buy and print!
The books below have a variety of Animal Stencils. Each book will come to you as a downloadable pdf file in your e-mail. Just check your e-mail after purchase for the link to connect to your file and print or save. It's that easy!
All designs can be adjusted to fit your project size. Instructions are included. Pages are 8.5" x 11".
If you'd rather get your Stencil Books in Print, just click the blue button below each book.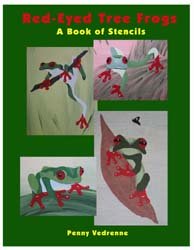 Red-Eyed Tree Frogs
This book contains 4 cute Red-Eyed Tree Frogs for you to paint in your next project. Bring a little of the rain forest to your home. There are 37 pages in this pdf file which includes the stencils of all 4 frogs (each has 5 overlays) and complete instructions.
Price: $9.95
To get this Book in Print for just $19.95 click here: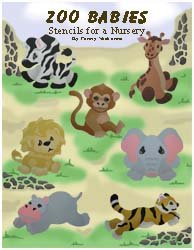 Zoo Babies: Stencils for a Nursery
This collection includes 7 animal stencils - an Elephant, a Giraffe, a Hippo, a Lion, a Monkey, a Tiger and a Zebra.
This purchase is of a PDF file with 40 pages.
Price: $9.95
To get this Book in Print for just $19.95 click here: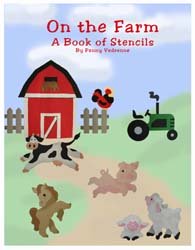 On the Farm
With these animal stencils you can create the perfect barn yard setting for your little one. This collection includes 9 designs- a Cow, a Chicken, a Pig, a Sheep, a Lamb, a Horse, Fence, a Barn and a Tractor.
This purchase is of a PDF file with 40 pages.
Price: $9.95
To get this Book in Print for just $19.95 click here: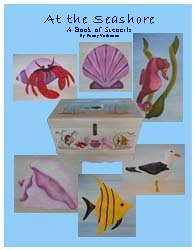 At the Seashore
Aaaahhhh...the lazy days of summer at the beach. This collection includes 6 animal stencils - a Fish, a Crab, a Seagull, a Conch Shell, a Scallop Shell and a Seahorse.
This purchase is of a PDF file with 32 pages.
Price: $9.95
To get this Book in Print for just $19.95 click here: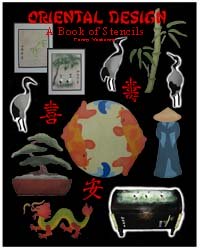 Oriental Designs: A Book of Stencils
This collection includes 16 designs including 3 animal stencils - Chinese Dragon, Bamboo, Oriental Figure with Coolie Hat, Ying Yang Koi, Bonsai Tree and 3 Cranes plus 10 Chinese Symbols (Eternity, Friendship, Happiness, Harmony, Long Life, Peace, Prosperity, Tranquility, Truth and Dragon.
This purchase is of a PDF file with 40 pages.
Price: $9.95
To get this Book in Print for just $19.95 click here: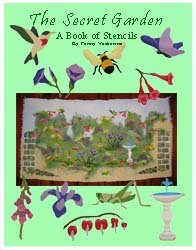 The Secret Garden
Create your own private garden retreat. This collection includes 12 designs including 4 animal stencils -fountain, bleeding heart, iris, bee, butterfly, foxglove, grasshopper, hummingbird, trumpet flower, morning glory, stone wall and stove path.
This purchase is of a PDF file with 51 pages.
Price: $9.95
To get this Book in Print for just $19.95 click here:
And hey! Don't forget that I (and everyone else) want to see what you have done with your Animal Stencils. Just click on Stenciling Projects to get your masterpiece showcased here on this web site. Won't that be exciting! Or if you have any questions or want to share information join in on the Stencil Blog. Well, I hope to hear from you soon.
Happy Stenciling,
Penny
P.S. Would you like to build a web site like this one and turn a passion into a business? Well, if I did it, you can too! Don't think that you have to be a web designer and know all about computer codes and complicated html stuff. I didn't. With Solo Build It! it's easy and they have the tools in place to help you build pages and teach you how to create a successful web site. Want more information? Just click on Powered by Solo Build It! here and watch a cool video that will explain everything. I know you'll get excited like I did.
Well, here's that clothing stencil project video I promised you. Enjoy!
---
Return to Home Page from Animal Stencils.