Free Dinosaur Stencil Designs!
Everyone knows about dinosaurs, but no one has ever seen one. These dinosaur stencil patterns will be a great discovery when added to your art projects!


Just right click on the stencil and select print or save if you're on a PC or drag it into a document if you're on a MAC. And don't miss the video below!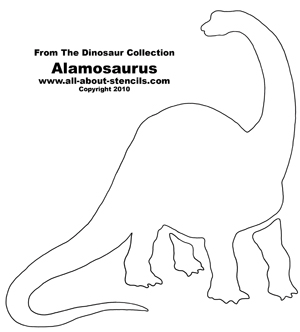 Millions of years ago, long before there were people, there were dinosaurs. Dinosaurs were one of several kinds of prehistoric reptiles that lived during the "Age of Reptiles."
Dinosaurs are fascinating for so many reasons. Perhaps most of all because of the questions we have about their lives and extinction. I hope these dinosaur stencil designs find a place in your prehistoric art creation.
The largest dinosaurs measured over 100 feet (30 m) long and up to 50 feet (15 m) tall. The smallest dinosaurs were about the size of a chicken. But most dinosaurs were in-between. I tried to give you a variety of dinosaur stencil patterns in case you were looking for a serious lizard or a Barney type lovable creature.
Dinosaurs dominated the Earth for over 165 million years during the Mesozoic Era, but mysteriously went extinct 65 million years ago.

The term dinosaur was coined by the English anatomist Richard Owen in 1842 from the Greek terms meaning "terrifying lizard."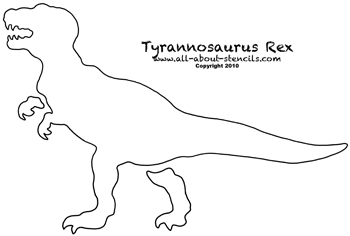 Most dinosaurs were peaceful plant-eaters. They had leaf-shaped teeth for chopping and mashing tough plant materials. Fierce meat-eating dinosaurs had long sharp claws for attacking their prey. They sliced into their victims with their sharp pointed fangs.
Working with paper stencils like this free dinosaur stencil has a few advantages. You can adjust the size of your paper stencil to fit the size of your project. Just take the page to a copier and reduce or enlarge. Then cut out the stencil openings. It's that easy and you can't do that with a plastic stencil.
Are you new to working with paper stencils? If so (or even if not) you should know that you can prepare your paper stencils so that they can be used again and again. Yeah! That's right. The one you just printed can become a long term free stencil. It's easy. Do you have some of that clear, wide packing tape? Just use it to run even strips covering all of the paper surfaces before you cut out the stencil. Burnish or rub the tape down to get the air pockets out. That's it.
For more on working with paper stencils see our article on Stencil Downloads.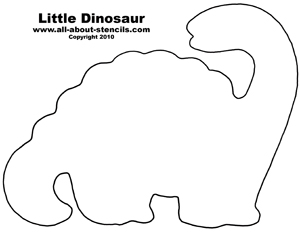 If you think you're going to become a downloadable stencil fanatic then get yourself some clear shelf liner paper to cover your stencils before cutting them out. It's so much easier and it's really not expensive at all. You'll love the ease this provides.
By the way, I like to do just the top side of the paper. If the bottom is slick it can encourage paint to bleed under the stencil and smudge your surface. The underside may get wet when you wash it but just let it dry and you can flatten it back out by storing it in a book.
If this free dinosaur stencil was just what you were looking for then don't miss these Cool Stencils and the Stencil Print Free lineup we have of all the free stencils with plans.
Please take the time to view some of our other Stenciling Ideas and projects.
And hey! Don't forget that I (and everyone else) want to see what you have done with your Dinosaur Stencil. Just click on Stenciling Projects
to get your masterpiece showcased here on this web site. Won't that be exciting! Or if you have any questions or want to share information join in on the Stencil Blog. Well, I hope to hear from you soon.
Happy Stenciling,
Penny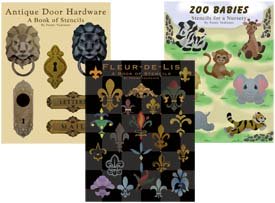 P.S. If you're looking for Stencil Designs (like these), that you can open at your computer, print now or save (No waiting on the Mail Man - they arrive in your e-mail right after purchase), just check out The Stencils Store. Instant gratification at its finest! You don't need a special printer - these designs are formatted to print straight from your computer on standard letter sized paper. Once downloaded, you'll have your complete stencil booklet with patterns and instructions. Just click, buy and print!
If you'd rather get your Stencil Pattern Books in Print, then visit our Printer's Book Shop for the same designs in book format that will be mailed to you. You'll find all of the stencils used as examples throughout this site.
Would you like to build a web site like this one and turn a passion into a business? Well, if I did it, you can too! Don't think that you have to be a web designer and know all about computer codes and complicated html stuff. I didn't. With Solo Build It! it's easy and they have the tools in place to help you build pages and teach you how to create a successful web site. Want more information? Just click on Powered by Solo Build It! and watch a cool video that will explain everything. I know you'll get excited like I did.
Well, I wanted to share with you this little video I made of the fun we had when I got the kids working with stencils. Enjoy!
---
Return to Home Page from Dinosaur Stencil.
Return to Animal Stencil from Dinosaur Stencil.