Scrapbooking Ideas and Stencils
For people who like to create like you and me, paper crafts such as Scrapbooking are a joy! Paper is easy to work with and it has so much potential.




Crafting offers us an escape into our own little world and it's the greatest stress buster. Most of all, preserving our lives and dearest memories in a creative way is very inspiring.
This page is the freeway to all of the projects on this site that use stencils in conjunction with Scrap booking. So let's get started.
A stencil mask is a negative of a stencil. Where stencil patterns allow paint to be applied to open areas, a mask blocks areas so that paint can outline the images. Here is a great video to let you see it in action. The video has some great ideas for all of your paper crafts like scrapbooking and card making. You'll be inspired by Tim Holtz!
You'll often find that different crafts have much to offer each other. Scrapbooking and Stamping can compliment the craft of stenciling with some exciting results (and vice versa). I found this wonderful video tutorial from Club Scrap that will show you a couple of new creative ways to work with stencils. I hope you get as much inspiration from it as I did.
And hey! Don't forget that I (and everyone else) want to see what you have done with your Scrapbooking and Stencils. Just click on Contact Me to get your masterpiece showcased here on this web site. Won't that be exciting! Or if you have any questions or want to share information join in on the Stencil Blog. Well, I hope to hear from you soon.
Happy Stenciling,
Penny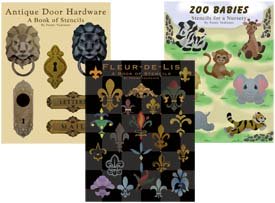 P.S. If you're looking for Stencil Designs (like these), that you can open at your computer and print now or save (No waiting on the Mail Man), just check out our Stencils Catalog for your next project.
If you'd rather get your Stencil Pattern Books in Print, then visit our Printer's Book Shop for the same designs in book format that will be mailed to you. You'll find all of the stencils used as examples throughout this site.


---
Would you like to build a web site like this one and turn a passion into a business? Well, if I did it, you can too. Don't think that you have to be a web designer and know all about computer codes and complicated html stuff. I didn't. With Solo Build It! it's easy and they have the tools in place to help you build pages and teach you how to create a successful web site. Want more information? Just click on Powered by Solo Build It!and watch a cool video that will explain everything. I know you'll get excited like I did.
---
Return to Home Page from Scrapbooking.