Stenciling Ideas and Project Details
Are you looking for stenciling ideas to get your creative mastermind working? Well, as an artist or crafter you know that the start of any decorative painting project is inspiration. Here are some plans to motivate you to create!




By the way, the stencils used here are either free printable stencils that you can find right here on this web site or they are from our exclusive selection of Downloadable and Printable Stencils. These designs are unique and provide more detail but just like the free ones you can get them now!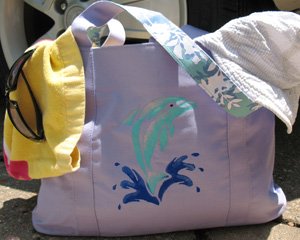 Let's get started with an easy stenciling ideas project that you can finish in just a few minutes but end up with a Summer Time Tote Bag that will accompany you to the beach or pool for years to come. Best yet the Dolphin Stencil is free and I added a video for you to watch as I paint this project.
Well, if you love dolphins like I do, then I know you'll really appreciate the free dolphin stencil and the project that I have prepared for you. Next time you head out to the beach make a splash with this cute tote bag. Pile all your surf gear inside and make all the other fish in the sea jealous. OK – Enough of the fishy business.
Pssst! Don't miss the video at the bottom of the page for a great project idea!
By the way, If you are looking for a gift for a mother-to-be or expecting a new arrival yourself, I did this same tote bag with a Free Teddy Bear Stencil. I hope this gets you thinking about how you can create for any occasion by simply changing out the stencil and rethinking your stenciling ideas.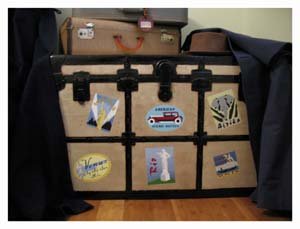 You just have to see the transformation that this trunk went through! It started out with a layer of pickled blue over the entire trunk. What a shame it was. But it's come to life with a little paint and imagination during this decorative painting project. I bet you can find an old trunk like this at your local thrift store (or maybe there's one in your attic). Wouldn't it make a great side table or coffee table? Not to mention the extra storage it will provide.
This project may get you thinking about Faux Painting Stenciling which can be anything from painting a small ant on a table top to creating a full size garden mural on a wall. You have to try out these stenciling ideas!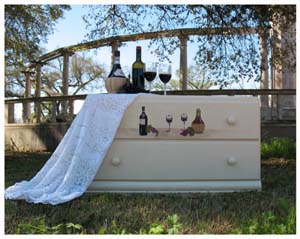 Hand painted furniture always adds a touch of class. This was just a simple dresser ready for the trash and now it's a functional piece that would be a welcome accent in any room. Imagine it in your home with an arrangement of wine bottles, stem glasses and lit candles on top - warm and inviting.
Get the details of how this Wine and Grape Stencils sideboard was done and make one for your home!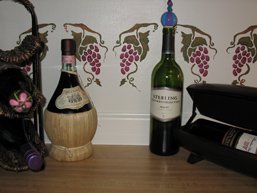 The first thing that comes to mind when we hear "stencils" is an image painted on a wall. There is so much more to stencil art but we are actually working with walls on this stenciling ideas project and stenciling wall borders using a free grapevine stencil.
Actually I'm going to do this on video so follow along with me in person. There's so much more I can share with you this way! But after watching, don't miss on all the other tips on this page. It's packed with helpful hints and ideas. And of course don't forget to print your free grapevine stencil down below.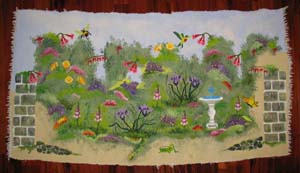 Art on the Floor? No! Really! You better believe it! I mean what are you going to do after you've covered your walls with all of your Stenciling Ideas Masterpieces and you're still hungry to create more art? You just have to see how this beautiful Flower Stencils and Garden Theme Rug was created from a cheap, stained Thrift Store find!
Let's mix things up with our stenciling ideas! Above we talked about painting the walls and then I showed you a garden theme rug. What do you think about painting a garden theme mural on your wall. I know it sounds intimidating but it's easy with stencils. And besides there's a video for you to watch as every step is detailed in action. So don't miss Stencil Wall Murals!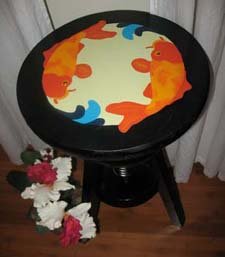 I can't wait to show you this quick and easy project of painting Koi Stencils on a stool. I love working on small items like this because they are so easy to handle. And I bet you're well aware of how handy stools like this can be for an extra seat or a step up to the top shelf. Well, this one sits pretty until it's needed. Don't miss this inspiring tale!
This page only has a small sample of the stenciling ideas we came up with that involve furniture painting so don't miss the ones we couldn't put here!
All of these projects are done with stencils so if you are not comfortable with freehand painting don't worry! Stencils help us get images into our project without having to be a Leonardo de Vinci or Picasso (if that's your style).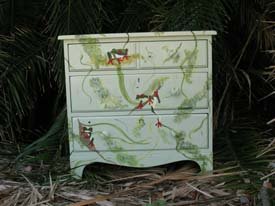 Hear the light rain falling and the soft sounds of the tropical birds calling. Breathe in the cool, moist, fresh air of the Rain Forest. You don't have to travel either. I want to show you how I invited these wonderful little Red Eyed Tree Frog Stencils to help me bring the Rain Forest into my home.
Toile is very beautiful but ornate and detailed which makes it difficult to design a stencil for this pattern. Of course we've done just that and to top it off, provide it to you for Free! So check out the Toile Stencils and find out what stenciling ideas we came up with for it!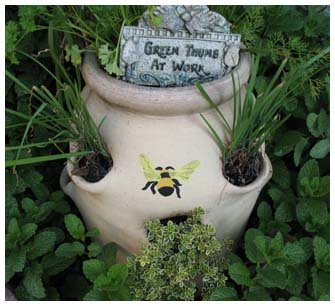 Add a little whimsy to your garden with this adorable Bee Stencil Planter. Like most artists and crafters you most likely have many interests. If gardening is one of them why not bring some of your painting talents to your flower beds. Here's a great way to do just that!
We consider stencils to paint on furniture, clothes and walls but have you ever thought about creating custom art with stencils? Well, here are stenciling ideas to get you inspired to paint your very own Stencil Art Prints!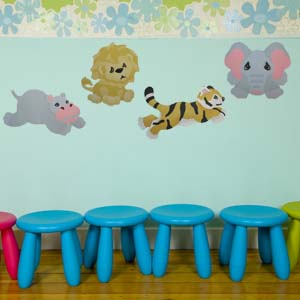 Decorating for children is so much fun. It gives us an opportunity to do more than design – we get the chance to create a fantasy!
A neighborhood Nursery School asked me to add some animal images to their small classroom. They wanted pictures to help teach and stimulate the little minds. Get the details on this project at Lion and Tiger Stencils - Oh My!
Looking to make a splash? Then don't miss this cute trunk makeover with Sea Stencils.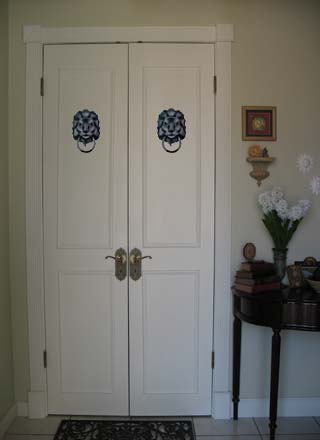 This project uses Trompe Loeil Stencils to dress up a pair of Coat Closet Doors in a Foyer. Believe it or not, when these doors started out they were plain brown stained doors with no adornment. This project offers you two great stenciling ideas.
OK, you may have picked up on the Lion Head Door Knockers as being the Trompe Loeil images that were stenciled on but guess what? The gold lock plates behind the door knobs are also stenciled images. Come see how you can transform an old door into a work of art!
Trompe Loeil is an art technique involving realistic imagery in order to create the optical illusion that the objects appear in three dimensions, instead of actually being a two-dimensional painting.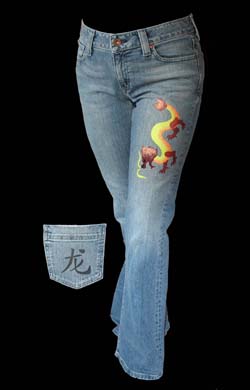 OK… We've stenciled on furniture and doors. Now it's time to get inspired to Jazz up your wardrobe. Check out how a Dragon Stencil was used to make a unique pair of jeans from an old pair that had been hanging in my closet. This stenciling ideas project will inspire you to explore the many ways you can use your creativity with stencils and stenciling ideas.
If you are really excited about revamping your clothes with stencils then don't miss this project where I paint an Eagle Stencil on a pair of jeans, a black t-shirt and an old jean jacket. There's even a video for you to follow along with me. And best of all, the stencil is free!
One last thing! You know it's great to get the kids involved in arts and crafts because it's been said to help them develop and learn. So check out the Crafts for Kids before you go!
I just added this new stenciling project for Making a Stenciled Evening Bag. It involves a little sewing but is actually pretty easy and look at the results!
I hope you find some inspiration with these stenciling ideas and decorative painting projects. Most of all I hope you see how the art you create can personalize your home. Have fun and create some art with stencils!
And hey! Don't forget that I (and everyone else) want to see what you have done with your paint stenciling. So, submit your Stenciling Projects
to get your masterpiece showcased here on this web site. Won't that be exciting! Or if you have any questions or want to share information join in on the Stencil Blog. Well, I hope to hear from you soon.
Happy Stenciling,
Penny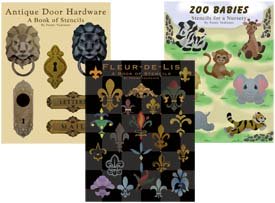 P.S. We are thrilled to introduce our selection of Stencil Designs. Instant gratification at its finest! You don't need a special printer - these designs are specially formatted to print straight from your home computer on standard letter sized paper. Once downloaded, you will have your complete stencil booklet with patterns and instructions. Just click, buy and print!
If you'd rather get your Stencil Pattern Books in Print (like these) then visit our Printer's Book Shop for a large variety of stencil collections. These books are easy to follow and come with complete instructions. You'll find all of the stencil designs used as samples throughout this site.
Would you like to build a web site like this one and turn a passion into a business? Well, if I did it, you can too. Don't think that you have to be a web designer and know all about computer codes and complicated html stuff. I didn't. With Solo Build It! it's easy and they have the tools in place to help you build pages and teach you how to create a successful web site. Want more information? Just click on Powered by Solo Build It! and watch a cool video that will explain everything. I know you'll get excited like I did.
Oh wait! Here's that great stenciling ideas video I promised you. Don't forget the free stencil by clicking on the Eagle Stencil Link in the right column. Enjoy!
---
Return to Home Page from Stenciling Ideas.