Graffiti Art Stencils!@#$%
Want to join the Street Art Movement? Then try these Graffiti Art Stencils!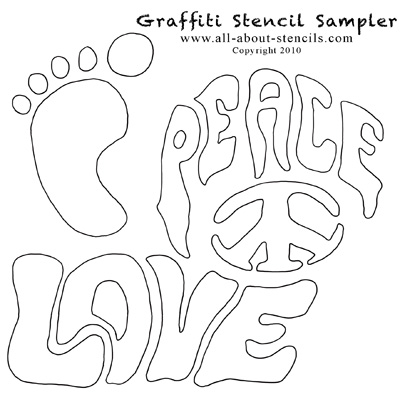 Welcome to a culture of integrating an environmental, social, political or conceptual message into art. Graffiti is the name for images or lettering scratched, scrawled, painted or marked in any manner on property (usually without the owner's consent which is considered vandalism and is punishable by law in most countries). Graffiti is any type of public markings that may appear in the forms of simple written words to elaborate wall paintings.
I put together a few examples of graffiti art stencils for you. As you can tell, my social message falls more along the lines of Peace, Love and Joy. You know...Don't worry, Be Happy! Enjoy!
By the way, if you need a stencil to help with the words check out Graffiti Fonts for a couple of free stencils.
Disclaimer: Please do not use these graffiti art stencils on any planes, trains, automobiles or buildings unless you own them or have received the written consent from the owner. Sorry! I just had to say that. I hope you got a laugh and I hope you are really not planning any vandalism.

Graffiti has existed since ancient times, with examples dating back to Ancient Greece and the Roman Empire. Graffiti back then had different connotations than it carries today. Ancient graffiti displayed phrases of love declarations, political rhetoric, and simple words of thought compared to today's popular messages of social and political ideals.
Graffiti has evolved into a pop culture existence creating a lifestyle that remains hidden from the general public. Graffiti can be used as a gang signal to mark territory for gang-related activity. In modern times, spray paint, normal paint and markers have become the most commonly used materials.
The controversies that surround graffiti continue to create disagreement between law enforcement and graffiti artist looking to display their work in the public forum. There are many different types and styles of graffiti and it is a rapidly developing art form whose value is highly contested, being reviled by many authorities while also subject to protection, sometimes within the same jurisdiction.



Graffiti Art Stencils make use of a paper, cardboard, or other media to create an image or text that is easily reproducible. The desired design is cut out of the selected medium and then the image is transferred to a surface through the use of spray paint or roll-on paint.
The process of stenciling involves applying paint into the stencil openings to form an image on a surface below. Sometimes multiple layers of stencils are used on the same image to add colors or create the illusion of depth. For more about this, go to Multiple Layer Stencils.
The other benefit of stencils is that they allow you to duplicate an image and get exactly the same results every time. If you need more information on this topic then get to What is Stenciling?
Originally, the term graffiti referred to the inscriptions, figure drawings, etc., found on the walls of ancient sepulchers or ruins, as in the Catacombs of Rome or at Pompeii.
I hope you like the idea of printing stencil art designs right from your computer. If you do, don't miss out on the many other free stenciling patterns we have to offer.
Here's a cool little video for you to see graffiti stencil art in action. What I like about this is that it can get you thinking about changing the walls inside your home (and it made me laugh). I hope you enjoy it!


If you liked the video than click over to Graffiti Stenciling for two more.
Hey! Don't forget that I (and everyone else) want to see what you have done with your graffiti art stencils. Just click on Stenciling Projects to get your masterpiece showcased here on this web site. Won't that be exciting! Or if you have any questions or want to share information join in on the Stencil Blog. Well, I hope to hear from you soon.
Happy Stenciling,
Penny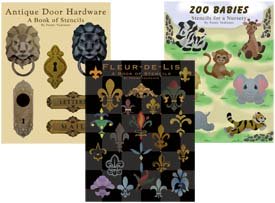 P.S. We are thrilled to introduce our selection of downloadable and printable Stencil Designs. Instant gratification at its finest! You don't need a special printer - these designs are specially formatted to print straight from your home computer on standard letter sized paper. Once downloaded, you will have your complete stencil booklet with patterns and instructions. Just click, buy and print!
If you'd rather get your Stencil Pattern Books in Print, then visit our Printer's Book Shop for the same designs in book format that will be mailed to you. You'll find all of the stencils used as examples throughout this site.


Would you like to build a web site like this one and turn a passion into a business? Well, if I did it, you can too! Don't think that you have to be a web designer and know all about computer codes and complicated html stuff. I didn't. With Solo Build It! it's easy and they have the tools in place to help you build pages and teach you how to create a successful web site. Want more information? Just click on Powered by Solo Build It! and watch a cool video that will explain everything. I know you'll get excited like I did.
---
Return to Home Page from Graffiti Art Stencils.
Return to Stencil Designs from Graffiti Art Stencils.