Graffiti Fonts and Free Stencils
Graffiti Fonts and Graffiti Art Stencils are a big part of the urban art movement. These stencils are for putting messages to your art.


Letter stencils are a handy way to put words to art when you're not quite comfortable with freehand painting. Also, Stenciling Letters creates a string of letters consistent in size and shape. Not that changing font size is unfamiliar in graffiti fonts and lettering but if that's what you are trying to achieve, stencils make it happen.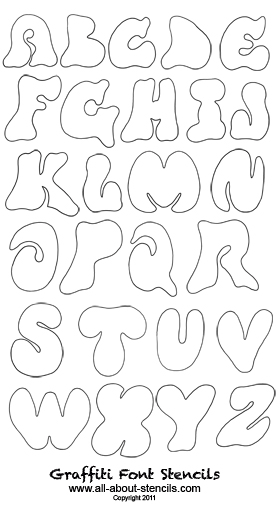 Graffiti Art is a unique form and though many would not even consider art but refer to it as vandalism, you can't help but admire the talent that created some of what's out there.
For those of us that aren't comfortable with hand painting in this style but want to create art that looks like real graffiti, I would like to suggest Graffiti Stenciling as an alternative. Stencils allow us to put images in place and then we can use our imagination to embellish and compliment the design with our own flair.
Using Graffiti Art Stencils is one way of getting the look and feel of real urban art. Also, I think you may find something to your taste in the other Cool Stencils we have to offer.
Hey! Don't forget that I (and everyone else) want to see what you have done with your graffiti fonts and stencils. Just click on Stenciling Projects
to get your masterpiece showcased here on this web site. Won't that be exciting! Or if you have any questions or want to share information join in on the Stencil Blog. Well, I hope to hear from you soon.
Happy Stenciling,
Penny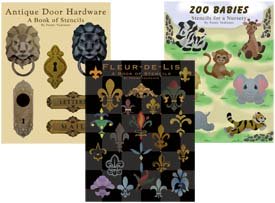 P.S. We are thrilled to introduce our selection of downloadable and printable Stencil Designs. Instant gratification at its finest! You don't need a special printer - these designs are specially formatted to print from your home computer on standard letter sized paper. Once downloaded, you will have your complete stencil booklet with patterns and instructions. Just click, buy and print!
If you'd rather get your Stencil Pattern Books in Print, then visit our Printer's Book Shop for the same designs in book format that will be mailed to you. You'll find all of the stencils used as examples throughout this site.


Would you like to build a web site like this one and turn a passion into a business? Well, if I did it, you can too! Don't think that you have to be a web designer and know all about computer codes. With Solo Build It! it's easy. They have the tools to help you create a successful web site. Want more information? Just click on Powered by Solo Build It! and watch a cool video that will explain everything. I know you'll get excited like I did.


---
Return to Home Page from Graffiti Fonts.
Return to Stencil Designs from Graffiti Fonts.