Fun Crafts for Kids!
Every time I break out the arts and crafts for kids projects, I'm always amazed at how their own creativity and imagination takes over to carry us in new directions that I could not have dreamed.


That's the beauty of introducing children to art. They are not afraid to splatter paint or try new things. They are not worried about getting it right the first time. Of course, they don't even consider if they are going to make a mess or not. They play and experiment and that is the very essence of art!
Check out this great video I made of my young girlfriends stenciling on T-Shirts. We had a blast and as usual they threw in some surprises for me.


Every chance I get I challenge the kids with art. I know in my life having the ability to enter my own little world that I create with paint and imagination has motivated and inspired me in so many ways. I am thankful that I was encouraged in arts and crafts from a young age and I want to inspire children today to find their creative side and nurture it. That's why I created this Stencils for Kids Department.
By the way, I'm no great artist. Yeah, I get by but that's not the point. I'm not talking about the ones that were born with a silver paint brush in their hands. I'm talking about the rest of us who need a little encouragement to create. That's why I am passionate about stencils. You can paint pictures without having to be an expert in proportion. Stencils get us started. Where we take it from there is up to us.
I bought these T-shirts in packs at the dollar store so that was very inexpensive and I was able to buy enough so the girls has several shirts they could make. They had a great time and so did I!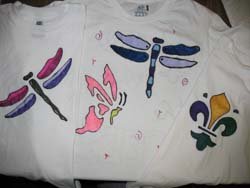 Well, the kids had such a good time with the t-shirts that they wanted more. So, I created a new tradition with a t-shirt decorating event during a Football Tailgating Party. It was great! You know the adults stand around and chat, cook, eat and party but the kids are bored.
Here's a great crafts for kids idea to get them involved. They can do football or mascot themes or just any old image. And best of all we did this with fabric markers and regular Sharpies so it wasn't as messy as paints. Just watch this video about how to create your own t-shirt decorating event (just click on the text or the picture).
By the way, you can get the butterfly and dragonfly (and many others) on our Free Stencils page.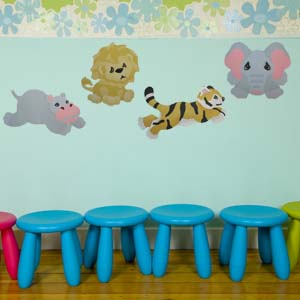 Crafts for Kids could be the arts and crafts you do with them or the art you create for them. Here's a project about decorating a room with Childrens Wall Stencils of Zoo Animals.
Decorating for children is so much fun. It gives us an opportunity to do more than design – we get the chance to create a fantasy!
A neighborhood Nursery School asked me to add some animal images to their small classroom. They wanted pictures to help teach and stimulate the little minds. Get the details on this project at Lion and Tiger Stencils - Oh My!
For more about decorating for a newcomer check out the ideas at Wall Stencils Nursery and see how painting a mural or adorning the walls with pictures from a theme can create a wonderful place to grow. And of course Stencils for Nursery has ideas about the many different ways to decorate for the wee ones.
This is just the start of what arts and crafts for kids is all about. I have a long list of projects that I want to put into their creative little hands. And I'll be writing about it so you can bring the same projects into your home. Enjoy the fun! Enjoy the Laughter!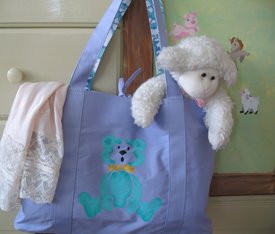 Preparing for a new arrival? Maybe you want to make a gift for a new mother? Here's a cute Teddy Bear Stencil and a few crafty ideas for you. And the stencil is free!
A popular form of crafts for kids are Face Paint Stencils. It's the latest craze for any event with kids. Stencils for Face Painting can be a wonderful addition to any event or party or it can be the center purpose. These two articles offer free stencils to get your party started!
Let's face it most crafts for kids are for girls more than boys. But it's just as important to get them into the arts too. So, I just added two topics that I think will motivate them. Check out the car stencil and the Cowboy stencils (you'll find free stencils on each page).
We are thrilled to introduce our downloadable and Printable Stencil Books. Instant gratification at its finest! You don't need a special printer - these designs are specially formatted to print straight from your home computer on standard letter sized paper. Once downloaded, you will have your complete stencil booklet with patterns and instructions. Just click, buy and print!
The books below are just a small sample of all we have to offer but these are full of crafts for kids stencils. Each book will come to you as a down-loadable pdf file in your e-mail. Just check your e-mail after purchase for the link to connect to your file and print or save. It's that easy!
Click on any Book Cover Image for Project Ideas.
All designs can be adjusted to fit your project size. Instructions are included. Pages are 8.5" x 11".
If you'd rather get your Stencil Books in Print, just click the blue button below each book.
On the Farm
With these crafts for kids stencils you can create the perfect barn yard setting for your little one. This collection includes 9 designs- a Cow, a Chicken, a Pig, a Sheep, a Lamb, a Horse, Fence, a Barn and a Tractor.
This purchase is of a PDF file with 40 pages.
Price: $9.95
To get this Book in Print for just $19.95 click here: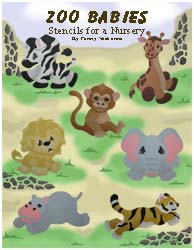 Zoo Babies: Stencils for a Nursery
This collection includes 7 crafts for kids stencils - an Elephant, a Giraffe, a Hippo, a Lion, a Monkey, a Tiger and a Zebra.
This purchase is of a PDF file with 40 pages.
Price: $9.95
To get this Book in Print for just $19.95 click here: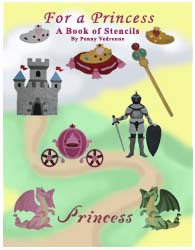 For a Princess
This collection includes 7 crafts for kids designs- Royal Carriage, Knight in Shining Armor, Castle, Dragon, Sceptre, Tiara and Pillow plus the word "Princess."
This purchase is of a PDF file with 40 pages.
Price: $9.95
To get this Book in Print for just $19.95 click here: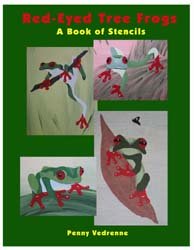 Red-Eyed Tree Frogs
This book contains 4 cute Red-Eyed Tree Frogs for you to paint in your next project. Bring a little of the rain forest to your home. There are 37 pages in this pdf file which includes the stencils of all 4 frogs (each has 5 overlays) and complete instructions.
Price: $9.95
To get this Book in Print for just $19.95 click here:
And hey! Don't forget that I (and everyone else) want to see your arts and crafts for kids projects with stencils. Just click on Stenciling Projects
to get your masterpiece showcased here on this web site. Won't that be exciting! Or if you have any questions or want to share information join in on the Stencil Blog. Well, I hope to hear from you soon.
Happy Stenciling,
Penny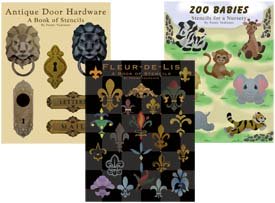 P.S. If you're looking for Stencil Pattern Books in Print (like these) then visit our Printer's Book Shop for a large variety of stencil collections. These books are easy to follow and come with complete instructions. You'll find all of the stencil designs used as samples throughout this site.
Would you like to build a web site like this one and turn a passion into a business? Well, if I did it, you can too. Don't think that you have to be a web designer and know all about computer codes and complicated html stuff. I didn't. With Solo Build It! it's easy and they have the tools in place to help you build pages and teach you how to create a successful web site. Want more information? Just click on Powered by Solo Build It! and watch a cool video that will explain everything. I know you'll get excited like I did.
---
Return to Home Page from Crafts for Kids.