Kids Craft Ideas for Designing T-Shirts with Stencils
If you're looking for great kids craft ideas that will keep those little creative minds busy, I've got one for you.


I planned this one for a Football Tailgating Party. You know, the adults hang out for hours anticipating a game. We cook and eat and drink and chat... But what about the kids? They're bored! So, I made this fun arts and crafts for kids scheme with stencils and some inexpensive t-shirts and it was a hit. I put it all in a video to get you started quick because of course time is of essence, right?




I just can't tell you enough how much the kids loved this. And really, we had to go to the store and buy more t-shirts because they ran out and still had more ideas flowing. They made me promise that we will do this for every game and now I'm the before game kids crafts planner. It's OK because I don't mind a bit. I think I had more fun than the kids but don't tell anyone.
Don't miss out on the Free Stencils that I used in the video. You can re-size them to whatever t-shirt size you are working with. And don't forget to cover them with clear shelf liner before you cut out the openings so that you can use them again and again.
If you want to know more about stenciling on fabrics just click over to our How To Garment Stenciling Page. You'll find many tips and hints about how to paint and stencil on all sorts of fabrics.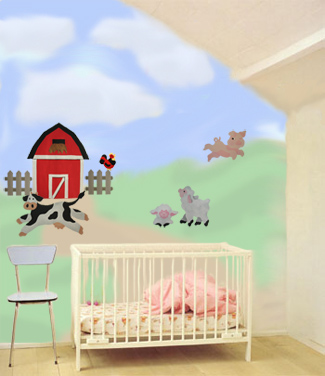 If you are decorating for a wee little one then don't miss this section on Stencils for Nursery. You'll find ideas about creating Stencil Wall Murals and much more.
It's so exciting to plan for a new arrival and with Childrens Wall Stencils it's easy to create a world of imagination for them to grow up.
And hey! Don't forget that I (and everyone else) want to see what you have done with kids craft ideas (or any of your stenciling arts and crafts for that matter). Just click on Stenciling Projects
to get your masterpiece showcased here on this web site. Won't that be exciting! Or if you have any questions or want to share information join in on the Stencil Blog. Well, I hope to hear from you soon.
Happy Stenciling,
Penny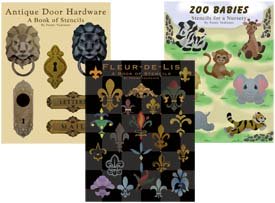 P.S. If you're looking for Stencil Pattern Books in Print (like these) then visit our Printer's Book Shop for a large variety of stencil collections. These books are easy to follow and come with complete instructions. You'll find all of the stencil designs used as samples throughout this site.
Of course, if you want stencil designs that you can open at your computer and print now or save (No waiting on the Mail Man). Just check out our Stencils Catalog for your next project.
Would you like to build a web site like this one and turn a passion into a business? Well, if I did it, you can too. Don't think that you have to be a web designer and know all about computer codes and complicated html stuff. I didn't. With Solo Build It! it's easy and they have the tools in place to help you build pages and teach you how to create a successful web site. Want more information? Just click on Powered by Solo Build It! and watch a cool video that will explain everything. I know you'll get excited like I did.
---
Return to Home Page from Kids Craft Ideas.
Return to Crafts for Kids from Kids Craft Ideas.