Toile Stencils
Toile stencils are rare! It's my mission is to motivate you to create with stencils. So, with this free toile stencil I want to introduce you to several different design styles that are out of the ordinary.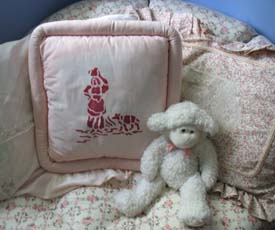 You must be looking for stencils that are not just the ordinary. Great! Because that's exactly what I'm trying to introduce here. For more like this one I hope you look at our Art Nouveau Stencil and the Victorian Art Stencils . Each page has free printable stencils as an introduction to that style.
Toile de Jouy, usually abbreviated to "toile", is a type of decorating pattern consisting of a white or off-white background on which a repeated pattern depicting a fairly complex scene, generally of a pastoral theme such as a couple having a picnic by a lake.
The pattern portion consists of a single color, most often black, dark red, or blue. Greens, browns and magenta toile patterns are less common but not unheard of as well as background colors other then white or off-white.
Toile is most associated with fabrics (curtains and upholstery in particular), though toile wallpaper is also popular. Toile can also be used on teapots and bedding or any other decorative item even clothing.
Toile originated in France in the late 1700s. In the French Language, the phrase literally means "cloth from Jouy-en-Josas", a town of north-central France. Although it has been continuously produced since then, it experienced a marked upsurge in popularity around the year 2000.
Most commonly a Toile Stencil would be used as a wallpaper pattern so if this is what you are planning look into the information at Wall Stencils for tips on how to do that. But if you're not ready to take on walls and just want a small Toile stencil as a compliment then keep browsing here because there are many stenciling ideas to keep you busy.
Generally a stencil is a template used to draw or paint identical images every time it is used. Because paint or color is placed on a surface through openings, stencils simplify the image. Since toile depicts fairly complex scenes it is very difficult to design a stencil for toile. Therefore, toile stencils are rare!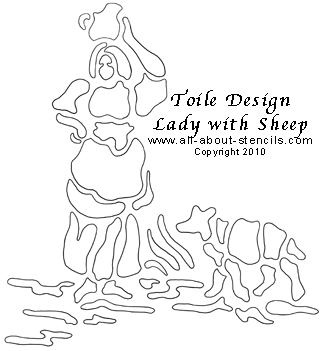 However, I have designed a toile stencil for you to try in your next project. Again, this is a very simple design as far as this style requires. The pillow above was painted with this design. The colors I used were Crimson and Peony. I started by stippling on a thin layer of Crimson and finish up with the Peony. These two colors gave the toile design a little more depth. I hope you enjoy using this pattern in a project of your own.
As I mentioned above, there are a few stencil artists who have designed toile stencils. Below are a couple of example from The Stencil Library (find a link in the ad below the image). You'll find a couple more in their collection beside these two examples.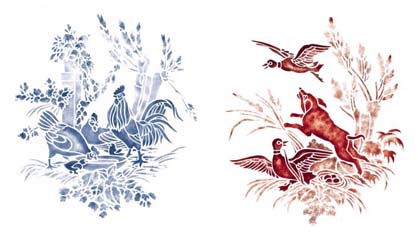 If you liked the idea of a free stencil to try don't miss our Free Stencils to Print!

And hey! Don't forget that I (and everyone else) want to see what you have done with stencils. Just click on Stencilng Projects to get your masterpiece showcased here on this web site. Won't that be exciting! Or if you have any questions or want to share information join in on the Stencil Blog. Well, I hope to hear from you soon.
Happy Stenciling,
Penny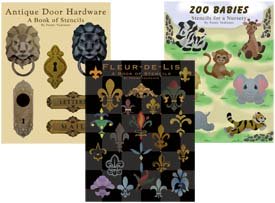 P.S. If you're looking for Stencil Designs (like these), that you can open at your computer and print now or save (No waiting on the Mail Man), just check out our Stencils Catalog for your next project.
If you'd rather get your Stencil Pattern Books in Print, then visit our Printer's Book Shop for the same designs in book format that will be mailed to you. You'll find all of the stencils used as examples throughout this site.
Would you like to build a web site like this one and turn a passion into a business? Well, if I did it, you can too! Don't think that you have to be a web designer and know all about computer codes and complicated html stuff. I didn't. With Solo Build It! it's easy and they have the tools in place to help you build pages and teach you how to create a successful web site. Want more information? Just click on Powered by Solo Build It! and watch a cool video that will explain everything. I know you'll get excited like I did.
---
Return to Home Page from Toile Stencils.
Return to Stencil Designs from Toile Stencils.