Free Eagle Stencil Re-Designs a Pair of Jeans!
Here's a Free Eagle Stencil for you to transform an old pair of jeans into a new cherished part of your wardrobe. Of course you can go hog wild like I did and paint him on a T-Shirt or an old Jean Jacket.


It's the 4th of July and I was inspired to do something Patriotic. So I designed this Eagle Stencil and now I want to share him with you!
He's just one of many Free Stencils that we have on this web site so come back often and keep an eye open for new arrivals.
Also, I want to show you how I re-designed a pair of jeans, an old jean jacket and a black T-Shirt. Watch the video below to follow me through painting the jeans.
This is not the first project we've done with painting stencils on to clothing. Go to How To Garment Stenciling for more details on this fun hobby.
If you like this stencil art project I know you'll find plenty of things to do with our Cool Stencils. They're all free stencils so check 'em out!
Or maybe you're here because you are wild about animals in general. Well, if that's the case then don't miss these Animal Stencil Designs and Ideas!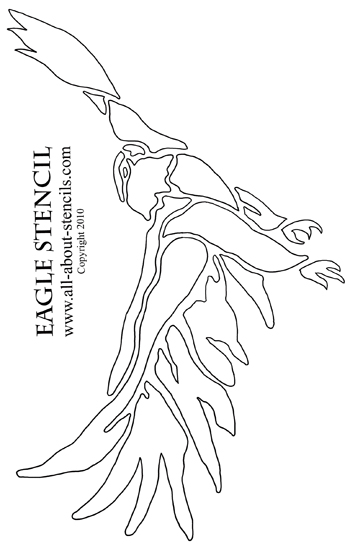 I actually started out to paint just the pair of jeans but things got out of hand quickly when I started to think of the other things I could paint this stencil on.
First I found a solid black t-shirt. It had been in my closet for some time and I thought that it needed a make over. So, I printed the eagle stencil large enough that it would stretch across two sheets of paper and spliced them together.
You may have noticed that this stencil is a little more detailed than some of the others that we have. I would have to say that this one is for a more seasoned stencil enthusiast. If you are just starting with stencils go to our Graffiti Art Stencils for some easier ones to start with. Then come back because you'll love what you can do with the eagle stencil.
As always I cover my paper stencils with a clear protective film before I cut out the pattern. I like to use clear shelf liner because it makes this process so easy but if you don't have any of that you can run strips of wide clear packing tape to cover the whole page.
Well, next thing you know I came across an old jean jacket that I've had for years and decided that an eagle stencil painted on the back would be perfect.
Now here's the video so you can join me on the process of painting the eagle stencil on the jeans. Enjoy!


Isn't it great to watch it in action. I can share so much more with you in a video than trying to tell you in words. I hope you try this project and have a ball with this free stencil.
And hey! Don't forget that I (and everyone else) want to see what you have done with your Eagle Stencil. Just click on Stenciling Projects
to get your masterpiece showcased here on this web site. Won't that be exciting! Or if you have any questions or want to share information join in on the Stencil Blog. Well, I hope to hear from you soon.
Happy Stenciling,
Penny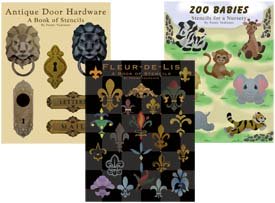 P.S. If you're looking for Stencil Designs (like these), that you can open at your computer and print now or save (No waiting on the Mail Man), just check out our Stencils Catalog for your next project.
If you'd rather get your Stencil Pattern Books in Print, then visit our Printer's Book Shop for the same designs in book format that will be mailed to you. You'll find all of the stencils used as examples throughout this site.


Would you like to build a web site like this one and turn a passion into a business? Well, if I did it, you can too! Don't think that you have to be a web designer and know all about computer codes and complicated html stuff. I didn't. With Solo Build It! it's easy and they have the tools in place to help you build pages and teach you how to create a successful web site. Want more information? Just click on Powered by Solo Build It! and watch a cool video that will explain everything. I know you'll get excited like I did.
---
Return to Home Page from Eagle Stencil.
Return to Stenciling Ideas from Eagle Stencil.