Bird Stencils
It's all about bird stencils! Find the eagle stencil, a sea gull stencil, hummingbirds, peace dove, chickens and cranes. Plus so many animal stencils we had to just put 'em in a separate list (look to the right).


As you know, birds come in many different forms. So, we're here to give you as many types of birds, styles of stencils and project ideas as we can conjure up. Plus we'll provide you with some free printable stencils too!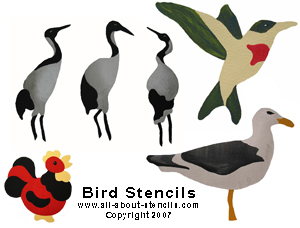 All-About-Stencils has all the cool stencils to keep you busy painting for a wonderful lifetime. Oh wait! There is so much more you can do with stencils other than dabbing paint through the openings. Just keep reading for some great ideas!
These cute bird stencils can be found in the books below along with many other animal stencils. Plus I've added some ideas about how these stencils can be used. It's my mission to motivate you to create art with stencils.
Bird stencils can be serious (like the cranes), they can be childish or cartoonish (like the chickens) or they can represent a style (like those in the Folk Art stencil below). You're bound to find what you're looking for here.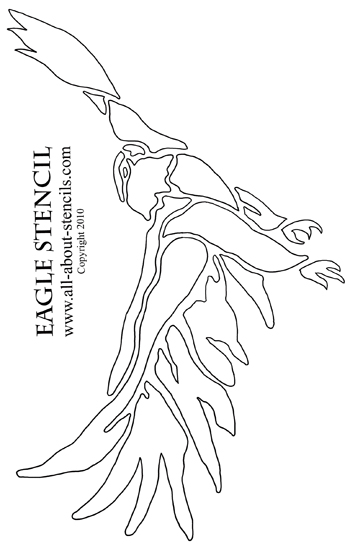 Isn't this eagle stencil majestic? It was designed as a patriotic stencil patriotic stencil and by clicking on him you can read an article about stenciling him on a pair of jeans and a denim jacket. There's even a video!
What I was hinting at in the beginning about there being so much more with stencils than what we normally imagine is just that. You might be looking for bird stencils to paint on a wall (and that's great) but consider designing your own clothes. It's fun and easy and cheap with free printable stencils like these.
And the good thing about these free stencils to print is that you can adjust the size to fit your project area. Check the print settings box that appears and see if you can adjust the size there (it may want a percentage). If not take the print to a copy machine and enlarge or reduce.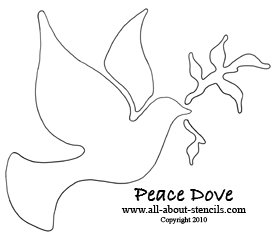 This peace dove is from the printable Christmas stencils where you can find many others for the Holidays! Look below for this stencil in a project.
Also, you can prepare these free stencils for long term use. Just cover the top of the paper with a clear protective coating like clear shelf liner before you cut out the openings. After painting you can wipe it off with a damp rag and store in a book to keep it flat.
If you don't have any clear shelf liner and need to get started now (I know how it is - I'm pretty impatient when I get my mind set to do something) use strips of clear packing tape making sure that each row slightly overlaps the last so that the entire page is protected.
By the way I like to do just the top of the page and not the bottom. A slick coating on the bottom encourages paint to seep under and blur your painting.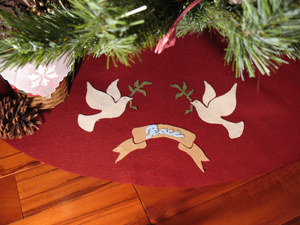 Here's a great example of what I was telling you above. Stencils can be used for much more than painting. I made a bunch of tree skirts by cutting the stencils patterns from felt and gluing them to a large circle. You can learn more about this at Christmas Art Craft and watch a video!
But the peace dove is a little bird stencil that can be used year round so don't pigeon hole him!
Once you start looking around you'll find so many ways to use these bird stencils. I know you already have a plan but before you know it you'll be looking for your next art project.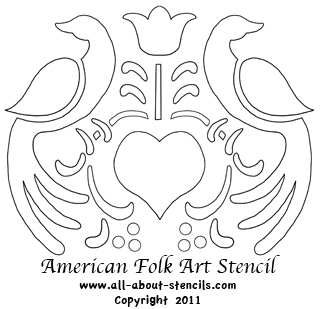 Here are two unusual bird stencils. They don't represent a particular bird as much as they do a style of art which is an American Folkart Stencil. The point I would like to make is that sometimes a search for bird stencils might not turn up a pattern like this because it would be filed under the style. So, sometimes it's good to just browse around because we might end finding bird stencils in the last place we expected.
Another benefit of working with paper stencils is that you have the option to use only part of a pattern. Let's say that you wanted to use just one of the bird stencils. Then just cut out only the parts you want!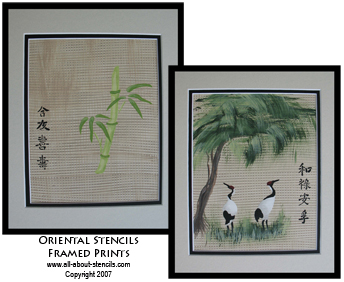 One more thing I want to share with you are these beautiful art prints! Yes, they were painted with stencils. It's a wonderful way to create your own custom art prints. Just go to Stencil Art Prints for more tips and ideas on this.
Notice the cranes? They are in one of the books below.
We are thrilled to introduce our selection of downloadable and Printable Stencil Books. Instant gratification at its finest! You don't need a special printer - these designs are specially formatted to print straight from your home computer on standard letter sized paper. Once downloaded, you will have your complete stencil booklet with patterns and instructions. Just click, buy and print!
The first books below have the bird stencils shown above and I added a few others that I think you might find interesting for future projects. Each book will come to you as a down-loadable pdf file in your e-mail. Just check your e-mail after purchase for the link to connect to your file and print or save. It's that easy! Click on any Book Cover Image for Project Ideas.
All designs can be adjusted to fit your project size. Instructions are included. Pages are 8.5" x 11".
If you'd rather get your Stencil Books in Print, just click the blue button below each book.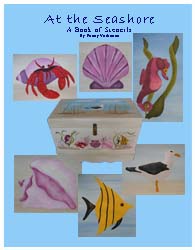 At the Seashore
Aaaahhhh...the lazy days of summer at the beach. This collection includes 6 designs- a Fish, a Crab, Seagull bird stencil, a Conch Shell, a Scallop Shell and a Seahorse.
This purchase is of a PDF file with 32 pages.
Price: $9.95
To get this Book in Print for just $19.95 click here: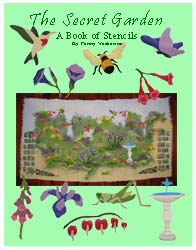 The Secret Garden
Create your own private wall mural garden retreat. This collection includes 12 stencils -fountain, bleeding heart, iris, bee, butterfly, foxglove, grasshopper, humming bird stencils, trumpet flower, morning glory, stone wall and stove path.
This purchase is of a PDF file with 51 pages.
Price: $9.95
To get this Book in Print for just $19.95 click here: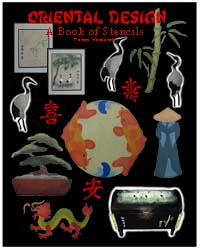 Oriental Designs: A Book of Stencils
This collection includes 16 designs- Chinese Dragon, Bamboo, Oriental Figure with Coolie Hat, Ying Yang Koi Stencils, Bonsai Tree Stencil and 3 Cranes (bird stencils) plus 10 Chinese Symbols (Eternity, Friendship, Happiness, Harmony, Long Life, Peace, Prosperity, Tranquility, Truth and Dragon.
This purchase is of a PDF file with 40 pages.
Price: $9.95
To get this book in print for just $19.95 click here:
On the Farm
With these stencils you can create the perfect barn yard setting for your little one. This collection includes 9 designs- a Cow, a Chicken (that's a bird stencil, right?), a Pig, a Sheep, a Lamb, a Horse, Fence, a Barn and a Tractor.
This purchase is of a PDF file with 40 pages.
Price: $9.95
To get this Book in Print for just $19.95 click here:
Hey! Don't forget that I (and everyone else) want to see what you have done with your bird stencils. Just click on Stenciling Projects to get your masterpiece showcased here on this web site. Won't that be exciting! Or if you have any questions or want to share information join in on the Stencil Blog. Well, I hope to hear from you soon.
Happy Stenciling,
Penny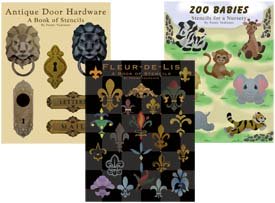 P.S. If you'd rather get your Stencil Pattern Books in Print, then visit our Printer's Book Shop for the same designs in book format that will be mailed to you. You'll find all of the stencils used as examples throughout this site.
Would you like to build a web site like this one and turn a passion into a business? Well, if I did it, you can too! Don't think that you have to be a web designer and know all about computer codes. With Solo Build It! it's easy. They have the tools to help you create a successful web site. Want more information? Just click on Powered by Solo Build It! here and watch a cool video that will explain everything. I know you'll get excited like I did.
---
Return to Home Page from Bird Stencils.
Return to Animal Stencils from Bird Stencils.