Cow Stencil
Here is a cow stencil for farm scenes or many other crafts for kids. Oh wait! Actually this is the whole farm!




Cows usually are associated with wall stencils nursery scenes ever since Old McDonald sang a tune. But this cute little guy might serve many purposes. What are your plans?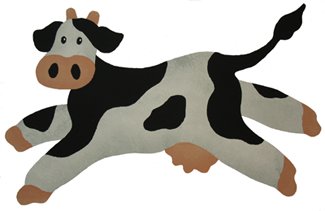 This little guy is a multi layer stencil which allows the painter to get a better amount of detail. It's still easy to do and after all that's what stencils are all about. They make it easy for those of us that aren't comfortable enough with hand painting images on furniture, clothing, walls...whatever!
I've used this little cow stencil with his barn yard pals on furniture (as you'll see below), on tote bags as shower gifts for a cute custom designed diaper bag and of course on walls as Stencils for Nursery patterns.
If it's a little boy that you are decorating for, don't miss the Tractor Wall Stencil which is also part of the book available below.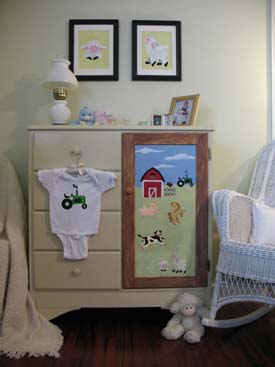 Creating with stencils is the best way to make your space unique and personal. You can arrange stencils to your tastes, use the colors that most suit you and the rest of the surroundings. You are the designer - you just have a little help.
The Barn Yard Stencils were used to make over this old babies armoire and then some matching art prints were painted and framed using the same stencils.
Having a whole collection of like stencils in one book is wonderful because you can use them in so many different variety of ways. Better yet these are like wall stencils to download because if you choose you can purchase the book at a much reduced rate and get your stencils immediately e-mailed to you. Isn't that great!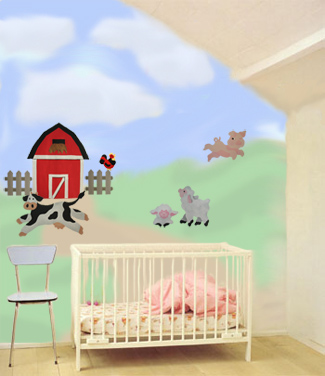 Of course if you're looking to paint the walls, there's no better place to use stencils. Let the little one feel like they are sitting in the yard with all the animals - but it's a lot cleaner. Oh! who are we really kidding. At the age when they are new born or still in a crib all this decorating is really for us and why shouldn't it be? We want the best for our little ones and we can enjoy the decor too.
We are thrilled to introduce our selection of downloadable and printable Stencil Designs. Instant gratification at its finest! You don't need a special printer - these designs are specially formatted to print from your home computer on standard letter sized paper. Once downloaded, you will have your complete stencil booklet with patterns and instructions. Just click, buy and print!
The book below includes a Cow Stencil (and I added one more that I think you might like). Each book will come to you as a down-loadable pdf file in your e-mail. Just check your e-mail after purchase for the link to connect to your file and print or save. It's that easy! Click on any Book Cover Image for Project Ideas.
All designs can be adjusted to fit your project size. Instructions are included. Pages are 8.5" x 11".
If you'd rather get your Stencil Books in Print, just click the blue button below each book.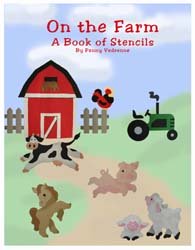 On the Farm
With these animal stencils you can create the perfect barn yard setting for your little one. This collection includes 9 designs- a Cow Stencil, a Chicken, a Pig, a Sheep, a Lamb, a Horse, Fence, a Barn and a Tractor.
This purchase is of a PDF file with 40 pages.
Price: $9.95
To get this Book in Print for just $19.95 click here: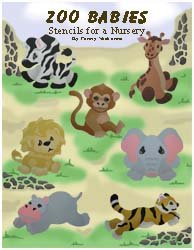 Zoo Babies: Stencils for a Nursery
This collection includes 7 animal stencils - an Elephant, a Giraffe, a Hippo, a Lion, a Monkey, a Tiger and a Zebra.
This purchase is of a PDF file with 40 pages.
Price: $9.95
To get this Book in Print for just $19.95 click here:
Hey! Don't forget that I (and everyone else) want to see what you have done with your cow stencil. Just click on Stenciling Projects to get your masterpiece showcased here on this web site. Won't that be exciting! Or if you have any questions or want to share information join in on the Stencil Blog. Well, I hope to hear from you soon.
Happy Stenciling,
Penny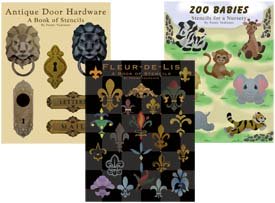 If you'd rather get your Stencil Pattern Books in Print, then visit our Printer's Book Shop for the same designs in book format that will be mailed to you. You'll find all of the stencils used as examples throughout this site.
Would you like to build a web site like this one and turn a passion into a business? Well, if I did it, you can too! Don't think that you have to be a web designer and know all about computer codes. With Solo Build It! it's easy. They have the tools to help you create a successful web site. Want more information? Just click on Powered by Solo Build It! and watch a cool video that will explain everything. I know you'll get excited like I did.
---
Return to Home Page from Cow Stencil.
Return to Crafts for Kids from Cow Stencil.