Stencil Print Free Projects!
This page is here to guide you to all of the stencil print free projects that we have to offer. Why? Well...


...Because I'm on a mission to get you motivated in creating your own personal art with stencils. You don't need to be a DeVinci or Picasso to create art.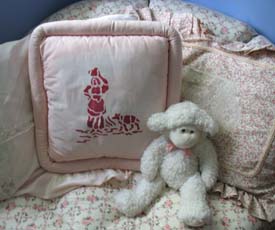 If you can dab paint into the openings of a stencil you can paint images on paper or canvases to adorn you walls, paint images on the walls to create murals, redesign a piece of furniture and create a conversation piece or create designer clothing. A few quick techniques that you can pick up here and you can do all of this and more.
Toile is a type of decorating pattern which has a repeated pattern depicting a fairly complex scenes. A stencil is a template used to draw or paint identical images every time it's used. Because paint or color is placed on a surface through openings, stencils simplify the image. Since Toile depicts fairly complex scenes it is very difficult to design a stencil for Toile. Therefore, Toile stencils are rare!
However, I've designed a Free Toile Stencil for you to try and even show you a great throw pillow idea (just like the picture above). Again, this is a very simple design as far as this Toile requires.
Don't miss the video at the bottom of this page for a great idea of how to use some of the free printable stencils you can find on this web site.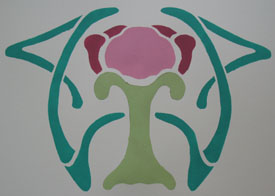 You may be looking for a specific stencil design (and I'm sure we have one here someplace because this site is loaded with free stenciling patterns).
However, since you're looking for stenciling ideas I hope you enjoy these out-of-the-ordinary designs and the stencil print free projects that I share with you using the free stencils.
Are you familiar with Art Nouveau? It's a style that peaked in popularity around the turn of the 20th Century. It's characterized by organic, especially floral and other plant-inspired motifs, as well as highly stylized, flowing curvilinear forms. I designed this Art Nouveau Stencil as a stencil print free project for you to create art prints, decorate throw pillows or in any other way you feel it can enhance your home.


Here's an Eagle Stencil Print Free for you to transform an old pair of jeans into a new cherished part of your wardrobe. Of course you can go hog wild like I did and paint him on a T-Shirt or an old Jean Jacket.
If you like the idea of giving your clothes a make over than you'll want to watch the video on this page where you can see this done in action!
For more information about stenciling on fabric and clothes head over to How To Garment Stenciling.

Once you get into decorating your own clothes with stencils, you'll be hooked for life. Isn't it great to have a totally unique wardrobe. Well, I've got another stencil print free idea for you and this one involves a Free Guitar Stencil.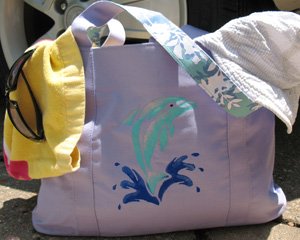 Here's an easy stencil print free project that you can finish in just a few minutes but end up with a Summer Time Tote Bag that will accompany you to the beach or pool for years to come. Best yet the Dolphin Stencil is free and I added a video for you to watch as I paint this project.
Well, if you love dolphins like I do, then I know you'll really appreciate the free dolphin stencil. Next time you head out to the beach make a splash with this cute tote bag. Pile all your surf gear inside and make all the other fish in the sea jealous. OK – Enough of the fishy business. Let's get started!
By the way, If you are looking for a gift for a mother-to-be or expecting a new arrival yourself, I did this same tote bag with a Free Teddy Bear Stencil. I hope this gets you thinking about how you can create for any occasion by simply changing out the stencil and rethinking your stenciling ideas.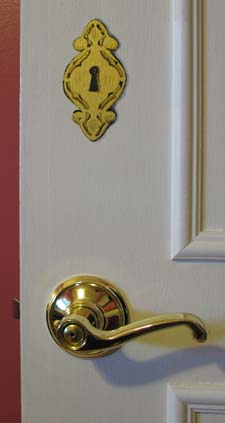 Trompe l oeil is an art technique involving realistic imagery in order to create the optical illusion that the objects appear in three dimensions, instead of actually being a two-dimensional painting.
This project offers you a stencil print free Trompe Loeil Key Bow Stencil to get your feet wet with the joy of painting in this fun style.
Just follow along because all of the how to instructions are right here. I've also added a video so you can watch me step by step with this Trompe l oeil project.
The free stencil pattern on this page is a two layer design. Print this pattern twice (one you will cut out the oval for the first layer and the second layer you will cut out only the keyhole).
Before you cut out the images, I recommend that you cover the page with a clear protective coating like clear shelf liner or even strips of packing tape with each strip closely overlapping the last. The idea here is to preserve your stencil for multiple or permanent use. For more ideas on working with stencil print free patterns go to Stencil Downloads.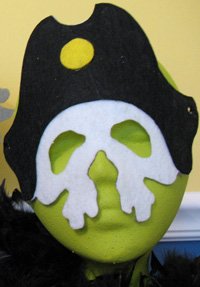 Here are a few quick Printable Halloween Masks and ideas for you to put together and create your own costume!
The first one is FREE! It's a Pirate Skull Mask Pattern from our free stencils collection (it's part of a Halloween Crafts and Stencils Book that will be released soon).
For more great ideas on costumes and how to make your own, go to Mask Patterns because once you have your mask the rest will fall into place.
We have so many project ideas and free stencils it's hard to mention them all. So try these out and hunt around this site for more hidden treasures.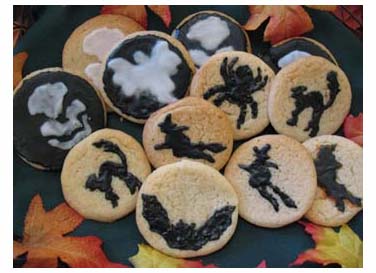 It's time to get ready for all the little ghosts and goblins. With Cookie Stencils you can decorate some special treats and get your Halloween crafts off to a great start. Like I always say, stencils make putting pictures in difficult places much easier.
Painting images on cookies was a challenge for me (especially because I'm no Betty Crocker). I tried every complicated and expensive method I could think of only to meet with disasters. I must have gained 20 pounds eating them all, too. Well, I wasn't going to let all those cookies go to waste. See how I used these free Printable Halloween Stencils on the cookies.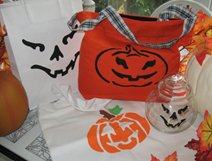 Don't be scared! Here are some great Pumpkin Stencils and Halloween Crafts Projects for you to kick off the Scary Season. I even have a video for you to personally join me on this Pumpkin Crafts Adventure.
I hope you're ready for some Free Halloween Stencils and great ideas of what you can do with them. You may already have plans for your Halloween Crafts and that's great but I'm excited to share with you a few things that I cooked up here with some fun pumpkin stencils and jack o lantern stencils that I drew up and a video so that I can personally share with you the fun I had with them.
I used three stencil print free pumpkins to decorate two fabric tote bags (the orange one bought at a thrift store and the white one bought at a craft supply store), a white paper bag (bought in a pack of ten at the discount store) and a small glass jar (also from the thrift store). See more in the video.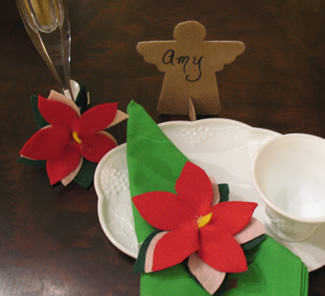 OK - Normally when we think about using stencil designs we imagine pressing paint into the openings. Right now I'm going to ask you to wipe that image out of your mind because we are going do Christmas Art Projects that use stencils in a whole new way.
And hey! Don't forget that I (and everyone else) want to see what you have done with your Stencil Print Free Projects. Just click on Stenciling Projects to get your masterpiece showcased here on this web site. Won't that be exciting! Or if you have any questions or want to share information join in on the Stencil Blog. Well, I hope to hear from you soon.
Happy Stenciling,
Penny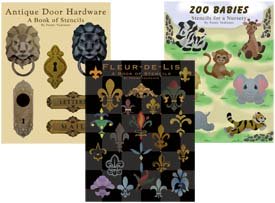 P.S. If you're looking for Stencil Designs (like these), that you can open at your computer and print now or save (No waiting on the Mail Man), just check out our Stencils Catalog for your next project.
If you'd rather get your Stencil Pattern Books in Print, then visit our Printer's Book Shop for the same designs in book format that will be mailed to you. You'll find all of the stencils used as examples throughout this site.


Would you like to build a web site like this one and turn a passion into a business? Well, if I did it, you can too! Don't think that you have to be a web designer and know all about computer codes and complicated html stuff. I didn't. With Solo Build It! it's easy and they have the tools in place to help you build pages and teach you how to create a successful web site. Want more information? Just click on Powered by Solo Build It! and watch a cool video that will explain everything. I know you'll get excited like I did.
We're not done yet! Here's that video I promised you. Enjoy!
---
Return to Home Page from Stencil Print Free Projects.
Return to Free Stencils from Stencil Print Free Projects.