Tree Frog Stencils Make This Old Dresser Jump Out!
Here's another before and after story featuring frog stencils. Plus a couple of other ideas for bringing a few cuddly amphibians into your home and even a free stencil!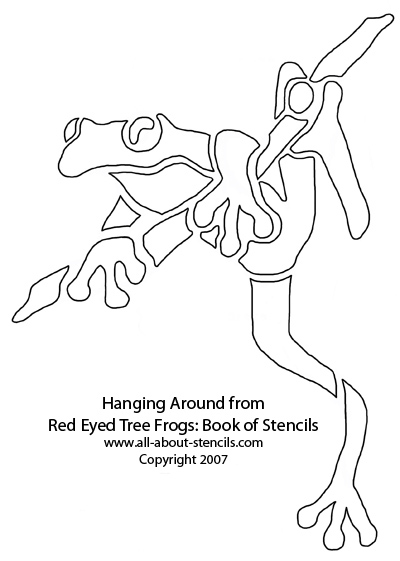 Let's start with a real cutie that will make you wanna pucker up and kiss! But keep reading and scrolling to find some ways to use stencils that will have you hopping with joy.
Have you ever thought of making hangable art prints with stencils. It's a cool way to create the custom art which is going to be perfect for your decor. At Stencil Art Prints you'll find a few other examples and some tips. Scroll down because I slipped an example of an art print made with a frog stencil.
Below you'll find a book with four cute little frog stencils that are ready to join your rain forest. The frogs in the book are multi-layer stencils and this free one is an easy one layer image of the most loved frog. Try things out with this guy and if you want more detail, then give the book a try.
Plus check out the long list of animal stencils you can find in the list on the right! While browsing the list you'll find many have free printable stencils with craft projects.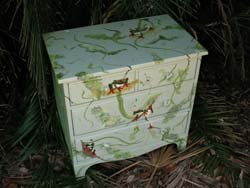 You'll see an old chest of drawers turn into a delightful addition to any room in need of a fresh focal point and conversation piece.
Older pieces of furniture are way better than most new ones. Things built even 20 or 30 years ago were made with stronger wood products and better craftsmanship. The older the item is the more likely it will be around even longer. So why not redesign an old piece instead of buying something new. Fortunately these items can be found at flea markets and thrift stores at very reasonable prices. Although sometimes you get lucky and run across one that someone is throwing out. Maybe you have one that you want to throw out. Don't…paint it!
That's exactly what I did here. This was an old dresser that had been in my garage and I can't tell you how many times I overlooked it. Then I needed some extra storage in a spare room and remembered this piece. It was a perfect fit but it needed a redo badly. So I went to work.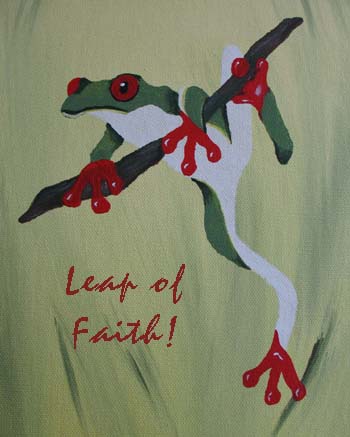 First, I lightly sanded the entire piece and spray painted with a light green for my Rain Forest back drop. Then I splashed on some forest greenery. Don't worry…it was easy. Pour several colors of green on a palette. Drag a paint brush through the different colors, spinning as you go to get the bristles coated with the colors. Then using the same spinning motion, brush the paint onto the surfaces while swaying from side to side in your lines (like as if you were skiing).This will create some vine-like accents. I used a tapered end paint brush but a flat end will work just as well. Next dab a brush into the paints with an up and down motion allowing the bristles to pick up several of the colors. Use the same dabbing motion to create some areas of foliage on your dresser. I like to use one of my round head stenciling brushes for this but any one that has thick bristles will work. Don't be shy about this. Once you get the hang of it, you'll realize the brushes and the colors do most of the work for you. I only made a few areas of foliage because I wanted my frogs to stand out but go as crazy as you want. Remember this is your masterpiece.
Next, I decided where to put the frog stencils. Take a little time with this and put the frogs where they will really pop. It's easier if they don't cross over drawers or around corners but sometimes that ads creativity so weigh the options on your project.


Once your background color is in place, line up your stencil overlays and start painting.
Need help with colors? Don't fret. Just visit this page for some stenciling techniques to help you make the right color choices.
Here is a close up of the painting. Notice that I have the Hanging Around Frog Stencil dangling from a branch across two drawers. It was a challenge but I like the way it looks.
If you need more instructions on stenciling, head over to How To Stencil for all you need.
I have the perfect compliment for a Rain Forest Scene like this so don't miss the Free Tropical Flower Stencil!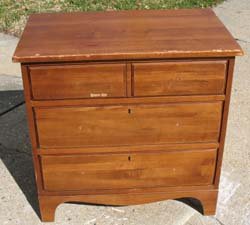 Here's a picture of what the dresser looked like when I pulled it out of the garage. As you can see it wasn't anything special but it was made from good solid wood. Now it's a very interesting piece that provides some much needed storage.
I hope you liked the Frog Stencils Dresser. If you did, check out the book of stencil designs below. This is just a sample of the design books that we offer in our Stencils Catalog.

Each book will come to you as a down-loadable pdf file in your e-mail. Just check your e-mail after purchase for the link to connect to your file and print or save. It's that easy!
All designs can be adjusted to fit your project size. Instructions are included. Pages are 8.5" x 11".
If you'd rather get your Stencil Books in Print, just click the blue button below each book.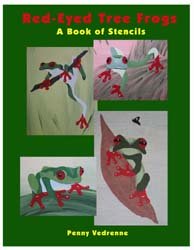 Red-Eyed Tree Frogs
This book contains 4 cute Red-Eyed Tree Frogs for you to paint in your next project. Bring a little of the rain forest to your home. There are 37 pages in this pdf file which includes the stencils of all 4 frogs (each has 5 overlays) and complete instructions.
This purchase is of a PDF file with 36 pages.
Price: $9.95
To get this Book in Print for just $19.95 click here: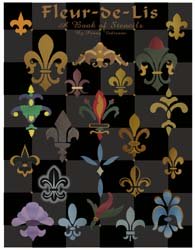 Fleur de lis: Book of Stencils
This collection includes 22 designs. Ten are easy single overlay. Six have 2 overlays and six have 3 overlays.
This purchase is of a PDF file which has 63 pages.
Price: $9.95
To get this Book in Print for just $19.95 click here: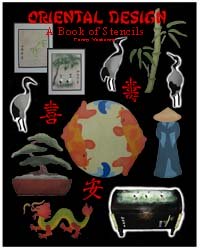 Oriental Designs: A Book of Stencils
This collection includes 16 designs- Chinese Dragon, Bamboo, Oriental Figure with Coolie Hat, Ying Yang Koi, Bonsai Tree and 3 Cranes plus 10 Chinese Symbols (Eternity, Friendship, Happiness, Harmony, Long Life, Peace, Prosperity, Tranquility, Truth and Dragon.
This purchase is of a PDF file with 40 pages.
Price: $9.95
To get this Book in Print for just $19.95 click here: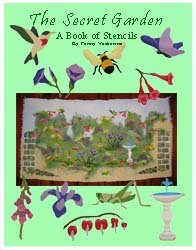 The Secret Garden
Create your own private garden retreat. This collection includes 12 designs-fountain, bleeding heart, iris, bee, butterfly, foxglove, grasshopper, hummingbird, trumpet flower, morning glory, stone wall and stone path. These provide good compliment designs to your frog stencils.
This purchase is of a PDF file with 51 pages.
Price: $9.95
To get this Book in Print for just $19.95 click here:
You'll have fun creating and showing off this wonderful Tree Frog Stencils Dresser. This project should get you thinking about all of the possibilities for designing art for your home. I hope you are inspired to create some great works of art with stencils!
And hey! Don't forget that I (and everyone else) want to see what you have done with your frog stenciling projects (or anything with stencils). So, join in on the Stencils Blog or Stenciling Project to get your masterpiece showcased here. Won't that be exciting! Well, I hope to hear from you soon.
Happy Stenciling,
Penny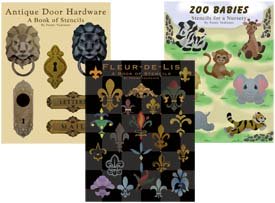 P.S. If you'd rather get your Stencil Pattern Books in Print (like these or the ones pictured above) then visit our Printer's Book Shop for a large variety of stencil collections. These books are easy to follow and come with complete instructions. You'll find all of the stencil designs used as samples throughout this site.



The frog stencils used as examples on this page are courtesy of Designs From Penny.

Would you like to build a web site like this one and turn a passion into a business? Well, if I did it, you can too. Don't think that you have to be a web designer and know all about computer codes and complicated html stuff. I didn't. With Solo Build It! it's easy and they have the tools in place to help you build pages and teach you how to create a successful web site. Want more information? Just click on Powered by Solo Build It! and watch a cool video that will explain everything. I know you'll get excited like I did.
---
Return to Home Page from Tree Frog Stencils.
Return to Stenciling Ideas from Tree Frog Stencils.