The Fish Stencil
Fish stencil and sea stencil patterns invite a bit of the underwater life into your home. See this variety of Sea Stencils and create your own ocean!


You may already have an idea that has you searching for ocean life stencils but here you'll not only find a large variety of underwater creature you'll also discover many ways to use them.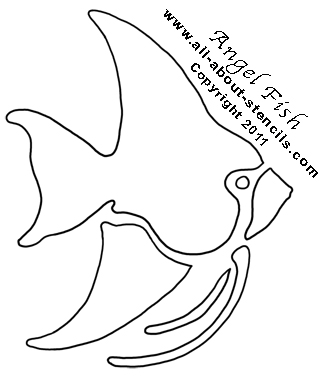 Here's a cute little angel fish stencil. If you've ever had a fish tank, I bet you've had one of these.
Working with these free printable stencils has many advantages. Do you know that you can change the size of the stencil to fit your project area. You can make it very tiny or wall size for massive stencil wall murals. Check your printer options to see if you can change the size when you print (it may be looking for a percentage). If not, take the print to a copy machine and reduce or enlarge.
I mentioned mural stenciling and that's a very real option. To get these free stencils to print life size take them to a print company that would have access to plotters and large machines. They can do it for you. It may cost a few clams but you can't do this with pre-cut-plastic stencils, right?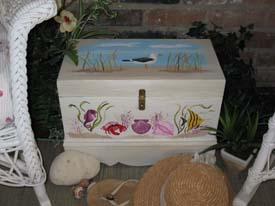 If it's a Furniture Painting Project you have in mind than be inspired by this sea trunk that was adorned with ocean life stencils. What's so great about stencils is that they allow us to custom design any project for the setting. This little trunk would fit in a sea theme bath, or a Beach House (if you're lucky enough to have one) or any other room you want to feel like a Beach House.
Also, it's nice to add a piece of furniture to a room like this because they can be an anchor to the theme you have chosen plus they provide a little extra storage.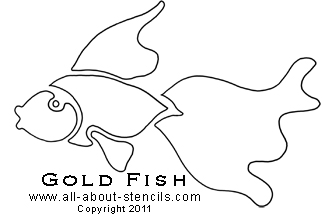 Now, here's a cute little gold fish stencil. I always think of those flashy, coy fish in Fantasia. They were beautiful.
If you think that these free stencils are only good for one use, think again. Before you cut out the stencil designs, cover the top with a clear protective coating like clear shelf liner or even rows of clear packing tape. After each use wipe it clean with a damp cloth and store it in a book to keep it flat.
By the way, I like to cover just the top of the paper because a slick bottom will encourage paint to seep under and mess up your painting.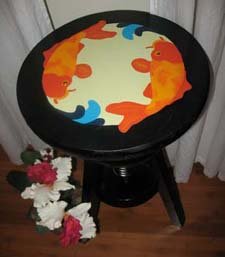 This is more about painting a fish stencil pattern on furniture. But I wanted to show you how you can go from a Beach House theme to an Oriental Stencils theme. Notice the difference in colors also - from the earth tones of the sea trunk to the dark and vibrant colors of this little stool. You can do so much with stencils.
Once you start with a stencil design that you like and then ad colors your options are endless.
The stencils you see on this page including these Koi Stencils are available below.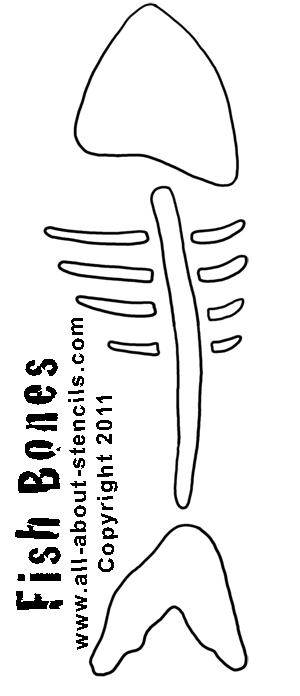 OK - I know it's not right but this is a fish stencil that came from our cat stencils. Now you understand? I hope you can forgive me!
I haven't even mentioned the best part of these free stenciling patterns but you've probable already picked up on it. That's right, they're free!
I hope you come back for the many other animal stencils we have to offer. In fact, come back for any of your stenciling ideas or project inspiration.
A fish stencil can take on many forms and can be used in a sea of applications. I hope that one of these fish stencils has filled your expectations. If not there's one more and it's a fish that everyone loves.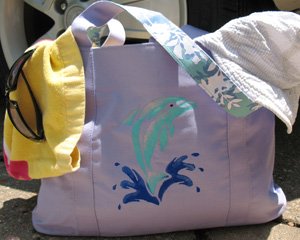 Here's a dolphin stencil in the very popular jumping pose. (Psssst! If you click on the picture you'll get the free stencil!)
OK - We talked about painting a fish stencil on furniture and anytime stenciling is mentioned Wall Stencils come to mind first. But you should consider painting stencils on fabrics. This includes making custom t shirts, jeans, jackets or a nice tote bag like this one. In fact, click on the picture for a free dolphin stencil and see how painting him on a plain tote bag makes a really cool beach bag.
We are thrilled to introduce our selection of downloadable and printable Stencil Designs. Instant gratification at its finest! You don't need a special printer - these designs are specially formatted to print straight from your home computer on standard letter sized paper. Once downloaded, you will have your complete stencil booklet with patterns and instructions. Just click, buy and print!
The books below each include a fish stencil. Each book will come to you as a down-loadable pdf file in your e-mail. Just check your e-mail after purchase for the link to connect to your file and print or save. It's that easy! Click on any Book Cover Image for Project Ideas.
All designs can be adjusted to fit your project size. Instructions are included. Pages are 8.5" x 11".
If you'd rather get your Stencil Books in Print, just click the blue button below each book.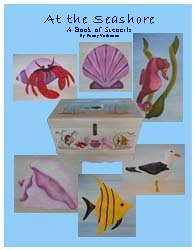 At the Seashore
Aaaahhhh...the lazy days of summer at the beach. This collection includes 6 designs- a Fish, a Crab, a Seagull, a Conch Shell, a Scallop Shell and a Seahorse.
This purchase is of a PDF file with 32 pages.
Price: $9.95
To get this Book in Print for just $19.95 click here: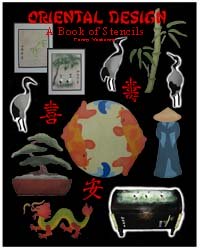 Oriental Designs: A Book of Stencils
This collection includes 16 designs- Chinese Dragon, Bamboo, Oriental Figure with Coolie Hat, Ying Yang Koi Fish Stencil, Bonsai Tree Stencil and 3 Cranes plus 10 Chinese Symbols (Eternity, Friendship, Happiness, Harmony, Long Life, Peace, Prosperity, Tranquility, Truth and Dragon.
This purchase is of a PDF file with 40 pages.
Price: $9.95
To get this book in print for just $19.95 click here:
Hey! Don't forget that I (and everyone else) want to see what you have done with your fish stencil. Just click on Stenciling Projects to get your masterpiece showcased here on this web site. Won't that be exciting! Or if you have any questions or want to share information join in on the Stencil Blog. Well, I hope to hear from you soon.
Happy Stenciling,
Penny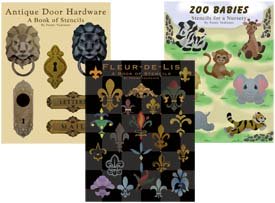 P.S. If you'd rather get your Stencil Pattern Books in Print, then visit our Printer's Book Shop for the same designs in book format that will be mailed to you. You'll find all of the stencils used as examples throughout this site.
Would you like to build a web site like this one and turn a passion into a business? Well, if I did it, you can too! Don't think that you have to be a web designer and know all about computer codes. With Solo Build It! it's easy. They have the tools to help you create a successful web site. Want more information? Just click on Powered by Solo Build It! and watch a cool video that will explain everything. I know you'll get excited like I did.
---
Return to Home Page from Fish Stencil.
Return to Animal Stencils from Fish Stencil.