Custom T Shirts with Fabric Stenciling
Stenciling is a great way to create custom t shirts, jeans, curtains, table linens, handkerchiefs, accent pillows...


With stencils, you can make one of a kind custom t shirts that only you will have and wear. Or, it's an easy way to duplicate a design several times without printing and requires no expensive equipment. Also, it's fun and easy!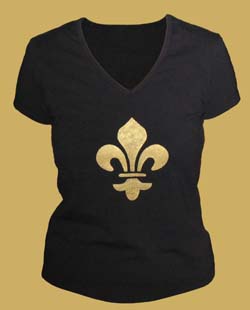 If you are looking for information on fabric stenciling, you've come to the right place. You'll find step-by-step instructions and some great tips to help make your project a soaring success! I'll step you through the process by painting a fleur de lis stencil on a t shirt.
Since this section is specifically about stenciling on fabrics with a brush and paints, I will assume that you know basics of how to stencil. But, not to worry if you don't. Just click on the link to get instructions on all the basics and then come back here to build on that knowledge. This whole site is dedicated to stenciling, so whatever you need to know, it's here.
On the other hand if you are looking for information on Air Brushed Stenciling, then I have a few videos and many free stencils for you to pursue that venture.
Don't miss the video below about using stencils and Sharpie Ink Pens to create custom t-shirts and getting the kids involved too.
What you'll need:
Of course, you will need something to put paint on like a t shirt, a pair of jeans, any other kind of clothing, linens…well, anything fabric. You get the picture!
Choose your fabric very carefully. Make sure it does not have a stain resistant finish. I recommend that you pre-wash your fabric, so that you'll be sure it's clean of any surface treatment that will keep the paint from adhering. But don't use a fabric softener.
Natural fiber fabrics with smooth surfaces work best. Try to avoid any soft or floaty fabric that will be difficult to keep straight. I would also avoid fabrics that have a thick nap or weave like towel material. These fabrics don't allow the stencils to have clean, crisp edges.
You will need textile paints, specifically designed to be both washable and dry cleanable. These paints require 24 hours to dry and may need to be heat set. Nontoxic water-based textile paints are commonly available at craft stores. Make sure you read all the directions on the paints you choose. Each brand has different requirements and you want to be well aware of the procedures you need to follow before you start painting.
MisterArt.com carries a nice selection of fabric paints. You can also find a DecoArt Fabric Medium that when mixed with Crafter's Acrylics, produces a washable, permanent paint for fabrics. It improves penetration and bonds to the fabric while helping to prevent cracking, peeling and fading. It is suitable for clothing and home decor textile projects. Use on denim, polyester blend fabrics, or cotton fabrics. It will not dilute the color.
You'll need to have something to put under the fabric to hold it from moving or sliding around and also to keep paint from seeping through to the other side. A piece of cardboard will work fine. If you are making a custom t shirt, place the piece of cardboard inside the shirt.
Of course, you will need all the other usual stenciling stuff: paint applicators (brushes or foam), stencils, tape…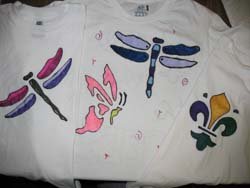 Here's a great crafts for kids idea so they can create custom t shirts. This project was done with fabric markers and regular Sharpies so it wasn't as messy as paints. Just watch this video about how to create your own t-shirt decorating event with these kids craft ideas kids craft ideas (just click on the text or the picture).
Here are some quick reminders on Basic Stenciling:
Do not add water or thin the paint. Watery paint will bleed under your stencil edges. If you want to lighten a color, add white. I generally do not recommend blending colors because if you need to touch up or reproduce that color later it is close to impossible. However, the selection of fabric paints is more limited than the vast array of acrylic paints, so you may need to blend paints to get the color you desire.
Test the colors and practice your painting on a scrap piece of fabric similar to the one you are stenciling. Maybe you can test in a hem or where the paint won't be seen.
Make sure your brush is evenly covered with paint but do not over load it. An over loaded brush will spread paint under the edges of the stencil. Your goal is a nice, even dry brush technique with color that is smooth but not thick. You are looking to achieve crisp, clear edges.
Fabrics are absorbent and will quickly soak up paint from an over loaded brush causing the colors to run under the stencil. It is important to keep this in mind for a custom t shirt or any fabric stenciling project.
Apply the paint with a gentle pouncing motion, holding the brush straight up and down. This will keep the paint from seeping under the edges of the stencil. Do not brush side to side or use a stroking motion.
Paint all the colors in your design before removing the stencil. Once it has been removed, it is almost impossible to replace it in exactly in the same spot.
When you are finished, lift the stencil carefully. I like to place a firm finger on one end and roll it up very slowly. The idea is to keep from dragging the stencil over wet paint.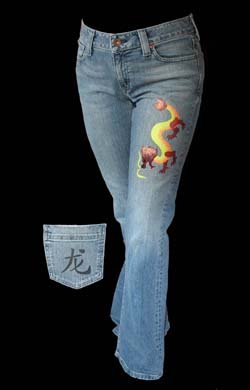 Tips and Hints for Stenciling on Fabric:
If you can, purchase an extra piece of fabric for practice. Having some experience is invaluable. For example, if you are working on a custom t shirt, purchase an extra shirt for experimenting.
After you remove the stencil, you can use an artist's brush to touch up areas where the paint may be too thin or missing along an edge. Remember brushed on paint looks different from paint applied with normal stenciling techniques so use this for only minor problems.
If paint gets on the fabric where it is not supposed to be, wash it out immediately and dry it with a hair dryer. In fact, if your stencil is a disaster, you can usually wash the whole stencil out and start again as long as you do so immediately. Again, read the directions on the bottle.
Sometimes, dried paint can be very carefully scraped off with a matte knife. Just make sure it is thoroughly dried or it will smudge.
Code to Wrap Text Around 160x90 Link Ad:
Always read the instructions on the paint that you are using. Some of them require you to "fix" the paint with heat by ironing. You also want to be aware of the washing instructions. Some paints are effected by dry cleaning, machine washing or detergents. They may require hand washing. Read the instructions and make sure you are satisfied with the requirements before you purchase the paint.
If you can't find fabric paints, acrylics work just fine on fabrics too! They don't even require heat setting like most fabric paints. However, since they were not made for fabric, there is no telling how they will react to washing. I recommend testing on scrap fabric similar to your project piece. You may want to start off with hand washing using a mild soap. Also, acrylic paints dry stiffer than fabric paints so it is not your best choice on a T-Shirt (better for jeans).
And how about those dragon stencil jeans? Using stencils on fabric can create a limitless supply of ideas for you to customize your home and yourself. So, go on, get started stenciling!
Experiment, Practice, Enjoy!


How to Create a Custom T Shirt with Stencils
Using stencils to make custom t shirts is a great way to create a really cool shirt for yourself or make several exact shirts for your group or team. Stencils allow you to design a shirt that reflects your personality and shows off your artistic side too. Also, you will save money using stencils and doing it yourself compared to the cost of having custom t shirts printed for your team.
If you are making custom t shirts for a kids group, consider getting them involved. It would be great fun for the whole group and what a great way to build team spirit!
Follow along with me while I make a custom t shirt by painting a stencil of a Fleur de lis on a black T-Shirt.
First make sure that the t shirt is clean. I recommend pre-washing to remove any surface treatment that will keep the paint from adhering. Do not use fabric softener. Get all of your supplies ready for your custom t shirts stencil project.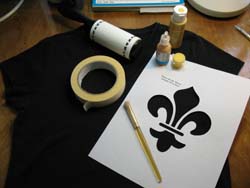 Put a sturdy piece of cardboard or other material inside of the t shirt. This is for three reasons. First reason is to keep the fabric as firm as possible while you use the pouncing up and down motion to apply the paint. Second reason is to keep paint from seeping to the back of the shirt. And the third reason is of course to keep the t shirt material from shifting under the stencil while you are applying paint. The cardboard should just fit inside of the shirt without stretching it. Fabric that is stretched will cause your finished image on your custom t shirt to be distorted. So, make sure you have a nice fit. A little too small is better than too big.
Notice that I have a lint roller in the photo. I like to give the t shirt or fabric one quick but thorough pass with a lint roller to remove any loose debris such as hair, dust or lint.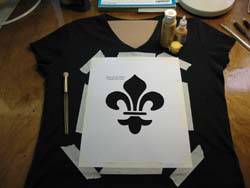 Line up your stencil where you would like your image to appear. Do you want it in the front center? Or maybe near the top to the left or right? You decide. Tape the stencil down at all four corners and along each side. Remember that the stretchy t shirt fabric can easily shift so keeping the stencil secure is very important.
This example shows you how to apply paint with a brush. If you are interested in spray paint stencils, just click on this link. You'll be taken to a page where I spray paint a Chinese Letters Harmony Symbol on a Black custom T Shirt.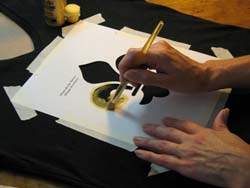 Pour paint onto your palette and apply to open areas using the pouncing motion (stippling technique). Start around the edges of the stencil openings (islands) and work your way in.
I'm using a gold paint that has a little of a glimmer effect for extra pizzazz!
Wait until the paint dries and carefully peel off the stencil. Voila! You have a beautiful custom t shirt that will go with just about anything.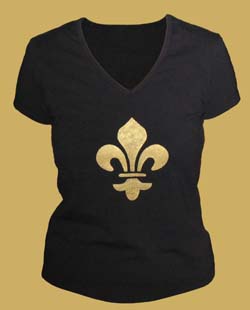 Well, I hope you learned a lot about making custom t shirts with stencils. Just don't forget that being able to use a t shirt stencil is not all that this page is about.
You can apply these skills to any fabric stenciling project you want. Consider making a monogrammed handkerchief for a gift, stenciling holiday motifs on a runner or table napkins for decoration, or putting a border along the bottom of the shower curtain.
Don't you just love the Fleur de lis? It's such a classic design. Of course, I'm in New Orleans and the fleur de lis is everywhere. Especially the Black and Gold Fleur de lis which is the mascot of The New Orleans Saints (Go Saints!).
We are thrilled to introduce these Downloadable and Printable Stencils. Instant gratification at its finest! You don't need a special printer - these designs are specially formatted to print straight from your home computer on standard letter sized paper. Once downloaded, you will have your complete stencil booklet with patterns and instructions. Just click, buy and print!
The first book below has the fleur de lis stencil used for our custom t shirts project above. Each book will come to you as a down-loadable pdf file in your e-mail. Just check your e-mail after purchase for the link to connect to your file and print or save. It's that easy!
Click on any Book Cover Image for Project Ideas.
All designs can be adjusted to fit your project size. Instructions are included. Pages are 8.5" x 11".
If you'd rather get your Stencil Books in Print, just click the blue button below each book.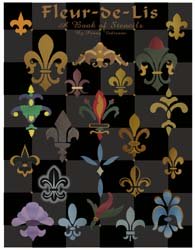 Fleur de lis: Book of Stencils
This collection includes 22 designs. Ten are easy single overlay. Six have 2 overlays and six have 3 overlays.
This purchase is of a PDF file which has 63 pages.
Price: $9.95
To get this Book in Print for just $19.95 click here: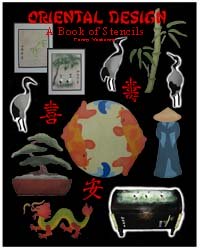 Oriental Designs: A Book of Stencils
This collection includes 16 designs- Chinese Dragon, Bamboo, Oriental Figure with Coolie Hat, Ying Yang Koi Stencils, Bonsai Tree Stencil and 3 Cranes plus 10 Chinese Symbols (Eternity, Friendship, Happiness, Harmony, Long Life, Peace, Prosperity, Tranquility, Truth and Dragon.
This purchase is of a PDF file with 40 pages.
Price: $9.95
To get this book in print for just $19.95 click here: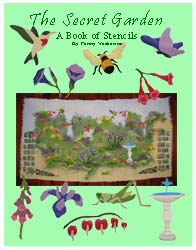 The Secret Garden
Create your own private wall mural garden retreat. This collection includes 12 stencils -fountain, bleeding heart, iris, bee, butterfly, foxglove, grasshopper, hummingbird, trumpet flower, morning glory, stone wall and stone path.
This purchase is of a PDF file with 51 pages.
Price: $9.95
To get this Book in Print for just $19.95 click here: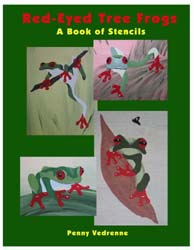 Red-Eyed Tree Frogs
This book contains 4 cute Red-Eyed Tree Frogs for you to paint in your next project. Bring a little of the rain forest to your home. There are 37 pages in this pdf file which includes the stencils of all 4 frogs (each has 5 overlays) and complete instructions.
Price: $9.95
To get this Book in Print for just $19.95 click here: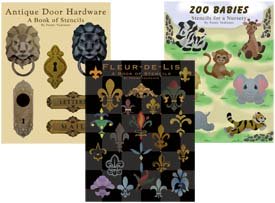 If you'd rather have your Stencil Pattern Books in Print (like these) then visit our Printer's Book Shop for a large variety of stencil collections. These books are easy to follow and come with complete instructions. You'll find all of the stencil designs used as samples throughout this site.



The stencils used as examples on this page are from Designs From Penny.

Would you like to build a web site like this one and turn a passion into a business? Well, if I did it, you can too. Don't think that you have to be a web designer and know all about computer codes and complicated html stuff. I didn't. With Solo Build It! it's easy and they have the tools in place to help you build pages and teach you how to create a successful web site. Want more information? Just click on Powered by Solo Build It! and watch a cool video that will explain everything. I know you'll get excited like I did.
Now, here's that great video I promised you. Enjoy!
---
Return to Home Page from Make Your Own Custom T Shirts with Fabric Stenciling.
Return to Decorating With Stencils from Make Your Own Custom T Shirt with Fabric Stenciling.