Free Palm Tree Wall Stencils!
Creating your own tropical paradise? Well, use these palm tree wall stencils to get started. But don't stop with just the walls. This stencil can be used in many other ways!




Just right click on the stencil and select print or save if you're on a PC or drag it into a document if you're on a MAC.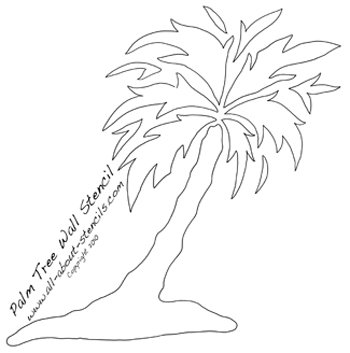 This stencil is perfect for bringing part of your last vacation back home. The ways it can be weaved into your arts and crafts is unlimited but I want to provide you with a few ideas to get you started. I hope you enjoy it thoroughly!
Since I caught you in the mood of redesigning your walls, I think you might find some more ideas and inspiration at Stencils For Walls. By the way, this is part of our Free Stencils Collection. We have so many to offer that they are scattered throughout this web site so keep browsing the pages and come back here for all your Stenciling Ideas and Projects.
Well, first of all it was designed as palm tree wall stencils which means I created it for Stencil Wall Murals (click here to watch a video on painting wall murals with stencils like the one in the picture below). You'll need to take this pattern to a print shop or find a way to get it enlarged to fit your project area. So, if you are creating a mural with it like I did then it needs to be huge.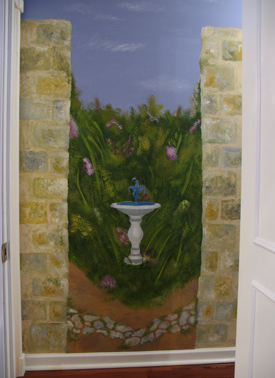 You see, working with paper stencils like this free palm tree wall stencil has a few advantages like being able to make the same stencil different sizes. You can also take the page to a copier machine to reduce or enlarge. Of course to get it large enough for a mural that will be a challenge which is why I recommend bringing it to a print/copy shop.
Once you get it sized correctly you'll need to cut out the stencil openings. Wait! Before you go through all that work why not prepare your palm tree wall stencils for many uses? Keep reading before you cut. You'll thank me later.
Are you new to working with paper stencils? If so you should know that you can prepare your paper stencils so that they can be used again and again. Yeah! That's right. The one you just printed can become a long term free stencil. It's easy. Get a roll of clear shelf/drawer liner. Cut sections the size of your stencil, peel off the back and cover the entire top side of the stencil. Burnish or rub down to get the air pockets out. That's it.
For more on working with paper stencils see our article on Stencil Downloads.

By the way, I like to do just the top side of the paper because if the bottom is slick it can encourage paint to bleed under the stencil and smudge your surface. The underside may get wet when you wash it but just let it dry and you can flatten it back out by storing it in a book.
OK! I told you that I had many ideas for using this palm tree wall stencil in your private paradise. We talked about murals but what about keeping this stencil the size of an 8-1/2" by 11" and painting patterns on your walls like a wallpaper? The beauty of working with stencils is that you are in charge. Choose the colors and patterns that best suit your image of what paradise is like.
Have you thought about using these stencils to decorate some throw pillows? It's easy and talk about customizing your décor. For more on stenciling on fabric don't miss the How to Garment Stenciling Article. As long as we are talking about fabric stenciling, these palm tree wall stencils may be perfect to adorn you own custom drapes or curtains too.
Don't stop there! Why not create art prints with these palm tree wall stencils. Again, create art with the color selections of your choice. Just go to Stencil Art to see how I used many stencil designs to create framed art prints.
A great companion for thes palm tree wall stencils would be the free Tropical Flower Stencil! Also, when you finish with this project you may be looking for other nature scenes to paint so don't miss the article on Tree Stencils.

Hey! Don't forget that I (and everyone else) want to see what you have done with your palm tree wall stencils. Just click on Stenciling Projects to get your masterpiece showcased here on this web site. Won't that be exciting! Or if you have any questions or want to share information join in on the Stencil Blog. Well, I hope to hear from you soon.
Happy Stenciling,
Penny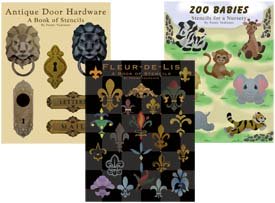 P.S. We are thrilled to introduce our selection of Downloadable Stencils . Instant gratification at its finest! You don't need a special printer - these designs are specially formatted to print from your home computer on standard letter sized paper. Once downloaded, you will have your complete stencil booklet with patterns and instructions. Just click, buy and print!
If you'd rather get your Stencil Pattern Books in Print, then visit our Printer's Book Shop for the same designs in book format that will be mailed to you. You'll find all of the stencils used as examples throughout this site.
Would you like to build a web site like this one and turn a passion into a business? Well, if I did it, you can too! Don't think that you have to be a web designer and know all about computer codes. I didn't. With Solo Build It! it's easy and they have the tools in place to help you build pages and teach you how to create a successful web site. Want more information? Just click on Powered by Solo Build It! and watch a cool video that will explain everything. I know you'll get excited like I did.
---
Return to Home Page from Palm Tree Wall Stencils.
Return to Wall Stencils from Palm Tree Wall Stencils.