Rose Stencil
The Rose Stencil is one of the most sought after designs and plays an important role in creating a soft, feminine atmosphere.


The rose is one of the most romantic images and always lends itself to a clean soft feminine environment. With blooms in so many colors it can suit almost any taste.


There are so many ways to use these rose stencils. In decorating a room you could use them as a border along the ceiling or just on top of a chair moulding. Sometimes I like to paint a single image in a particular spot like on top of the light switch or on either side of a mirror. You could include a couple of painted roses in different colors within a collage of framed art.
If you intend to use your rose stencils with paint I would like to suggest that after you print these free stencils, you cover the top of the paper with a clear protective coating like clear shelf liner before you cut out the openings. This way you can use your stencil again and again. I wipe my stencils down with a damp cloth after each use and store it in a book for the next time I need it.
Don't miss the video below with an idea for creating with these stencils.

Also, since this is a paper stencil, you can re-size it to fit your project area by enlarging or reducing on a copy machine.
There are so many ways to use Flower Stencils so don't miss this project which transforms a plain rug into a garden under your feet.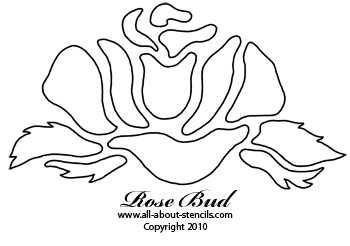 A handmade gift is truly one that comes from the heart. When you take your time to make a gift that you have thought out to be exactily to the tastes and interests of the receiver you are giving a one of a kind item.
These rose stencil designs look wonderful on a plain tote bag. I usually can find inexpensive canvas bags at the department store. Actually when I find them on sale I buy a few and keep them for that perfect occasion. Decorate the bag with some matching ribbons or other adornments to finish it off. Often I use the bag and stuff it full of other little treasures like bath beads or fancy soaps.
If your friend is an avid gardener, you may find inspiration at Stamping and Stenciling Gardening where there are ideas about decorating plain terra cotta pots with images (like these rose stencils) and a heart felt sentiment.
Hey! Don't forget that I (and everyone else) want to see how you have created with a rose stencil. Just click on Stenciling Projects
to get your masterpiece showcased here on this web site. Won't that be exciting! Or if you have any questions or want to share information join in on the Stencil Blog. Well, I hope to hear from you soon.
Happy Stenciling,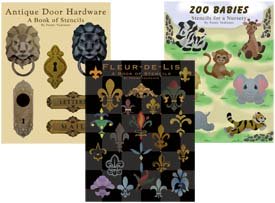 P.S. We are thrilled to introduce our selection of Stencil Designs. Instant gratification at its finest! You don't need a special printer - these designs are specially formatted to print from your home computer on standard letter sized paper. Once downloaded, you will have your complete stencil booklet with patterns and instructions. Just click, buy and print!
If you'd rather get your Stencil Pattern Books in Print, then visit our Printer's Book Shop for the same designs in book format that will be mailed to you. You'll find all of the stencils used as examples throughout this site.


Would you like to build a web site like this one and turn a passion into a business? Well, if I did it, you can too! Don't think that you have to be a web designer and know all about computer codes. With Solo Build It! it's easy. They have the tools to help you create a successful web site. Want more information? Just click on Powered by Solo Build It! and watch a cool video that will explain everything. I know you'll get excited like I did.
Here's that great video I promised you. Enjoy!
---
Return to Home Page from Rose Stencil.
Return to Stencil Designs from Rose Stencil.