The Art Nouveau Stencil
Let's celebrate The Art Nouveau Stencil!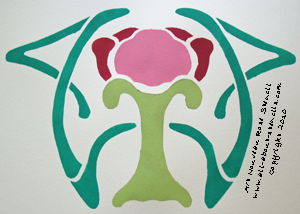 Art Nouveau is an international style of art and architecture that peaked in popularity at the turn of the 20th century (1890-1905). The name 'Art Nouveau" is French for 'new art'.
Art Nouveau closely followed the Victorian Era with its excessive ornamentation designs. Look for the Victorian Art Stencil to become more familiar with this form of decoration.
The movement was strongly influenced by Czech artist Alphonse Mucha, when he produced a lithographed poster, which appeared on 1 January 1895 in the streets of Paris as an advertisement for the play Gismonda, starring Sarah Bernhardt. It was an overnight sensation, and announced the new artistic style and its creator to the citizens of Paris. Initially called the Style Mucha, (Mucha Style), this soon became known as Art Nouveau.
I have designed an Art Nouveau stencil for you to try in your next project. Again, this is a very simple design as far as this design requires. The painting above was done with this design. The colors I used were Peony, Light Peony, Soft Apple and Turquoise. I hope you enjoy using this pattern in a project of your own.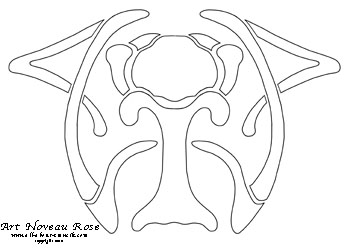 Just a quick hint before you start cutting out your new stencil. First cover it with a protective clear coating so that you can use it again and again. I would suggest strips of clear packing tape that barely overlap each other for complete coverage. If you are going to be working with paper stencils more in the future, then buy a roll of clear shelf liner for this reason. You can cut a sheet the same size as your stencil and roll it on much easier.
Below are a couple of sample designs from The Stencil Library and a link to shop their large variety of Art Nouveau stencils.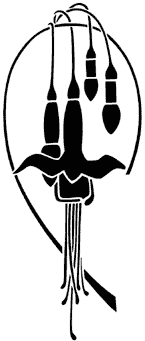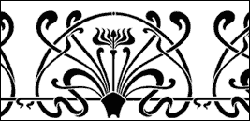 And hey! Don't forget that I (and everyone else) want to see what you have done with your Art Nouveau Stencils. Just click on Stenciling Projects to get your masterpiece showcased here on this web site. Won't that be exciting! Or if you have any questions or want to share information join in on the Stencil Blog. Well, I hope to hear from you soon.
Happy Stenciling,
Penny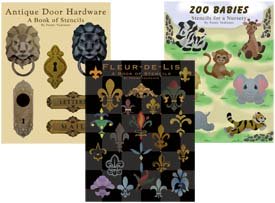 P.S. If you're looking for Stencil Designs (like these), that you can open at your computer and print now or save (No waiting on the Mail Man), just check out our Stencils Catalog for your next project.
If you'd rather get your Stencil Pattern Books in Print, then visit our Printer's Book Shop for the same designs in book format that will be mailed to you. You'll find all of the stencils used as examples throughout this site.


Would you like to build a web site like this one and turn a passion into a business? Well, if I did it, you can too! Don't think that you have to be a web designer and know all about computer codes and complicated html stuff. I didn't. With Solo Build It! it's easy and they have the tools in place to help you build pages and teach you how to create a successful web site. Want more information? Just click on Powered by Solo Build It! here and watch a cool video that will explain everything. I know you'll get excited like I did.
Wait! There's more. I want to share this project idea video with you because I hope it inspires you to use this art nouveau stencil. Enjoy!
---
Return to Home Page from Art Nouveau Stencil.
Return to Stencil Designs from Art Nouveau Stencil.