Dolphin Stencil Goes to the Beach!
Dolphins: the most lovable creatures of the sea! Here's a free dolphin stencil and a great project idea to get you started.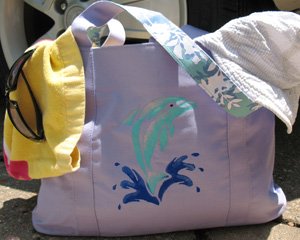 As a Certified Scuba Diver, I can tell you that there is no place more peaceful than under the waves. Imagine the feeling of floating, weightless with the lulling motion of the water lightly supporting you while you immerse yourself into the lives of the colorful fish and interesting sea creatures.
Dolphins have emerged as a creature much loved for its intelligence and seemingly human-like emotions. Not to mention their eagerness to develop relationships with us.
Well, if you love them like I do, then I know you'll really appreciate the free dolphin stencil and the project that I have prepared for you. Next time you head out to the beach make a splash with this cute tote bag. Pile all your surf gear inside and make all the other fish in the sea jealous. OK – Enough of the fishy business. Let's get started!
Here's the stencil!


Print the dolphin stencil by left clicking on it with your mouse and select print (for PC users) or drag it into a Pages document or Photoshop and print from there (for Mac users). Don't forget that you can re-size it to fit your project area either on your computer or on a copy machine – that's one of the benefits of working with paper stencils. For more benefits and how to work with paper stencil designs go to our Stencil Download article for more hints and tips.
Isn't it great to get a project idea and the stencil free? If you think so then don't miss our Free Stenciling Patterns for more of this.
Before you go to the trouble of cutting it all out why not cover it with a nice protective clear coat so that you can use it again and again. I use clear shelf liner which you can buy at any discount store. If you don't have any of that run strips of clear packing tape across the stencil with edges slightly overlapping so that you have the entire piece covered. You can trim the edges if sticky stuff is hanging over.
Line the stencil up on your tote bag where you want to paint the image. Dab your brush into paint and blot of any excess. Remember, stenciling is a dry brush technique which means that too much paint on the brush will get pushed under the stencil and smear your image. Use an up and down, pouncing motion over the edges of each stencil opening and work your way to the centers. For more information on these basic techniques see How to Stencil for all you need to know.
Well, that's it in words but I made a video so that you can see it for yourself. Also, I get to add in some of the other hints and tips that I think will get you excited about creating with stencils (in this case a cute dolphin stencil).




I bet your creative mind is whirling now. Are you thinking that not only can you save a little money on making gifts of these cute stencil art tote bags but you can also have fun making them and score the extra bonus of showing off your artistic side. It just doesn't get better than that!

We are thrilled to introduce our selection of downloadable and printable Stencil Designs. Instant gratification at its finest! You don't need a special printer - these designs are specially formatted to print straight from your home computer on standard letter sized paper. Once downloaded, you will have your complete stencil booklet with patterns and instructions. Just click, buy and print!
The book below has a Beach theme that I think you might like. Each book will come to you as a downloadable pdf file in your e-mail. Just check your e-mail after purchase for the link to connect to your file and print or save. It's that easy!
All designs can be adjusted to fit your project size. Instructions are included. Pages are 8.5" x 11".
If you'd rather get your Stencil Books in Print, just click the blue button below each book.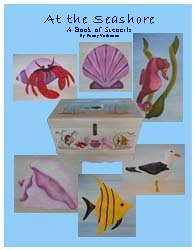 At the Seashore
Aaaahhhh...the lazy days of summer at the beach. This collection includes 6 designs- a Fish, a Crab, a Seagull, a Conch Shell, a Scallop Shell and a Seahorse.
This purchase is of a PDF file with 32 pages.
Price: $9.95
To get this Book in Print for just $19.95 click here:
Hey! Don't forget that I (and everyone else) want to see what you have done with your dolphin stencil. Just click on Stenciling Projects to get your masterpiece showcased here on this web site. Won't that be exciting! Or if you have any questions or want to share information join in on the Stencil Blog. Well, I hope to hear from you soon.
Happy Stenciling,
Penny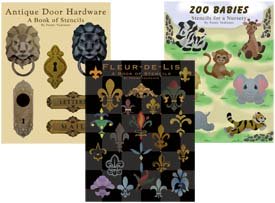 P.S. If you'd rather get your Stencil Pattern Books in Print, then visit our Printer's Book Shop for the same designs in book format that will be mailed to you. You'll find all of the stencils used as examples throughout this site.


Would you like to build a web site like this one and turn a passion into a business? Well, if I did it, you can too! Don't think that you have to be a web designer and know all about computer codes and complicated html stuff. I didn't. With Solo Build It! it's easy and they have the tools in place to help you build pages and teach you how to create a successful web site. Want more information? Just click on Powered by Solo Build It! and watch a cool video that will explain everything. I know you'll get excited like I did.
---
Return to Home Page from Dolphin Stencil.
Return to Stenciling Ideas from Dolphin Stencil.