Body Stencils!
Wearing art becomes very personal with body stencils. Imagine not just curls but swirls of color in your hair. It can be done with hair stenciling. That may be new but art on our skin is as old as time and stencils can be used with tattoos to make your skin art perfect.


I've used stencils on just about everything but now it's getting really personal. Let's talk about using stencils to decorate ourselves.
Of course, when we think of body art the first thing that comes to mind are tattoos. Maybe you're interested in getting a permanent tattoo and are looking for a great design. I have a couple of free patterns for you at Tattoo Stencils where you'll find three great stencils and Airbrush Tattoo Stencils where you'll find a fire breathing dragon or a bright eyed butterfly.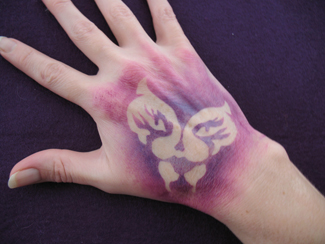 But maybe you just want to sport a little color or a particular icon for a special occasion. Then you need to know How To Apply a Temporary Tattoo Stencil like this one. This was painted on with safe non-toxic face paints that were purchased at a local craft supply store and easy to apply. You can do this with the kids at parties too.
Tattoos take on many forms and designs. If you are looking for a pattern that will work well in a single color design like the butterfly please check out the Tribal Stencils.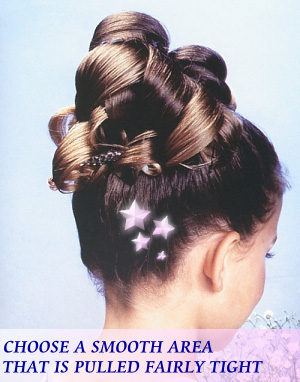 OK! We covered the obvious for body stencils so now let's talk about Hair Stenciling ! Yeah! maybe you put color in your hair but have you ever thought about painting a design? It's a great way to make a statement at any occasion.
The most popular form of body stencils are Face Paint Stencils. It's the latest craze for any event with kids. Stencils for Face Painting can be a wonderful addition to any event or party or it can be the center purpose. These two articles offer free stencils to get your party started!
I just added some more temporary tattoo stencils for you to choose from.
Hey! Don't forget that I (and everyone else) want to see what you have done with your body stencils. Just click on Stenciling Projects to get your masterpiece showcased here on this web site. Won't that be exciting! Or if you have any questions or want to share information join in on the Stencil Blog . Well, I hope to hear from you soon.
Happy Stenciling, Penny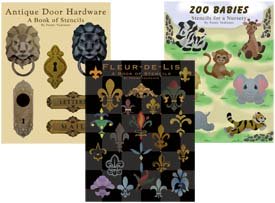 P.S. We are thrilled to introduce our selection of Stencil Designs . Instant gratification at its finest! You don't need a special printer - these designs are specially formatted to print from your home computer on standard letter sized paper. Once downloaded, you will have your complete stencil booklet with patterns and instructions. Just click, buy and print!
If you'd rather get your Stencil Pattern Books in Print, then visit our Printer's Book Shop for the same designs in book format that will be mailed to you. You'll find all of the stencils used as examples throughout this site.
Would you like to build a web site like this one and turn a passion into a business? Well, if I did it, you can too! Don't think that you have to be a web designer and know all about computer codes. With Solo Build It! it's easy. They have the tools to help you create a successful web site. Want more information? Just click on Powered by Solo Build It! here and watch a cool video that will explain everything. I know you'll get excited like I did.
---
Return to Home Page from Body Stencils.