Stencils for Face Painting
Art on your face? No, really! It's easy with stencils for face painting.


If you're planning a party for kids than this is a must do! It's amazing how animated and excited they get when it comes to having colorful pictures painted on their little faces. It's easy with face paint stencils, it's fun for everyone and it's a great addition to any party!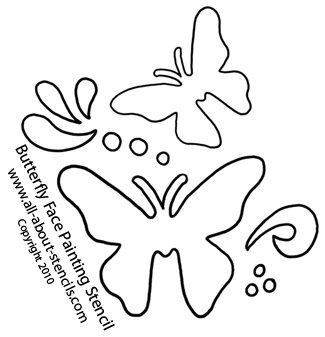 Butterflies are the most popular images when working on crafts for kids. They are so carefree while they flutter along without any worries - just spreading good feelings and happiness. Just like children. You just have to crack a smile.
Just print these free stencils for face painting and don't forget that you can re-size them to fit any size on a copy machine.
Also, cover your paper stencil with a clear coating like clear shelf liner before you cut out the openings. This way you can use the stencil over and over. After the paint dries you can wash them off with a damp cloth.
If you need more information about working with face paint stencils, visit Face-Painting-Fun where they can answer any face-art questions for either beginners or pros.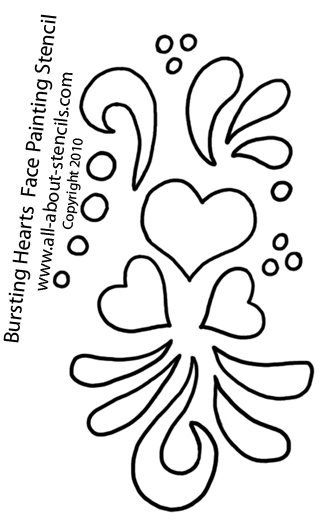 Make sure to only use paint approved for face painting. Read all the instructions on any package of paint you purchase. And don't miss this article and more freebies at Temporary Tattoo Stencils where you'll find another butterfly stencil.
This is an idea for you to work in at your party, but what about using stencils to prepare for the party. If you have a special event that you want to stand out in the crowd then you should check out this article on Hair Stenciling. Yeah! You read that right. I know, I never thought of this either but it's a really cool idea.
Hey! Don't forget that I (and everyone else) want to see what you have done with your stencils for face painting. Just click on Stenciling Projects to get your masterpiece showcased here on this web site. Won't that be exciting! Or if you have any questions or want to share information join in on the Stencil Blog. Well, I hope to hear from you soon.
Happy Stenciling,
Penny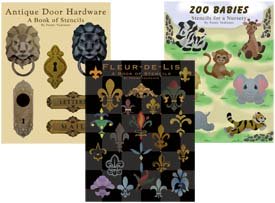 P.S. We are thrilled to introduce our selection of Stencil Designs. Instant gratification at its finest! You don't need a special printer - these designs are specially formatted to print from your home computer on standard letter sized paper. Once downloaded, you will have your complete stencil booklet with patterns and instructions. Just click, buy and print!
If you'd rather get your Stencil Pattern Books in Print, then visit our Printer's Book Shop for the same designs in book format that will be mailed to you. You'll find all of the stencils used as examples throughout this site.


Would you like to build a web site like this one and turn a passion into a business? Well, if I did it, you can too! Don't think that you have to be a web designer and know all about computer codes. With Solo Build It! it's easy. They have the tools to help you create a successful web site. Want more information? Just click on Powered by Solo Build It! and watch a cool video that will explain everything. I know you'll get excited like I did.
---
Return to Home Page from Stencils for Face Painting.
Return to Body Stencils from Stencils for Face Painting.