Hair Stenciling!
Hair Stenciling is a great way to stand out in the crowd even at a special event.


I have done a lot with stencils but never imagined stenciling patterns on hair. And yet there are some very talented and creative people out there who have caused me to open up my mind and consider it. Wow!
Well here is a wonderful article on Hair Stenciling from our friends at Beauty & The Bath where you can find more Ideas and How-To on this subject and so much more.
Well, without further ado -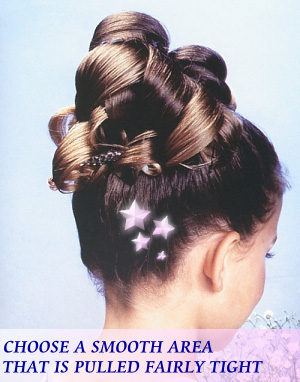 Temporary Hair Tattoos
Temporary hair tattoos make a special birthday outfit fantastic or an everyday hairdo into something memorable. Special occasions encourage you to wear your finest clothes, but dressing up your hair can sometimes be challenging.
Hair tattoos come in all shapes and sizes to decorate your hair whenever you want without long-term dyes. Several companies developed a selection of hair tattoos for those precious moments, but you can also make your own hair tattoos with a few simple steps. This unusual decoration can make your night out feel special or your child's birthday stand out among the crowd.
A hair tattoo generally describes a glittery picture or bold design that you wear directly on your hair. Instead of putting a flower on a barrette or hair clip, you use colored hairspray to attach a flat image of a flower directly to your hair. These tattoos resemble rub-on tattoos with bright colors and easy application. Like other temporary tattoos, the images are designed to wash out quickly and leave no lasting mess.
As a unique novelty item, the temporary tattoo in your hair may be one of the most versatile accessories. Hair tattoos become shiny ways to express your individual personality. Many companies print popular designs of butterflies, swirls, flowers and even sayings like "happy birthday."
For a very special day, your little princess might want her very own tiara tattoo that will stay on through school or a day at the park. Make sure to check the school's dress code before applying a temporary hair tattoo.
You can make hair tattoos or hair stenciling with a little creativity and very simple items. Lightweight poster board and colored hairspray are basic pieces for your very own hair tattoo shop. Trace a pattern on the poster board. Simple patterns like numbers or animal outlines work best. Use the template and hairspray to apply color to a section of hair.
Temporary hair tattoos vary widely in design and in how they are applied. Be sure to read any instructions on purchased hair tattoos. Some images adhere with heat-activated glue. You may need a flat iron for hair in order to make these tattoos do their best for you.
For younger tattoo clients, try a brand that adheres with traditional hair spray rather than a flat iron. A great look might not be worth struggling with a small child and a hot iron.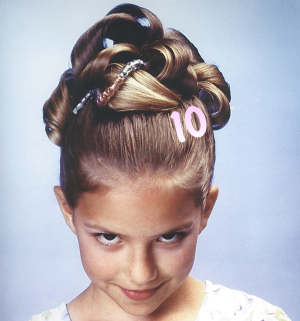 Hair tattoos might be easy to use, but a few tips can help you go from just fun to glamorous. Adhesives for hair stenciling works best when your hair is clean and thoroughly dry. Your hairstyle should include one section that lays flat and secure. Do not brush this section of hair after the tattoo is applied. Remember to let the image dry thoroughly before touching.
The birthday girl may never need to tell anyone her age again. Temporary hair tattoos give you easy-to-do ways to accessorize, express yourself or just have fun on a special day.
Hey! Don't forget that I (and everyone else) want to see what you have done with hair stenciling. Just click on Stenciling Projects
to get your masterpiece showcased here on this web site. Won't that be exciting! Or if you have any questions or want to share information join in on the Stencil Blog . Well, I hope to hear from you soon.
Happy Stenciling,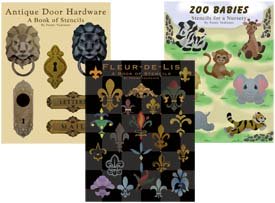 P.S. We are thrilled to introduce our selection of Stencil Designs . Instant gratification at its finest! You don't need a special printer - these designs are specially formatted to print from your home computer on standard letter sized paper. Once downloaded, you will have your complete stencil booklet with patterns and instructions. Just click, buy and print!
If you'd rather get your Stencil Pattern Books in Print, then visit our Printer's Book Shop for the same designs in book format that will be mailed to you. You'll find all of the stencils used as examples throughout this site.
Would you like to build a web site like this one and turn a passion into a business? Well, if I did it, you can too! Don't think that you have to be a web designer and know all about computer codes. With Solo Build It! it's easy. They have the tools to help you create a successful web site. Want more information? Just click on Powered by Solo Build It! and watch a cool video that will explain everything. I know you'll get excited like I did.
---
Return to Body Stencils from Hair Stenciling