Art Video Collection
All About Stencils has an art video collection for sharing with you how to use stencils in your arts and crafts or interior decorating projects.


Each video covers a unique topic and therefore they are dispersed throughout this web site. I created this page as a library to offer you direct links to each one because I believe that watching is the best way to learn and be inspired. So, without further ado...here they are -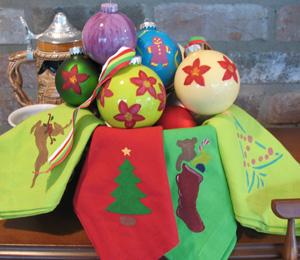 I can't say it enough. The real beauty of stencils is that they allow you to put hand painted images in difficult places so that you can custom design your own arts and crafts. This Christmas Art Activities Project proves this point very well because it involves painting on glass. You know how slippery glass is and paint does not want to stick to it. Well, I want to show you how easy it is to custom design Christmas Ornaments with stencils!

I found this great Stenciling Instructions Art Video from The Artful Stencil that I want to share with you. Not only is it a valuable way to see basic stenciling techniques in action it also shows you how to add depth and life to your painted images.
But wait! There is another art video at Basic Stenciling Techniques that will help you get a good start to a wonderful hobby!
Meghan Carter does this beautiful art video showing you how to Create Your Own Stencil. Maybe you found a pattern you love and want to duplicate it over and over. This is the art video for you. Follow this link and scroll to the bottom.
Here's more from Meghan Carter. This time she shows us how to stencil on cabinets.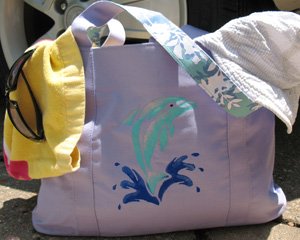 Let's do an easy stenciling project that you can finish in just a few minutes but end up with a Summer Time Tote Bag that will accompany you to the beach or pool for years to come. Best yet the Dolphin Stencil is free and I added an art video for you to watch as I paint this project.
OK - Normally when we think about using stencil designs we imagine pressing paint into the openings. Right now I'm going to ask you to wipe that image out of your mind because we are going to do some Christmas Art Projects that use stencils in a whole new way.

Patriotic Stencil Projects are very popular lately. Since 9-11 our hearts have rekindled the loyalty we feel for our Country. Decorating with eagle and star stencil craft patterns is a great way to show our American Pride. I found this wonderful video tutorial from Club Scrap that will show you a couple of new creative ways to work with stencils. I hope you get as much inspiration from it as I did.
I created a video for the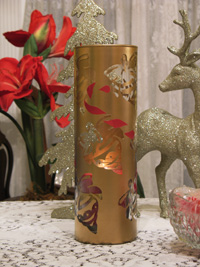 Christmas Arts and Crafts Candle Holder so that you can follow along with the action. Enjoy!
I want to share with you a few Christmas Craft Ideas for decorating gift bags with free stencils. This is so much fun and you'll be amazed at the cute wrapping you'll make. Not to mention that it's easy and you can save money on gift wrapping supplies.
A Stencil Mask is a negative of a stencil. Where stencil patterns allow paint to be applied to open areas, a mask blocks areas so that paint can outline the images. Here is a great video to let you see it in action. The video has some great ideas for all of your paper crafts like scrap booking and card making.
Every time I break out the Arts and Crafts for Kids Projects, I am always amazed at how their own creativity and imagination takes over to carry us in new directions that I could not have dreamed. That's the beauty of introducing children to art. They are not afraid to splatter paint or try new things. They are not worried about getting it right the first time. Of course, they don't even consider if they are going to make a mess or not. They play and experiment and that is the very essence of art!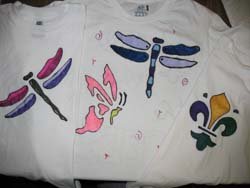 If you're looking for great Kids Craft Ideas , I've got one for you. I planned this one for a Football Tailgating Party. I made this fun arts and crafts for kids scheme with stencils and some inexpensive t-shirts and it was a hit. I put it all in a video to get you started quick because of course time is of essence, right?
Have you ever thought about painting art on your clothes? It's a great way to create your own custom wardrobe and to get you started there is an art video below where you'll get ideas about painting a Free Eagle Stencil on a pair of jeans, a black t-shirt and a denim jacket. Enjoy!
Stenciling with Trompe L'oeil and faux paint effects is a fun way to add those little personal touches to your home. This page offers you free stencils to get your feet wet with the joy of painting in this fun style. Just follow along with the art video to try out this unique style of painting.
If you have been creating with airbrush stencils then you're already aware of the many many ways they can be used. If not, prepare to be amazed. This page has several art videos for you to learn about Air Brushed Stenciling!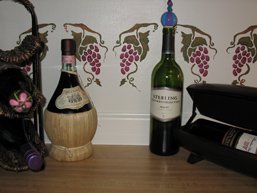 I'm excited about this adventure. It's using a free grapevine stencil for a Stenciling Wall Borders project. I even have a video so that you can personally join me on this tour.
You'll see that Wall Stencils are an easy and affordable way to add patterns and unique design elements to any room plus they are a great alternative to pricey and hard-to-apply wallpaper. Transform a plain wall into a garden of designs, patterns, colors and maybe even a whole scene simply by securing a stencil to the wall and painting over it. Here is an art video to show you how.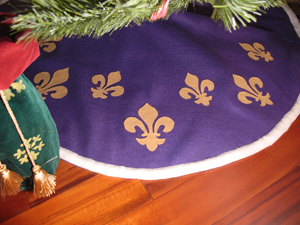 As I always say, stencils can be used for so much more than just paint. Here's a Christmas Art Craft Project that will get you thinking about cutting out patterns of felt from stencils to create a unique Tree Skirt like this one.
When looking for craft projects like Christmas Art Ideas, you'll find that so often different crafts have much to offer each other. Scrap booking has much to offer the craft of stenciling. I found this wonderful art video tutorial from Club Scrap that will show you a couple of new creative ways to use stencils. I hope you get as much inspiration from it as I did.

Card Making is an art form that has been around for generations. A homemade gift is truly from the heart and one to be cherished by the receiver. However, there is no limited to the ways that you can create a card. Here is another inspiring video from The Artful Stencil.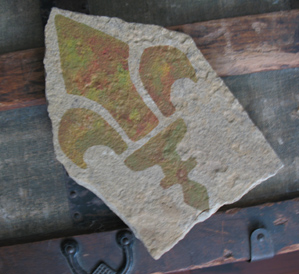 As a homeowner we are always looking for ways to make our little piece of paradise unique. With Concrete Stenciling for Homeowner you can get ideas on using stencils on concrete and stone. Also, don't miss the art video at Stenciling Floors for tips on wood stenciling.
Here is a great video that details how you can use acrylic based paste to create Raised 3-D Effect Images Through Stencils. You'll also pick up on some other tips for decorating the paste stencil image once it's done using glitter, jewels and colored chalk. These techniques will open up your mind to create many unique art items.
Want to join the Street Art Movement? Then try these Free Graffiti Art Stencils and check out the fun video for ideas on how to transform your walls!
With a Wall Painting Stencil, you can create unique works of art, even if you don't consider yourself artistic. That's the beauty of stencils. You don't have to be a DaVinci to create art. Stencils help you put an image on a wall (or anything) and from there you can add your own touches. Don't miss this great Art Video!

I truly hope that you find inspiration from these videos to create your own art with stencils.
And hey! Don't forget that I (and everyone else) want to see what you have done with your Stencils. Just click on Stenciling Projects
to get your masterpiece showcased here on this web site. Won't that be exciting! Or if you have any questions or want to share information join in on the Stencil Blog. Well, I hope to hear from you soon.
Happy Stenciling,
Penny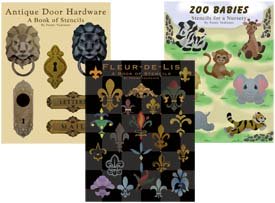 P.S. If you're looking for Stencil Pattern Books in Print (like these) then visit our Printer's Book Shop for a large variety of stencil collections. These books are easy to follow and come with complete instructions. You'll find all of the stencil designs used as samples throughout this site.
Would you like to build a web site like this one and turn a passion into a business? Well, if I did it, you can too. Don't think that you have to be a web designer and know all about computer codes and complicated html stuff. I didn't. With Solo Build It! it's easy and they have the tools in place to help you build pages and teach you how to create a successful web site. Want more information? Just click on Powered by Solo Build It! here and watch a cool video that will explain everything. I know you'll get excited like I did.
Oh wait! Here's the great video I promised you!
---
Return to Home Page from The Art Video Collection.