All About The Patriotic Stencil
Patriotic stencil projects are very popular lately. Since 9-11 our hearts have rekindled the loyalty we feel for our Country. Decorating with eagle and star stencil craft patterns is a great way to show our American Pride.


Let's start with one of America's Most enduring symbols - the eagle! Here is one of our many free printable stencils (check out the list on the right for many more). Plus click on Eagle Stencil to see how this pattern was painted on a pair of jeans, a t-shirt and a denim jacket.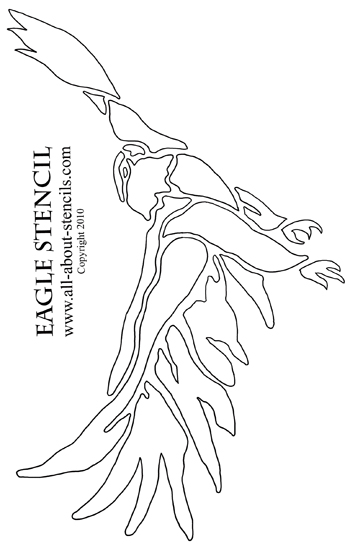 Patriotic stencils are great for all kinds of arts and crafts and quite often used in school projects.
While you're celebrating the country there are a couple of other truly American designs that I think you might find interesting.
First, at Southwestern stencils you'll find some of the typical images that come to mind for that region like a cactus, a coyote and the moon and a couple of others.
Second, check out the Cowboy stencils for images like the horned skull.
Here's a quick tip! Before you cut out the openings on this Eagle Patriotic Stencil, cover the top of the page with a clear coating like clear shelf liner. This way you can use your stencil again and again. Just wipe the stencil off with a damp cloth after each use and store it in a book to keep it flat.
If you don't have any clear shelf liner, strips of clear packing tape work well too. Just make sure that each strip slightly overlaps the last for full coverage.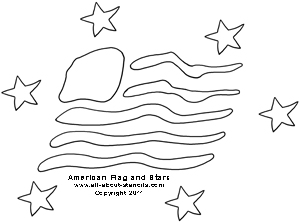 Well, the American Flag is of course the most needed Patriotic Stencil. This one reminds me of an Early American Design. It makes you think of the flag as tested with time and weather but still flying high. A testament to time and Freedom!
A good companion for this stencil would be the shooting star which can be found at Star Stencil. It's actually from the Face Paint Stencils Collection but just like all stencil patterns it can be used in any way you desire.
This site has many more great tips like this plus project ideas and the stencils. So, browse around for your next project!
Wait! I found this wonderful video tutorial from Club Scrap that will show you a couple of new creative ways to work with Patriotic stencils. I hope you get as much inspiration from it as I did.


Isn't it great to see a new stenciling idea in action? I find it much easier to learn a new technique by watching someone else. I hope you are inspired to create some great works of art with stencils!
If you found yourself inspired by the video, then scroll down for a great project idea video that re-designs some clothing with the eagle stencil above.
And hey! Don't forget that I (and everyone else) want to see what you have done with Patriotic stencils. So, join in on the Stencil Blog or Stenciling Projects
to get your masterpiece showcased here. Won't that be exciting! Well, I hope to hear from you soon.
Happy Stenciling,
Penny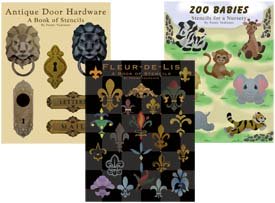 P.S. If you're looking for Stencil Pattern Books in Print (like these) then visit our Printer's Book Shop for a large variety of stencil collections. These books are easy to follow and come with complete instructions. You'll find all of the stencil designs used as samples throughout this site.
Of course, if you want stencil designs that you can print from your computer right now, go to the Printable Stencil Books!


Would you like to build a web site like this one and turn a passion into a business? Well, if I did it, you can too. Don't think that you have to be a web designer and know all about computer codes and complicated html stuff. I didn't. With Solo Build It! it's easy and they have the tools in place to help you build pages and teach you how to create a successful web site. Want more information? Just click on Powered by Solo Build It! and watch a cool video that will explain everything. I know you'll get excited like I did.
OK! Here's that great video I promised you. Enjoy!
---
Return to Home Page from Patriotic Stencil.
Return to Holiday Crafts from Patriotic Stencil.