Free Printable Stencils
With these free printable stencils you can get your arts and crafts started now! But there's more - just look to the right for an extensive list of many other free stencils to print.


You can do so many things with these Free Stencils. On this page you'll find a variety of Free Stenciling Patterns but this is only a drop in the bucket to all that we have to offer in Stenciling. Plus clicking on any free printable stencil (or any image on this page) can lead you to more about that stencil and maybe a few other freebies.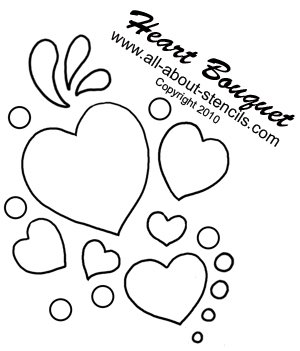 This free printable stencil came from Valentine Stencils where you can find a few other cute patterns that are great for Card Making and decorations.
For a few great tips on using a free printable stencil like this one to make cards and gift tags check out Christmas Projects. It may be a different Holiday but the concept is the same!
OK! Since I brought it up, there's plenty of Printable Christmas Stencils too!
By the way, after you print this stencil cover the top with a clear protective coating like clear shelf liner before you cut out the openings (which are called islands). This way you can use your free printable stencil again and again.
Don't miss the video at the bottom of this page for a great idea about how to use these stencils to decorate t-shirts with the kids.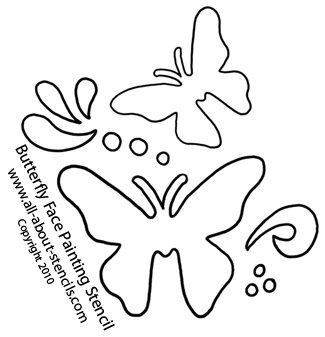 This cutie is from the Face Paint Stencils. I love using these to keep the kids busy during parties and especially Tail Gating Events. You know, the adults are gathered and doing there thing but the kids need something to do. So, let them face paint!
Hold on - just because this is a face paint stencil does not mean you can't use it for many other things. Stencils are inter-changeable. So paint this on a piece of furniture or create a custom t shirt (how cute). Keep looking around this site for many many ways to create art with stencils!
You can find more free Butterfly Stencils here too (including one that has eyes!). If that sounds "cool" to you than you can't miss the Cool Stencils. You'll find the Cool Cat and some other funky designs.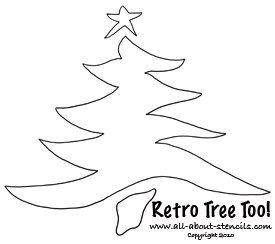 OK - You may not be in the market for a Christmas Tree Stencil but since the Holidays are the most popular time of year for arts and crafts there had to be one from the Free Christmas Stencils collection.
Crafting is all about the Holidays so of course we have many Printable Halloween Stencils too. You'll find stencils to make cookies, Free Pumpkin Carving Stencils and so many ideas to prepare for little ghouls to come knocking.
I just love the holidays because it's the one time of year that really opens up to the possibilities of creating. You know, there's all the decorations and even gift that need to be made. Well, the large variety of free printable stencils and creative ideas that you'll find here should keep you busy. Have fun and enjoy!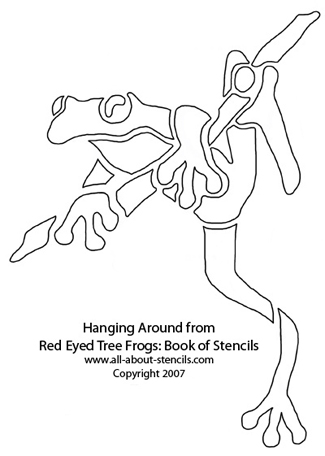 Going tropical? Well, you can't have a Rain Forest without Tree Frog Stencils. Actually this little guy is a take off from one of a group of pals available in a book below.
I'm hoping that if you like the idea of free printable stencils that you may be interested in trying the stencils we offer because they are printable and you can get them right away. But these stencils are designed to provide more detail than the silhouette images of these free printable stencils. Well, decide for yourself and take a minute to look at the books below.
We are thrilled to introduce our selection of downloadable and printable Stencil Designs. Instant gratification at its finest! You don't need a special printer - these designs are specially formatted to print straight from your home computer on standard letter sized paper. Once downloaded, you will have your complete stencil booklet with patterns and instructions. Just click, buy and print!
The books below each include a fish stencil. Each book will come to you as a down-loadable pdf file in your e-mail. Just check your e-mail after purchase for the link to connect to your file and print or save. It's that easy!
Click on any Book Cover Image for Project Ideas.
All designs can be adjusted to fit your project size. Instructions are included. Pages are 8.5" x 11".
If you'd rather get your Stencil Books in Print, just click the blue button below each book.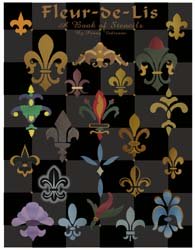 Fleur de lis: Book of Stencils
This collection includes 22 designs. Ten are easy single overlay. Six have 2 overlays and six have 3 overlays.
This purchase is of a PDF file which has 63 pages.
Price: $9.95
To get this Book in Print for just $19.95 click here: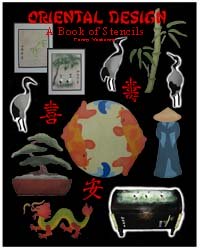 Oriental Designs: A Book of Stencils
This collection includes 16 designs- Chinese Dragon, Bamboo, Oriental Figure with Coolie Hat, Ying Yang Koi Stencils, Bonsai Tree Stencil and 3 Cranes plus 10 Chinese Symbols (Eternity, Friendship, Happiness, Harmony, Long Life, Peace, Prosperity, Tranquility, Truth and Dragon.
This purchase is of a PDF file with 40 pages.
Price: $9.95
To get this book in print for just $19.95 click here: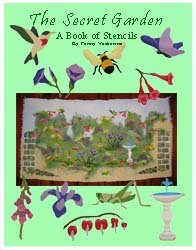 The Secret Garden
Create your own private wall mural garden retreat. This collection includes 12 stencils -fountain, bleeding heart, iris, bee, butterfly, foxglove, grasshopper, hummingbird, trumpet flower, morning glory, stone wall and stove path.
This purchase is of a PDF file with 51 pages.
Price: $9.95
To get this Book in Print for just $19.95 click here: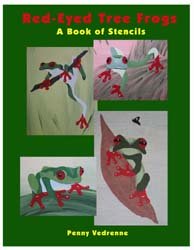 Red-Eyed Tree Frogs
This book contains 4 cute Red-Eyed Tree Frogs for you to paint in your next project. Bring a little of the rain forest to your home. There are 37 pages in this pdf file which includes the stencils of all 4 frogs (each has 5 overlays) and complete instructions.
Price: $9.95
To get this Book in Print for just $19.95 click here: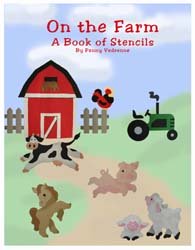 On the Farm
With these stencils you can create the perfect barn yard setting for your little one. This collection includes 9 designs- a Cow, a Chicken, a Pig, a Sheep, a Lamb, a Horse, Fence, a Barn and a Tractor.
This purchase is of a PDF file with 40 pages.
Price: $9.95
To get this Book in Print for just $19.95 click here: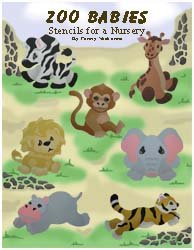 Zoo Babies: Stencils for a Nursery
This collection includes 7 animal stencils - an Elephant, a Giraffe, a Hippo, a Lion, a Monkey, a Tiger and a Zebra.
This purchase is of a PDF file with 40 pages.
Price: $9.95
To get this Book in Print for just $19.95 click here:
Hey! Don't forget that I (and everyone else) want to see what you have done with your free printable stencils. Just click on Stenciling Projects to get your masterpiece showcased here on this web site. Won't that be exciting! Or if you have any questions or want to share information join in on the Stencil Blog. Well, I hope to hear from you soon.
Happy Stenciling,
Penny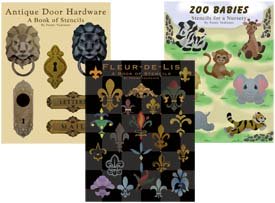 P.S. If you'd rather get your Stencil Pattern Books in Print, then visit our Printer's Book Shop for the same designs in book format that will be mailed to you. You'll find all of the stencils used as examples throughout this site.
Would you like to build a web site like this one and turn a passion into a business? Well, if I did it, you can too! Don't think that you have to be a web designer and know all about computer codes. With Solo Build It! it's easy. They have the tools to help you create a successful web site. Want more information? Just click on Powered by Solo Build It! and watch a cool video that will explain everything. I know you'll get excited like I did.
Wait! Here's that great video I promised you. Enjoy!
---
Return to Home Page from Free Printable Stencils.
Return to Free Stencils from Free Printable Stencils.