Skull and Crossbones Stencil!
It's simply none of my business what you're going to do with this Skull and Crossbones Stencil. And I don't really care - Just enjoy!




Just right click on the free stencil and select print or save if you're on a PC or drag it into a document if you're on a MAC.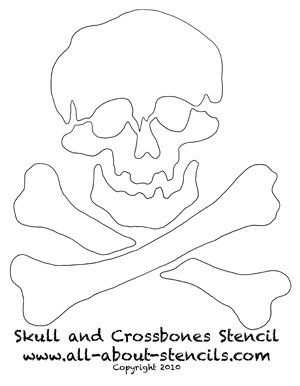 I don't know if you are looking for this stencil to make a child's Halloween Pirate Costume or if you're getting a tattoo or making a t-shirt (don't miss the video below). No business of mine. I just create the stencils and put them here for you to do what you may with them. So enjoy!
One of the joys I get from writing and creating this web site is that I often find the opportunity to investigate the history of images that you good people are seeking. When the Skull and Crossbones Stencil was brought to my attention, I was anxious to find out all I could. However, I haven't been real satisfied with my findings. I have discovered several reports with different findings. So, here's what I discovered.
Most reports agree that it is a representation of a human skull above two long crossed bones. It's a symbol of death once used by pirates and now used as a warning label on poisons.
Some sources say it dates back to the 1700s when the entrances to Spanish Cemeteries were marked with actual human skulls and bones. This was called the 'campo santo' practice which led to the symbol being associated with death.
Another source related the Skull and Crossbones to the Knights Templars. After they were dissolved, many had no skills other than what they were trained for as soldiers, so the could not make a living except as brigands and sea pirates. The skull and two bones symbolized resurrection the the Knight Templar and it was a popular motif on the graves of their fallen.
However, the flag known as the Skull and Cross Bones was the choice of pirates long after the Crusades. It meant surrender to our ship or die. Some say that later pirates used this symbol because the ship's log, which listed those who died on board, had the skull and cross-bones at the heading of the dead list.
So as you may see the true origin of the Skull and Crossbones is still mysterious!

By the way, this is part of our Free Stencils Collection. We have so many to offer that they are scattered throughout this web site so keep browsing the pages and come back here for all your Stenciling Ideas. You see, working with paper stencils like this free skull and crossbones stencil has a few advantages like being able to make the same stencil different sizes. You can also take the page to a copier machine to reduce or enlarge.
Once you get it sized correctly you'll need to cut out the stencil openings. Wait! Before you go through all that work why not prepare your palm tree wall stencil for many uses? Keep reading before you cut. You'll thank me later.
Are you new to working with paper stencils? If so you should know that you can prepare your paper stencils so that they can be used again and again. Yeah! That's right. The skull and crossbones stencil you just printed can become a long term free stencil. It's easy. Get a roll of clear shelf/drawer liner. Cut sections the size of your stencil, peel off the back and cover the entire top side of the stencil. Burnish or rub down to get the air pockets out. That's it.
For more on working with paper stencils see our article on Stencil Downloads. By the way, I like to do just the top side of the paper because if the bottom is slick it can encourage paint to bleed under the stencil and smudge your surface. The underside may get wet when you wash it but just let it dry and you can flatten it back out by storing it in a book.
Hey! Don't forget that I (and everyone else) want to see what you have done with your skull and crossbones stencil. Just click on Stenciling Projects
to get your masterpiece showcased here on this web site. Won't that be exciting! Or if you have any questions or want to share information join in on the Stencil Blog. Well, I hope to hear from you soon.
Happy Stenciling,
Penny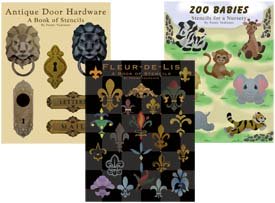 P.S. We are thrilled to introduce our selection of Stencil Designs. Instant gratification at its finest! You don't need a special printer - these designs are specially formatted to print from your home computer on standard letter sized paper. Once downloaded, you will have your complete stencil booklet with patterns and instructions. Just click, buy and print!
If you'd rather get your Stencil Pattern Books in Print, then visit our Printer's Book Shop for the same designs in book format that will be mailed to you. You'll find all of the stencils used as examples throughout this site.
Would you like to build a web site like this one and turn a passion into a business? Well, if I did it, you can too! Don't think that you have to be a web designer and know all about computer codes. With Solo Build It! it's easy. They have the tools to help you create a successful web site. Want more information? Just click on Powered by Solo Build It! and watch a cool video that will explain everything. I know you'll get excited like I did.
If you are thinking about using the skull and crossbones stencil to embellish a t-shirt, this video may give a few ideas.
---
Return to Home Page from Skull and Crossbones Stencil.
Return to Free Stencils from Skull and Crossbones Stencil.