Sports Stencils
It's all about Sports Stencils! Use these free stencils for everything from wall borders to custom t shirts.




As I always say there are so many ways to use stencils. Most of all they allow us to put the images that most inspire us on any object. Sports enthusiasts can use these designs in many ways.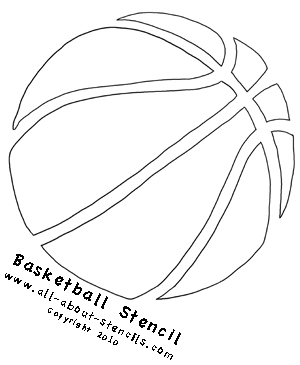 The enthusiasm of sports fans is contagious and you just can't help support that. I know, maybe it's you that's the sports nut. Either way, I have a few stencils here and I hope there is one perfect for you.
There are so many ways to use these stencils but I think the most popular way is to create custom t shirts. Stencils are the easiest way to create the same image again and again and have it come out identical. So if it's a team that you are creating for, stencils are what you need. Don't miss the article on Custom T Shirt Stenciling where you can get all the tips and techniques.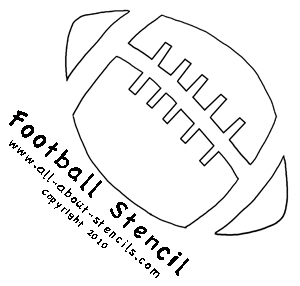 Printing free stencils like this is wonderful because not only are they free they offer more options than pre-cut-plastic stencils. First, you can re-size the stencil to fit your project area very easily on a copy machine. Of course, if you need the stencil in a size larger than a copy machine can handle take it over to a Document Printer and they can help.
Don't think that your paper sports stencils are good for only one use. After all, you do go through the work of cutting it out so why not prepare it for permanent use. That's easy with a clear coating like clear shelf liner or even strips of clear packing tape. Just make sure all the paper on the top of the sheet is covered before you cut out the openings. I even wipe my stencils down with a damp cloth and store it in a book for future uses. I have had some for years.


If you are decorating a room, these sports stencils will make a great border either along the ceiling or just above a chair rail moulding. To get more information on using stencils in this way go to Stenciling Wall Borders or watch the video below for how to paint a wall border with stencils.
If you want to add a touch of the sports to the space of your favorite little slugger, consider painting stencils onto a piece of furniture. It's the best way to add new life to old pieces and creating a unique custom piece cannot be underestimated. There are many ways to do this so don't miss the article on Furniture Painting. You'll get ideas on placement of the stencils and using colors for the best effect.
Hey! Don't forget that I (and everyone else) want to see what you have done with sports stencils. Just click on Stenciling Projects to get your masterpiece showcased here on this web site. Won't that be exciting! Or if you have any questions or want to share information join in on the Stencil Blog. Well, I hope to hear from you soon.
Happy Stenciling,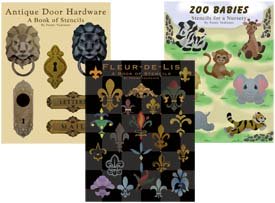 P.S. We are thrilled to introduce our selection of Stencil Designs. Instant gratification at its finest! You don't need a special printer - these designs are specially formatted to print from your home computer on standard letter sized paper. Once downloaded, you will have your complete stencil booklet with patterns and instructions. Just click, buy and print!
If you'd rather get your Stencil Pattern Books in Print, then visit our Printer's Book Shop for the same designs in book format that will be mailed to you. You'll find all of the stencils used as examples throughout this site.
Wait,wait! Here's that video I promised you. Enjoy!
Would you like to build a web site like this one and turn a passion into a business? Well, if I did it, you can too! Don't think that you have to be a web designer and know all about computer codes. With Solo Build It! it's easy. They have the tools to help you create a successful web site. Want more information? Just click on Powered by Solo Build It! and watch a cool video that will explain everything. I know you'll get excited like I did.
---
Return to Home Page from Sports Stencils.
Return to Free Stencils from Sports Stencils.