Decorating with Stencils
Unless you can wisp a brush through paint and come up with a masterpiece, decorating with stencils is a great way for you to experience the satisfaction of being an artist of decorative painting.


And of course, art is all about decorating our lives. We want color and pictures everywhere we look. Otherwise our eyes would have nothing to gaze upon and our spirits would be bored.
You've come to the right place for great stenciling ideas and how-to information on decorating with stencils. If you think that stencils are just for walls, you'll be surprised.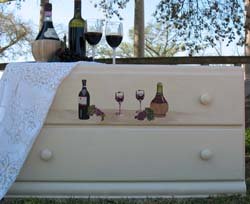 Adding Pizzazz to Furniture
You can liven up any room by decorating a piece of furniture to match the theme of the space or create one of its own.
I bet you have a worn out old dresser or out of style cabinet sitting around your house or collecting dust in the attic. Can you imagine it as the new focal point in your living room? Alright, so it might take a little imagination but put your mind to it and I bet you'll be dragging it out to the garage and slathering paint on it before you know what's gotten into you.
Come with me and click on this link as I cover some of the ways I used decorating with stencils for Furniture Painting.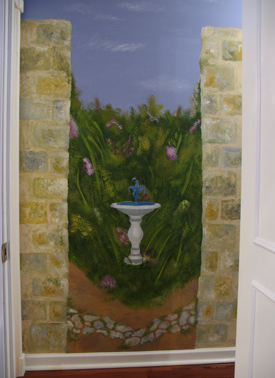 Use Your Walls as a Canvas
Transform a plain wall into a garden of designs, patterns, colors and maybe even a whole scene simply by securing a stencil to the wall and painting over it. Whatever mood you are trying to create, there is a stencil out there to inspire you!
Wall Stencils are a great alternative if you want to create hand painted images on your walls but don't quite trust your painting abilities to actually free hand designs on a wall.
Pssst! Don't miss the video below to watch as this Stencil Wall Mural is painted.
Even if you have some skills with a brush, decorating with stencils help you paint images that are always consistent. Yet even total novices can have a blast with a few small jars of paint and a pack of stencils, letting their imagination run wild with their stencil as their guide.
Once you finish splashing the walls with paint you should consider Stenciling Floors. You'll discover new ways to add special details to any room and bring new life to old floors.
OK! Don't feel like painting the floors or maybe you rent and want to take your art with you. Try to Stencil A Rug instead!
If you're planning a concrete stenciling for homeowner project than watch this video about decorating with stencils on concrete and stone. It's easy and you can create custom art on your driveway or on a coaster.
Don't forget your most private paradise when you are decorating with stencils. Transform the Bath into a Spa or a Tropical Paradise with a Bathroom Stenciling Makeover.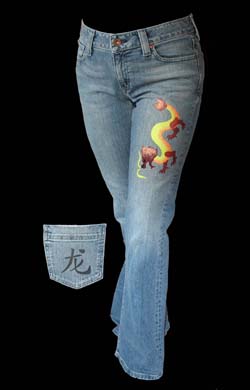 Create Your Own Line of Designer Clothing by Decorating With Stencils
We all like to be unique. And since we were created to be different, we should have our own style. As Clairee so eloquently put it in Steel Magnolias, "The ability to accessorize is what separates us from the animals."
Well, anytime you pick something off the rack at a store notice that it is also available in four different colors and 10 different sizes. In other words about 500 other people can be wearing the same thing. What a dilemma!
Oh wait! I have a great idea. Use a stencil to personalize your clothes (well not all of them).
Do you like the Dragon Jeans pictured above? You could do that. It's so easy. For the step by step instructions on how to garment stenciling with illustrations, click on the link. You'll be surprised at what you can do once you get the creative juices flowing.
Follow this link to find out all you need to know about Custom T Shirt and Fabric Stenciling. You will also find some great ideas too.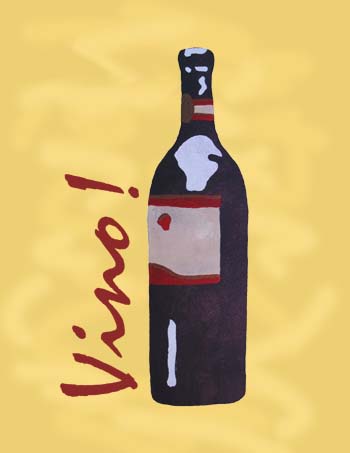 Stencils as Framed Art?
When we think of stencil art, we often picture an image painted on the wall. But have you ever considered using stencils to create art prints to hang on the wall? Follow this link to get some great ideas on how you can create some great stencil art prints for your home or office!
As you can see, decorating with stencils is a great way to enhance the beauty in our homes, our closets and ourselves! I hope you enjoy the ideas and information on these pages. Come back often because I will be adding many other great ways to use stencils.
We now have a catalog for you to browse a large variety of designs. So, check out our Stencils Catalog for your next project.
Below is a sample of the design books that we offer. These are the stencils used as examples on this page. Each book will come to you as a downloadable pdf file in your e-mail. Just check your e-mail after purchase for the link to connect to your file and print or save. It's that easy!
All designs can be adjusted to fit your project size. Instructions are included. Pages are 8.5" x 11".
If you'd rather get your Stencil Books in Print, just click the blue button below each book.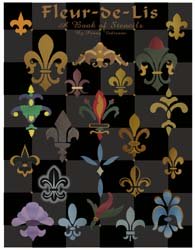 Fleur de lis: Book of Stencils
This collection includes 22 designs. Ten are easy single overlay. Six have 2 overlays and six have 3 overlays. For your decorating with stencils plan, this book offers all the classic designs.
This purchase is of a PDF file which has 63 pages.
Price: $9.95
To get this Book in Print for just $19.95 click here: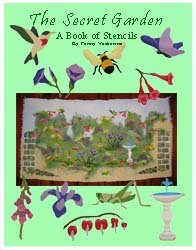 The Secret Garden
Create your own private stencil wall murals and garden retreat. This collection includes 12 designs including 4 animal stencils -fountain, bleeding heart, iris, bee, butterfly, foxglove, grasshopper, hummingbird, trumpet flower, morning glory, stone wall and stone path.
This purchase is of a PDF file with 51 pages.
Price: $9.95
To get this Book in Print for just $19.95 click here: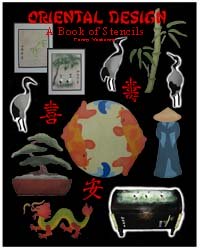 Oriental Designs: A Book of Stencils
This collection includes 16 designs- Chinese Dragon, Bamboo, Oriental Figure with Coolie Hat, Ying Yang Koi, Bonsai Tree and 3 Cranes plus 10 Chinese Symbols (Eternity, Friendship, Happiness, Harmony, Long Life, Peace, Prosperity, Tranquility, Truth and Dragon.
This purchase is of a PDF file with 40 pages.
Price: $9.95
To get this Book in Print for just $19.95 click here:
Wine & Spirits: A Book of Stencils
This collection includes 4 designs- a Wine Glass, a Chianti Bottle, a Wine Bottle and a Bunch of Grapes with Leaves.
This purchase is of a PDF file with 31 pages.
Price: $9.95
To get this Book in Print for just $19.95 click here: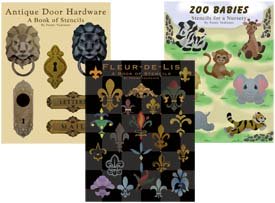 If you'd rather get your Stencil Pattern Books in Print (like these or the ones featured above) then visit our Printer's Book Shop for a large variety of stencil collections. These books are easy to follow and come with complete instructions. You'll find all of the stencil designs used as samples throughout this site.
Well, here's that video I promised you:

By the way, all of the stencils featured here are courtesy of Designs From Penny.

Well, I hope you found inspiration for decorating with stencils. I find it very rewarding to create and I hope you create some wonderful art with Stencils!
Happy Stenciling,
Penny


---
Would you like to build a web site like this one and turn a passion into a business? Well, if I did it, you can too. Don't think that you have to be a web designer and know all about computer codes and complicated html stuff. I didn't. With Solo Build It! it's easy and they have the tools in place to help you build pages and teach you how to create a successful web site. Want more information? Just click on Powered by Solo Build It! and watch a cool video that will explain everything. I know you'll get excited like I did.
---
Return to Home Page from Decorating With Stencils.