Stencil Art Prints
When we think of stencil art, we often picture an image painted on the wall. But have you ever considered using stencils to create art prints to hang on the wall?




Well, it's a great way to decorate. You can use unique designs to match the theme of any room and choose colors in the print to match any decor. Your framed artwork can be totally customized to fit your space!


These prints were made with simple three overlay designs (one overlay for each color). They were painted on a plain white background, matted with a double matte and framed. The paint colors were chosen to accent the surrounding decor. It was a very easy project and they definitely make a statement.
You may be curious about what type of paper works best for creating stencil art prints. You want a paper that has a smooth finish to allow the stencil to lay flat on the surface so that the edges of the painting will be clean and crisp. Also, you want a matte finish that will readily accept paint. Make sure it is heavyweight and thick so that the wet paint won't cause the paper to bubble and stretch.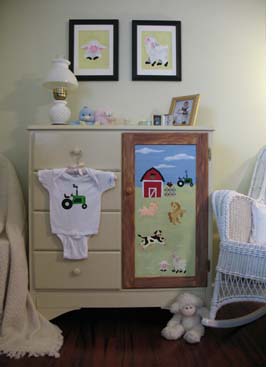 Notice the prints above the armoire in the picture to the left. They are taken from the images painted on the cabinet door. This is a great way to carry out a theme in a room. If you've used stencils to embellish a piece of furniture, pillows or some other accent in the room, consider hanging some matching prints on the wall. These have a solid pale yellow background to make the images stand out and also to coordinate with the rooms color palette.
One of the best benefits of creating hanging wall art stencils to frame instead of painting the stencils on the wall is that you can always change the print. For instance, as a child grows up you can just put another picture in the frame instead of painting the walls.
Most designers offer themed groups of stencils. Children's themes are very popular and you can find a large variety of options. But you can also find many other room themes like for kitchens (such as food, fruit, wine, coffee or dishware) or regional themes like Tuscany and Parisian. You can also consider styles like Art Nouveau, Classical, Oriental, Country, Western, Tropical … When it comes to choosing stencil art your options seem to be unlimited.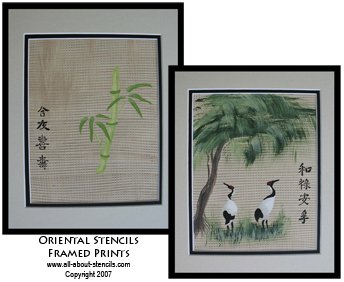 Combine two or more stencils to create a more complex art piece. The prints above were created using a variety of techniques which I'll tell you all about. First, though, each one features several stencils – one image (cranes and bamboo) and four symbols. A larger image was used as a focal point and the smaller symbols are lined up along the edge.
They appear to be painted on grass paper that has a weave texture. Believe me, it's just plain, smooth vellum (thick and smooth with no texture). Here's how it was done. The entire surface of the paper was painted a very light off white or cream color. When the paint was thoroughly dry, a thick coat of tan (a darker color than the first color) was applied to the entire surface. Working quickly before the paint dried, a flat comb was run in horizontal and then vertical lines. You can buy a tool at most craft supply stores to create this effect but a flat comb works too.
As for the tree and grass surrounding the cranes, this is just a simple technique using a fan brush and several colors of paint.
For the tree trunk, pour several colors of browns and tans (and maybe a little black) on your palette. Run the fan brush bristles through the colors capturing some of each color. Hold the brush about one third from the top of the page and pull the brush down along the paper, holding so that the bristles are following each other and not each making a line of its own. It's even better if you rock the brush slightly from side to side, allowing the bristles to cross each others line. This technique will let the brush create the texture of the tree trunk by allowing each bristle to leave traces of the colors they picked up off of the palette.
For the grass and tree branches, pour several greens onto your palette. Run the fan brush through the greens making sure to get some of each color. With the fan open, brush up in a wispy, light motion. For the tree branches, at the end of the motion, pull the brush to the left or right but keep the bristles open (horizontal). This will close off the branch of leaves. For the grass, just use the brushing motion (up or down).
By the way, the tree and branches were done after the crane stencils were completed.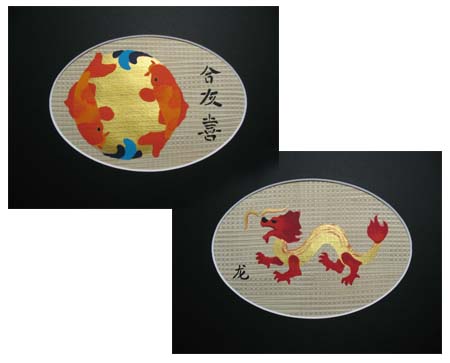 One of the best parts of creating your own stencil art is that you can choose whatever colors you want. You can use colors from the current decor or you can just reach right into your imagination and pull out whatever pleases you (and then maybe you'll end up changing everything else in the room). The designs above were just screaming out for bold colors and I caved in. Of course, it wasn't a stretch because I like being bold with colors. However, the point is that since you are creating your own art, be yourself. Have a good time!


Try pairing some stencil art with words. I mean, we are talking about making our homes personal, right? And how better to do that than with words that mean something to us or describe how we see ourselves? You can put just one word on your print (like the one pictured above) or a famous saying. Try writing a collection of inspirational words and placing a painted image on top of them (like the frog below).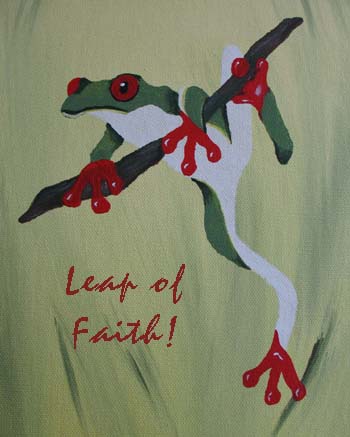 For creating stencil art prints, I would recommend Strathmore Windpower Bristol Pads (either the smooth or the vellum). This is what I use.
Just a fun note about the Strathmore Windpower line of Artist Papers, they are made with 100% wind power – a pollution-free, renewable energy resource.
Although I recommend paper without texture for stencil art prints, don't shy away from using stencils on canvas for creating paintings. I have done this with some success. Just remember that the challenge will be getting those clean edges so your artwork may require a little more touching up.
You may be tempted to use Watercolor Paper for your stencil art prints. It is a good thick paper designed to stand up to liquids. However, it usually has a slight texture so do some experimenting until you find the right one that works for you.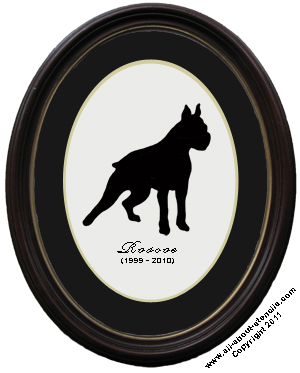 Here's another great stencil art idea to honor those pals of ours that have gone to the Rainbow Bridge. Using dog stencils, design a piece of framed art with his likeness, name and dates. Of course, you can do this for the little ones still here - just forget the dates.
I hope that now you have some great ideas about how you can decorate with stencil art prints. You are only limited by your own imagination (and I know there is no limit there). You can choose the size, colors, theme, framing…Let's face it – you are in charge. So go get 'em! Create some wonderful wall art stencils.
In an effort to bring you a complete solution for all of your stenciling needs, we now have a catalog for you to browse a large variety of designs that you can open at your computer and print now or save. Just check out our Stencils Store for your next project.
Below is a sample of the design books that we offer. These books include the designs used as examples of stencil art on this page. Each book will come to you as a down-loadable pdf file in your e-mail. Just check your e-mail after purchase for the link to connect to your file and print or save. It's that easy!
All designs can be adjusted to fit your project size. Instructions are included. Pages are 8.5" x 11".
If you'd rather get your Stencil Books in Print, just click the blue button below each book.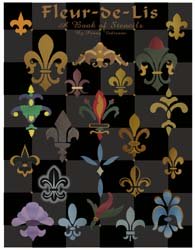 Fleur de lis: Book of Stencils
This collection includes 22 designs. Ten are easy single overlay. Six have 2 overlays and six have 3 overlays.
This purchase is of a PDF file which has 63 pages.
Price: $9.95
To get this Book in Print for just $19.95 click here: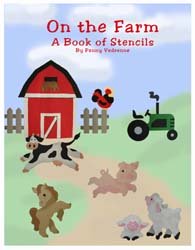 On the Farm
With these stencils you can create the perfect barn yard setting for your little one. This collection includes 9 designs- a Cow, a Chicken, a Pig, a Sheep, a Lamb, a Horse, Fence, a Barn and a Tractor.
This purchase is of a PDF file with 40 pages.
Price: $9.95
To get this Book in Print for just $19.95 click here: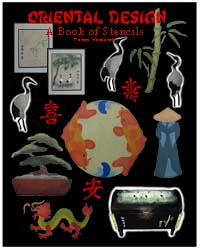 Oriental Designs: A Book of Stencils
This collection includes 16 designs- Chinese Dragon, Bamboo, Oriental Figure with Coolie Hat, Ying Yang Koi, Bonsai Tree and 3 Cranes plus 10 Chinese Symbols (Eternity, Friendship, Happiness, Harmony, Long Life, Peace, Prosperity, Tranquility, Truth and Dragon.
This purchase is of a PDF file with 40 pages.
Price: $9.95
To get this Book in Print for just $19.95 click here: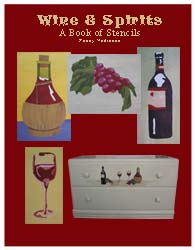 Wine & Spirits: A Book of Stencils
This collection includes 4 designs- a Wine Glass, a Chianti Bottle, a Wine Bottle and a Bunch of Grapes with Leaves.
This purchase is of a PDF file with 31 pages.
Price: $9.95
To get this Book in Print for just $19.95 click here: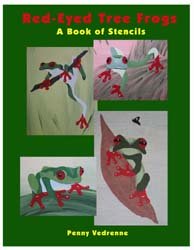 Red-Eyed Tree Frogs: A Book of Stencils
This book contains 4 cute Red-Eyed Tree Frogs for you to paint in your next project. Bring a little of the rain forest to your home. There are 37 pages in this pdf file which includes the stencils of all 4 frogs (each has 5 overlays) and complete instructions.
Price: $9.95
To get this Book in Print for just $19.95 click here: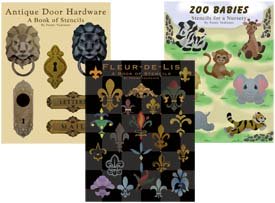 If you'd rather get your Stencil Pattern Books in Print (like these), then visit our Printer's Book Shop for a large variety of stencil collections. You'll find all of the stencil designs used as samples throughout this site.



All of the designs used as stencil art samples on this page are courtesy of Designs From Penny.

Would you like to build a web site like this one and turn a passion into a business? Well, if I did it, you can too. Don't think that you have to be a web designer and know all about computer codes and complicated html stuff. I didn't. With Solo Build It! it's easy and they have the tools in place to help you build pages and teach you how to create a successful web site. Want more information? Just click on Powered by Solo Build It! and watch a cool video that will explain everything. I know you'll get excited like I did.
---
Return to Home Page from Stencil Art Prints.
Return to Decorating With Stencils from Stencil Art Prints.