Wine and Grape Stencils Painted Project
You'll love this dresser decorated with wine and grape stencils as an accent in your living or dining room.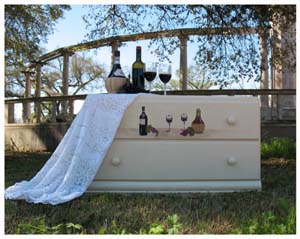 Having a hand painted, custom piece of furniture in your home adds a touch of class and personality. Not to mention that you can take an old piece of furniture that maybe you are ready to throw to the trash and make a conversation piece out of it. Decorative stenciling on furniture is easy because the stencils guide you to create the images.
Oh yeah! We now have a catalog for you to browse a large variety of stencils and you can find the designs used in this project at the Stencils Catalog (or just scroll down this page).
This dresser was actually a piece that I got from my neighbors garbage. It was originally a four drawer dresser but two of the drawers were missing. So, I cut down the side and back panels so that only the two drawers were left. I nailed pieces of accent wood around the bottom on the front and sides.

I used a cream colored spray paint on the entire dresser before stenciling. To make it easier on myself, I took the drawer that I was going to stencil on and brought it in where I was comfortable. It's easier to lug around just a drawer instead of the whole dresser. I lightly brushed a thin layer of tan paint on the area where the stencils would be painted with a crisp line at the top to give the appearance of a table top. Then the stencils went on. You may want to take a few moments to plan where each stencil will be painted.
If you need more instructions on stenciling, head over to How To Stencil for all you need.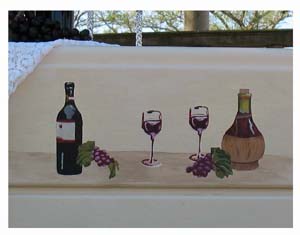 Here's a close up view of the painting.
We are thrilled to introduce these downloadable and Printable Stencils. Instant gratification at its finest! You don't need a special printer - these designs are specially formatted to print straight from your home computer on standard letter sized paper. Once downloaded, you will have your complete stencil booklet with patterns and instructions. Just click, buy and print!
The first book includes the wine and grape stencils used as examples on this page. Each book will come to you as a down-loadable pdf file in your e-mail. Just check your e-mail after purchase for the link to connect to your file and print or save. It's that easy!
All designs can be adjusted to fit your project size. Instructions are included. Pages are 8.5" x 11".
If you'd rather get your Stencil Books in Print, just click the blue button below each book.
Wine & Spirits: A Book of Stencils
This collection includes 4 designs- a Wine Glass, a Chianti Bottle, a Wine Bottle and a Bunch of Grapes with Leaves.
This purchase is of a PDF file with 31 pages.
Price: $9.95
To get this Book in Print for just $19.95 click here: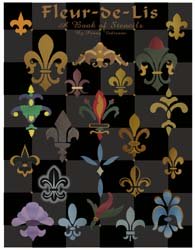 Fleur de lis: Book of Stencils
This collection includes 22 designs. Ten are easy single overlay. Six have 2 overlays and six have 3 overlays.
This purchase is of a PDF file which has 63 pages.
Price: $9.95
To get this Book in Print for just $19.95 click here: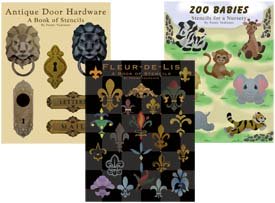 If you'd rather get your Stencil Pattern Books in Print (like these) then visit our Printer's Book Shop for a large variety of stencil collections. These books are easy to follow and come with complete instructions. You'll find all of the stencil designs used as samples throughout this site.
You'll have fun creating and showing off this wine and grape stencil sideboard. This project should get you thinking about all of the possibilities for designing art for your home. I hope you are inspired to create some great works of art with stencils!
Hey! Don't forget that I (and everyone else) want to see what you have done with grape stencils. Just click on Stenciling Projects to get your masterpiece showcased here on this web site. Won't that be exciting! Or if you have any questions or want to share information join in on the Stencil Blog. Well, I hope to hear from you soon.
Happy Stenciling,
Penny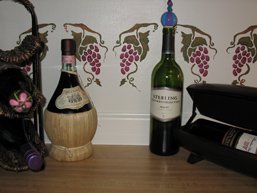 I think there is another project idea that you would like to see. It's using a free grapevine stencil for a stenciling wall borders project. Click on the text for the free stencil
and to get motivated watch the video below.



The grape stencils and other designs used as examples on this site are courtesy of Designs From Penny.

Would you like to build a web site like this one and turn a passion into a business? Well, if I did it, you can too. Don't think that you have to be a web designer and know all about computer codes and complicated html stuff. I didn't. With Solo Build It! it's easy and they have the tools in place to help you build pages and teach you how to create a successful web site. Want more information? Just click on Powered by Solo Build It! and watch a cool video that will explain everything. I know you'll get excited like I did.
Well, here's that video I promised you:
---
Return to Home Page from Wine and Grape Stencils Sideboard.
Return to Stenciling Ideas from Wine and Grape Stencils Sideboard.