Wall Stencils: Ideas and Techniques
Wall stencils are an easy and affordable way to add patterns and unique design elements to any room plus they are a great alternative to pricey and hard-to-apply wallpaper.


When we set out to redecorate, the first task on the agenda is to paint the walls. Well, that's because it's where we can get the biggest impact with color or patterns. The walls are either where we set the mood for everything else in the room or we create the perfect backdrop for the furniture and accessories we have already acquired.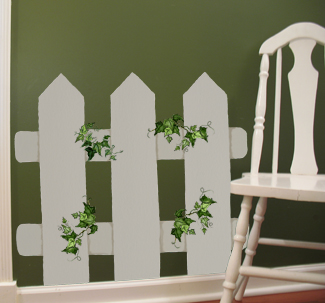 Stencils offer us the ability to be the ultimate designer. We're not satisfied with just hanging wall paper. We need to be more creative and really unique. So, whether you are creating a French Country bedroom with Toile stencils wallpaper or just a simple ribbon border in a Traditional dining room, stencils can help you get the painted images you want, where you want them!
(Pssst! Besides all the talk we have a video for you to watch and get ideas on this very page.)
Transform a plain wall into a garden of designs, patterns, colors and maybe even a whole scene simply by securing a stencil to the wall and painting over it. A large variety of stencil designs can be found at craft stores or art supply and specialty websites. Whatever mood you are trying to create, there is a design out there for you!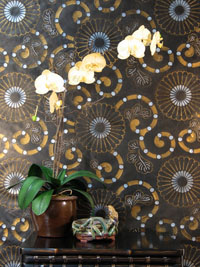 This photo is courtesy of Royal Design Studio where you can find these unique stencil patterns.
Wall stencils are a great alternative if you want to create hand painted images on your walls but don't quite trust your artistic abilities to actually free hand designs on a wall. Even if you have some skills with a paint brush, Stencils For Walls help you paint images that are always consistent. Of course a few basic stenciling techniques can help make the completed design more detailed and beautiful. Yet even total novices can have a blast with a few small jars of paint and a pack of stencils, letting their imagination run wild with their stencil as their guide.
We'll be talking about painting stencils for wall painting with single images, repeating patterns (wallpaper) and borders but now I want you to stretch your imagination and consider creating a wall mural with stencils or Mural Stenciling. Many designers have created stencils that complete a scene like a garden or seaside. Maybe you have a knack for combining individual stencils to create your own garden. The possibilities are endless!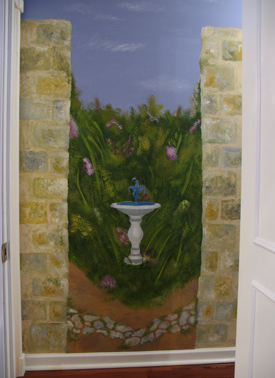 Consider using a collection of related stencil designs to create a mural like this one. At Stencil Wall Murals you'll find the details on how this was accomplished and you'll be very surprised at how easy it was. Yes, it was a big project that took the whole day but with the stencils and two very easy painting techniques you can achieve the same results. You'll even find a quick video to follow along with me. It's definitely the abridged version but you'll get the idea anyway.
There are several different types of stencils for walls. The most common are often sheets of plastic with a design already cut out. For this mural I used stencils from a book (see below) because I was able to change the size. Usually you can do this on a copy machine but because they needed to be so large I took the 8 1/2" x 11" paper to a copy store and they enlarged it to life size for the mural. (Need more information on Stencil Pattern Types? Just click here.)
Once I had my stencil the size I wanted, the rest went as normal with any stenciling project. After securing the stencil firmly to the wall, apply paint into the openings of the stencil. When the stencil is removed, the design remains on the wall. If you are creating a repeating pattern, reattach the pattern in the next area and apply paint. Continue moving the pattern and painting until your wall is complete.
Borders & Friezes

Creating borders on walls is easy with stencils. Border stencils are usually long strips that have a few combined designs with a theme, such as seahorses and seashells, grapes and curling vines with leaves, or flowing roses. Most have registration marks to guide you in the placement of the stencil so that you can create a continuing pattern. To apply border wall stencils accurately, use a measuring tape or level and use painter's tape to mark the lines of the top and bottom of the design. Once certain that the lines are straight, tape or hold the stencil against the wall and paint. Repeat the pattern all along the taped area for a beautiful border.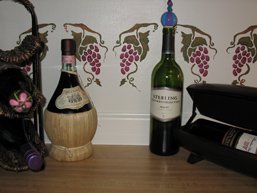 Please join me for this borders stenciling project. You'll find a free grapevine stencil used for Stenciling Wall Borders. I even have a video so that you can personally join me on this tour. (Psssst! You can watch the video on this page down below).
Wall stencils are great for all ages and can turn any room from boring to fabulous quickly. But when it comes to decorating a child's room, this can be a very fun and inexpensive way to drive home your theme. Create a Princess Bedroom with a castle fortress and maybe even a dastardly dragon (don't forget the knight in shining armor). Maybe you have a little slugger that would like a baseball theme (or any sport for that matter). Combine alphabet stencils to print out your child's name or any other sentiment. Wouldn't it be fun to get the kids involved? I know…I know! You've always told them not to write on the walls. But it would be a great time to inspire their creativity too.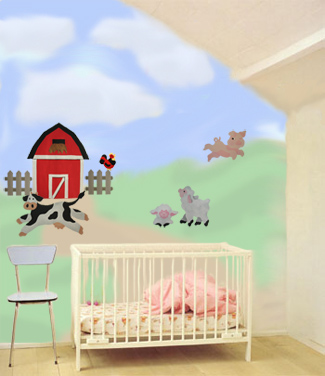 Wall Stencils for a Nursery
Stencils are a creative way to personalize your baby's nursery with hand painted designs and motifs that reflect your chosen theme in perfectly matched color combinations. Of course, color is essential. Do you want to stick to the Boy Blue or Girl Pink traditions? Or maybe you want to be surprised when your new arrival makes their way into your lives so more generic colors are going to be the choice. When you work with wall stencils nursery patterns, you are the designer!
Also, wall stencils nursery designs painted by you will be the best way to get a perfect color match to the bedding set or other accessories that you've chosen.
Learn more about creating a dream world for your little one at Wall Stencils Nursery Designs.
If you want to get your redecorating project stated now then don't miss these Wall Stencils to Download. Of course, if it's a Tropical Paradise you're trying to create then don't miss the Palm Tree Stencil for Walls.

We are thrilled to introduce our selection of downloadable and Printable Stencils.
Instant gratification at its finest! You don't need a special printer - these designs are specially formatted to print straight from your home computer on standard letter sized paper. Once downloaded, you will have your complete stencil booklet with patterns and instructions. Just click, buy and print!
The books below have the Wall Stencils used as examples on this page and a few others I think you will like. Each book will come to you as a downloadable pdf file in your e-mail. Just check your e-mail after purchase for the link to connect to your file and print or save. It's that easy!
All designs can be adjusted to fit your project size. Instructions are included. Pages are 8.5" x 11".
If you'd rather get your Stencil Books in Print, just click the blue button below each book.
Click on any of the Book Cover Photos for project ideas using those stencils.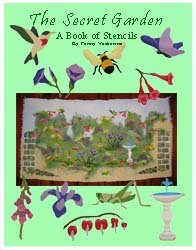 The Secret Garden
Create your own private garden retreat. This collection includes 12 designs including 4 animal stencils -fountain, bleeding heart, iris, bee, butterfly, foxglove, grasshopper, hummingbird, trumpet flower, morning glory, stone wall and stone path. These stencils were used in the Wall Stencils Mural that we talked about above.
This purchase is of a PDF file with 51 pages.
Price: $9.95
To get this Book in Print for just $19.95 click here: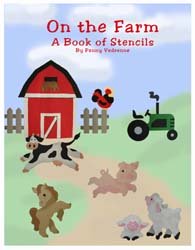 On the Farm
With these animal stencils you can create the perfect barn yard setting for your little one. This collection includes 9 designs- a Cow, a Chicken, a Pig, a Sheep, a Lamb, a Horse, Picket Fence Stencil, a Barn and a Tractor.
This purchase is of a PDF file with 40 pages.
Price: $9.95
To get this Book in Print for just $19.95 click here: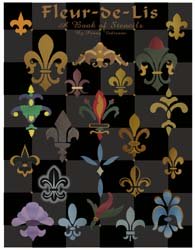 Fleur de lis: Book of Stencils
This collection includes 22 designs. Ten are easy single overlay. Six have 2 overlays and six have 3 overlays. These stencils will make a wonderful repeating wall stencils pattern.
This purchase is of a PDF file which has 63 pages.
Price: $9.95
To get this Book in Print for just $19.95 click here:
You'll have fun painting with wall stencils and showing off your new redecorated home. I hope you are inspired to create some great works of art with stencils!
Watching a video is a great way to learn and get comfortable with the process it takes to create with stencils. It's easy! For the step by step plan to decorate with wall stencils (in words and another video) go to Wall Painting Stencil Plans and Projects.
And hey! Don't forget that I (and everyone else) want to see what you have done with stencils. Just click on Stenciling Projects to get your masterpiece showcased here on this web site. Won't that be exciting! Or if you have any questions or want to share information join in on the Stencil Blog Well, I hope to hear from you soon.
Happy Stenciling,
Penny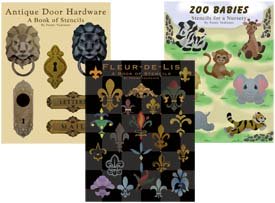 P.S. If you're looking for Stencil Designs (like these), that you can open at your computer and print now or save (No waiting on the Mail Man), just check out our Printable Stencils for your next project.
If you'd rather get your Stencil Pattern Books in Print, then visit our Printer's Book Shop for the same designs in book format. You'll find all of the stencils used as examples throughout this site.


Would you like to build a web site like this one and turn a passion into a business? Well, if I did it, you can too. Don't think that you have to be a web designer and know all about computer codes and complicated html stuff. I didn't. With Solo Build It! it's easy and they have the tools in place to help you build pages and teach you how to create a successful web site. Want more information? Just click on Powered by Solo Build It! and watch a cool video that will explain everything. I know you'll get excited like I did.


---
Return to Home Page