Painting Stencils for Wall Painting
Are you redecorating and looking for ideas about painting stencils for wall painting? Well this page can be your guide to all you need to know about working with stencils for walls from creating a stencil wall mural to stenciling wall borders.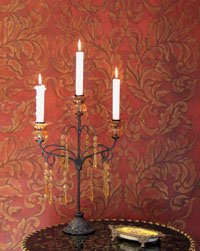 Wall Stencils are a great alternative if you want to create hand painted images on your walls but don't quite trust your artistic abilities to actually free hand designs on a wall.
Even if you have some skills with a paint brush, Stencils For Walls help you paint images that are always consistent. Of course a few basic stenciling techniques can help make the completed design more detailed and beautiful. Yet even total novices can have a blast with a few small jars of paint and a pack of stencils, letting their imagination run wild with their stencil as their guide.
Watching a video is a great way to learn and get comfortable with the process of painting stencils for wall painting. It's easy! For the step by step plan to decorate with wall stencils (in words and another video) go to Wall Painting Stencil Plans and Projects.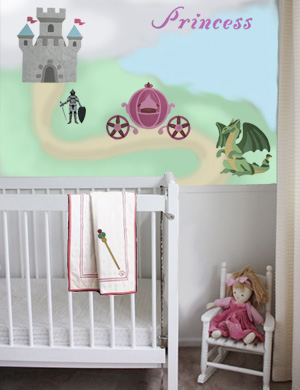 Painting stencils for wall painting is a creative way to personalize your baby's nursery with hand painted designs and motifs that reflect your chosen theme in perfectly matched color combination. Learn more about creating a dream world for your little one at Wall Stencils Nursery Designs.
If you want to get your redecorating project stated now then don't miss these Wall Stencils to Download. Of course, if it's a Tropical Paradise you're trying to create then don't miss the Palm Tree Wall Stencil.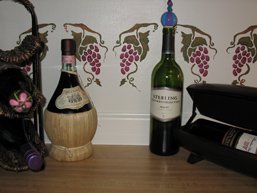 The first thing that comes to mind when we hear "stencils" is an image painted on a wall. There is so much more to stencil art but we are actually working with walls and Stenciling Wall Borders using a grapevine stencil.
Actually I'm doing this on video so follow along with me in person (just scroll down). There's so much more I can share with you this way! But after watching, don't miss all the other tips you can find by clicking on the grapevine border picture here. You'll find helpful tips and ideas about working with free printable stencils and stenciling wall borders. And of course don't forget to print your free grapevine stencil.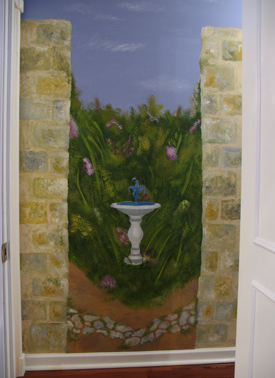 Well, consider using a collection of related stencil designs to create a mural like this one. At Stencil Wall Murals you'll find the details on how this was accomplished and you'll be very surprised at how easy it was. Yes, it was a big project that took the whole day but with the stencils and two very easy painting techniques you can achieve the same results.
I know it's hard to imagine how to use stencils to create a wall mural just by reading the words so I created a DVD for you to follow along with me in person. This way I'm able to share so many hints and tips along the way besides showing you how to use stencils to create your own wall mural.
Hey! Don't forget that I (and everyone else) want to see what you have done with your painting Stencils for Wall Painting. Just click on Stenciling Projects to get your masterpiece showcased here on this web site. Won't that be exciting! Or if you have any questions or want to share information join in on the Stencil Blog. Well, I hope to hear from you soon.
Happy Stenciling,
Penny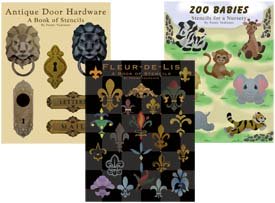 P.S. We are thrilled to introduce our selection of Stencil Designs. Instant gratification at its finest! You don't need a special printer - these designs are specially formatted to print from your home computer on standard letter sized paper. Once downloaded, you will have your complete stencil booklet with patterns and instructions. Just click, buy and print!
If you'd rather get your Stencil Pattern Books in Print, then visit our Printer's Book Shop for the same designs in book format that will be mailed to you. You'll find all of the stencils used as examples throughout this site.
Wait, wait! Here's the video I promised you. Enjoy!
Would you like to build a web site like this one and turn a passion into a business? Well, if I did it, you can too! Don't think that you have to be a web designer and know all about computer codes. With Solo Build It! it's easy. They have the tools to help you create a successful web site. Want more information? Just click on Powered by Solo Build It! and watch a cool video that will explain everything. I know you'll get excited like I did.
---
Return to Home Page from Painting Stencils for Wall Painting.
Return to Wall Stencils from Painting Stencils for Wall Painting.