Basic Stenciling Techniques with Some New Twists
There are two basic stenciling techniques for applying paint: stippling and swirling. Let's talk about that and a few other ideas which can help you add a personal touch to your decorative painting. And don't miss the video at the bottom of this page.


Stippling is simply tapping or dabbing the loaded brush throughout the stencil openings. This technique produces a more even tone and less depth.


Swirling is moving the brush in a circular, swirling motion against the openings. This technique produces an effect of depth because more color will be along the edges of the openings and the centers will appear lighter. I always think of the swirling technique if you are trying to produce a finished image that has a worn down, vintage look.
Just remember, I can give you the definitions and documented typical techniques but you will develop your own personal style. After all, that's what art is!
There are many ways to achieve details. I like to squirt out two or more colors on the palette and dab back and forth between the colors to create depth, shadows, texture… Most things in life are not mono-tone so using two or more colors can add details and reality to your subject.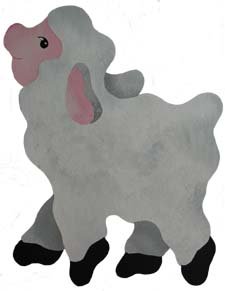 I like to use a blend of two similar colors to add depth and interest. For example, on this lamb, instead of using just white paint for the fur I blended in a little Dove Gray to show off the fluffiness of his coat.
Can you see the swirling effect of the Dove Gray in the White? Again, don't mix the colors together on your palette. Pour out two separate pools of White and Dove Gray. Then dip your brush into one or the other and swirl them together on your painting until you achieve the desired effect.
Using two colors can also help you create shadows by using a slightly darker color along some edges and blending into the lighter color at the opposite side of the opening. See the Tiger below. Notice the use of this technique to create shadows along his belly and tail.


If your decorative painting calls for a faux finish look (for example stone or brick) don't be shy about using two or more different colors to achieve the right look. Here are a couple of examples:
For this castle I poured out a small portion of white, dove gray, medium gray and black. Using the stippling technique I blended all the colors to achieve this result.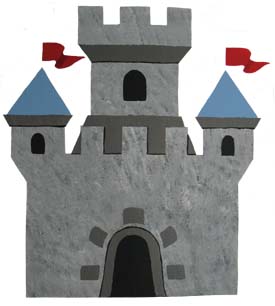 For this Fleur-de-lis I wanted a rustic, aging, metal look. I blended the following colors: black, tan, chocolate brown, nutmeg, golden brown, mustard yellow and terra cotta.
Take the time to practice and experiment with these techniques on paper or a surface similar to your project before you begin. You'll learn a lot and if the print on paper comes out great Frame It and Hang It! It's Art after all.
We now have a catalog for you to browse stencil patterns that you can open at your computer and print now or save (No waiting on the Mail Man). Just check out our Stencils Catalog for your next project.
Below is a sample of the design books that we offer. These books include the stencils used as examples on this page. Each book will come to you as a down-loadable pdf file in your e-mail. Just check your e-mail after purchase for the link to connect to your file and print or save. It's that easy!
All designs can be adjusted to fit your project size. Instructions are included. Pages are 8.5" x 11".
If you'd rather get your Stencil Books in Print, just click the blue button below each book.
Click on the Book Photo to get Project Ideas using those stencils.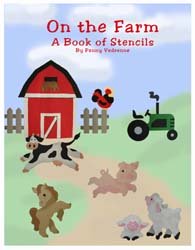 On the Farm: A Book of Stencils
With these designs you can create the perfect barn yard setting for your little one. This collection includes 9 designs- a Cow, a Chicken, a Pig, a Sheep, a Lamb, a Horse, Fence, a Barn and a Tractor.
This purchase is of a PDF file with 40 pages.
Price: $9.95
To get this Book in Print for just $19.95 click here: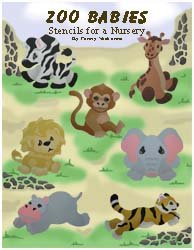 Zoo Babies: Stencils for a Nursery
This collection includes 7 designs- an Elephant, a Giraffe, a Hippo, a Lion, a Monkey, a Tiger and a Zebra.
This purchase is of a PDF file with 40 pages.
Price: $9.95
To get this Book in Print for just $19.95 click here: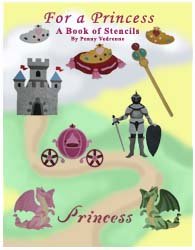 For a Princess
This collection includes 7 designs- Royal Carriage, Knight in Shining Armor, Castle, Dragon, Sceptre, Tiara and Pillow plus the word "Princess."
This purchase is of a PDF file with 40 pages.
Price: $9.95
To get this Book in Print for just $19.95 click here: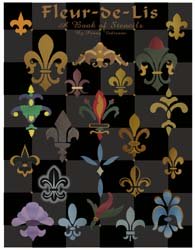 Fleur de lis
This collection includes 22 designs. Ten are easy single overlay. Six have 2 overlays and six have 3 overlays.
This purchase is of a PDF file which has 63 pages.
Price: $9.95
To get this Book in Print for just $19.95 click here: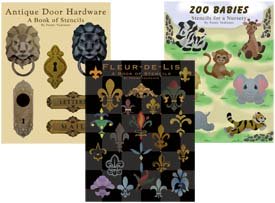 If you'd rather get your Stencil Pattern Books in Print (like these and the ones pictured above), then visit our Printer's Book Shop for a large variety of stencil collections. You'll find all of the designs used as examples throughout this site.



Stencils used as examples on this web site are courtesy of Designs From Penny.

Here's the video I promised you. Enjoy!
Would you like to build a web site like this one and turn a passion into a business? Well, if I did it, you can too. Don't think that you have to be a web designer and know all about computer codes and complicated html stuff. I didn't. With Solo Build It! it's easy and they have the tools in place to help you build pages and teach you how to create a successful web site. Want more information? Just click on Powered by Solo Build It! and watch a cool video that will explain everything. I know you'll get excited like I did.


---
Return to Home Page from Basic Stenciling Techniques with Some New Twists.