Lion and Tiger Stencils - Oh My!
Tiger Stencils - like tigers - can be big, hairy and scary or cute and lovable! The one in this project is of the lovable variety.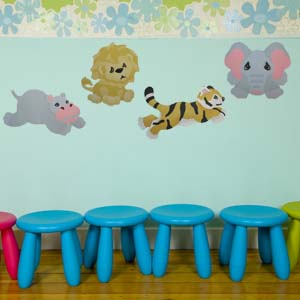 Decorating for children is so much fun. It gives us an opportunity to do more than design – we get the chance to create a fantasy!
A neighborhood Nursery School asked me to add some animal images to their small classroom. They wanted pictures to help teach and stimulate the little minds. Taking into account the sky blue walls and the flower border used as a chair rail molding, I decided that the Zoo Babies Wall Stencils would be the perfect match.
The colors of the animals in this collection compliment the wall and border colors. Always think about the background and adjacent colors when choosing your stencil designs. If they don't work together your whole project can turn out as an eye sore instead of the stencil art you had in mind. We have a detailed article about working with colors in your stencil art, so for more on this go to the Color Stenciling Technique.

The images needed were small enough that we were able to tape the stencils directly to the wall and apply paint. Painting on a vertical surface can be a bit of a challenge so make sure that you don't overload your brush with paint. This will cause the paint to drip and run. If you need more information on basic techniques, go to How To Stencil.
These are multiple layer stencils, which help us achieve an image with more detail. These designs close in the usual gaps and spaces between the colored islands. They are not difficult to use and well worth the effort. For more information on how these stencil designs work, go to Stencil Patterns.


Here is a close up view from one of the tiger stencils. I deleted the background so that you can get a good idea of how the colors on this image work together. Notice the details? Do you see the shadowing effect? It's subtle, but really ads life to the image. For more on the techniques to produce this effect, go to Stenciling with Some New Twists.
How do you like those puppy-dog eyes? There are a couple of ways for you to achieve that in your stencil art. You'll find those ideas at Tips for Stenciling Eyes.
If this project interests you, don't miss this great video on working with Wall Stencils.

We are thrilled to introduce our selection of downloadable and Printable Stencils. Instant gratification at its finest! You don't need a special printer - these designs are specially formatted to print straight from your home computer on standard letter sized paper. Once downloaded, you will have your complete stencil booklet with patterns and instructions. Just click, buy and print!
The book below includes the lovable tiger stencils that we featured in this project. Each book will come to you as a downloadable pdf file in your e-mail. Just check your e-mail after purchase for the link to connect to your file and print or save. It's that easy!
All designs can be adjusted to fit your project size. Instructions are included. Pages are 8.5" x 11".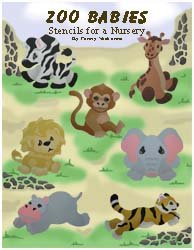 Zoo Babies: Stencils for a Nursery
This collection includes 7 designs- an Elephant, a Giraffe, a Hippo, a Lion, a Monkey, a Tiger and a Zebra.
This purchase is of a PDF file with 40 pages.
Price: $9.95
To get this Book in Print for just $19.95 click here:
If you are looking for more realistic tiger stencils, you can find this one at The Stencil Library. Just follow the link by clicking on the image below.




And hey! Don't forget that I (and everyone else) want to see what you have done with your tiger stencils. Just click on Stenciling Project
to get your masterpiece showcased here on this web site. Won't that be exciting! Or if you have any questions or want to share information join in on the Stencil Blog. Well, I hope to hear from you soon.
Happy Stenciling,
Penny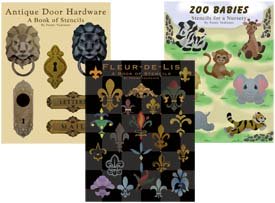 P.S. If you'd rather get your Stencil Pattern Books in Print, then visit our Printer's Book Shop for the same designs in book format that will be mailed to you. You'll find all of the stencils used as examples throughout this site.

Would you like to build a web site like this one and turn a passion into a business? Well, if I did it, you can too! Don't think that you have to be a web designer and know all about computer codes and complicated html stuff. I didn't. With Solo Build It! it's easy and they have the tools in place to help you build pages and teach you how to create a successful web site. Want more information? Just click on Powered by Solo Build It! and watch a cool video that will explain everything. I know you'll get excited like I did.
---
Return to Home Page from Tiger Stencils.
Return to Stenciling Ideas from Tiger Stencils.