Stenciling Floors
Stenciling floors can add an unexpected touch of art to any room. We always look for art on the walls and notice furniture but add a welcome surprise to a room with stenciled art on the floor.




So you've stenciled the walls and you've stenciled some t shirts and you've stenciled some other craft items. Now you want to try something new. Stenciling floors is a great way to spruce up what's under foot, whether you're doing just a part of the floor or an all-over stencil design that imitates a carpet, a parquet floor, or a stone walkway. Here's a few tips for a couple different types of floors and then don't miss the video below.


Prep your floors before you apply any paint or stain. I know, cleaning floors for stenciling is tedious, but it's essential. So, don't skip this step. You need to ensure that it's free of any dirt, wax, or grease that will stop the paint or stain adhering to the floor. If it's got a varnish or paint already on it, you may need to sand this lightly first, then wash it to remove the dust, before painting. If in doubt, do a small test in an unobtrusive part of the floor first.
For applying paint to the stencils, you can use a stencil brush, which has stiff bristles that make it less likely that paint will be pushed under the edges of the stencil. A sponge or foam roller will also work well and will be faster for covering large areas. I prefer to use foam brushes when I am applying stains to wood floors.
If you're using a stencil multiple times, remember to wipe it if paint builds up on it or paint smears on the back. When you're finished, always take the time to clean the stencil and store it in a good place so it can be used again another day.
If you are stenciling floors that are concrete that's pretty easy. First you will want to get some paints specifically for concrete which will help all your hard work last as long as possible. Remember, art under foot tends to get worn down after awhile like any other flooring. So read the directions on any paint you get and if they recommend a sealer when the art is completed use it.
Otherwise, applying a stencil to a concrete floor is just like on any other surface. Secure your stencil in place with masking tape and then press paint into the openings. OK - this requires a little skill. As I always say make sure to use a pouncing up and down motion with a brush that is barely loaded with paint. A back and forth motion will push paint under the stencil and smear your image. If you need more information on basic stenciling techniques go to How To Stencil where you'll find tips on applying paint and many other ideas for a successful project.
If you are still looking for a pattern for your stenciling floor project don't miss the free stencils or check out our Stencil Designs that all come in downloadable book format so that you can get your project started now.
What if you want to stencil on wood floors? Well, the question is are you looking to have some whimsical colorful images painted maybe for a child's room or a garden room. Or maybe you want to add a classic design in the wood and make it look like intricate inlaid wood. You can do that with stencils.
Well, if it's just painted color images than that's easy. Just do the same as if you were stenciling floors on concrete or any other surface and secure your stencil down and pounce paint into the openings with a barely loaded paint brush.
If you want to use stains for a very classy inlaid look you're in for a little more of a challenge - but not much and you'll have loads of fun doing this. Not to mention how impressive the outcome will be.
First, make sure the wood is prepared to be stained. It should be sanded down nice and smooth and bare enough to be able to accept the stain. I recommend testing before you do this on the floor itself so that you will be well practiced and sure of the outcome. Then make sure the area is free from dust and dirt.
Cover the area to be stenciled with wide strips of masking tape and draw your stencil onto the tape. Use a sharp craft knife to cut out the islands (openings of the stencils). Don't be afraid of going deeper than the tape. Scoring the wood slightly can play to your advantage because not only does it act as a barrier or canal stopping the stain it creates a deep line of dark outline to each of the parts really enhancing that inlaid wood look. Peel back the parts that you want to stain.
The idea is that you want the stain applied to the openings of the stencil to stand out so choose a darker stain for these areas than for the rest of the floor. Apply one or more coats according to the instructions on the stain until you get the desired color.
Remove the rest of the tape and stain the entire floor including the areas that were stenciled.
Once painted and dried, make sure to cover the stencil designs with varnish or a sealer to protect them if that's applicable to the surface and or paints that you are working with. Remember that stenciling floor art will have to bear the test of time and wear of foot traffic. And if you want to make your art seem old and worn, try an antiquing varnish.
The varieties that can be used for stenciling floors is unlimited. You can remove the outer parts of the stencil (bridges) and leave only the design to become the lighter of the stains. This is called The Stencil Mask. You can apply the stencil many times around the outside lines of a room for a border design. Or you can apply a single design in diamond patterns to mimic carpet.
Here's the Stenciling Floors Video:




If you are not ready to stencil the whole floor then look into painting a rug. You'll love this idea for decorating a garden on a floor cloth at Flower Stencil. This is a much smaller project that still adds art under foot.
For some fun, explore using Trompe Loeil Stencils on the floor.
We are thrilled to introduce our selection of downloadable and printable Stencils Designs. Instant gratification at its finest! You don't need a special printer - these designs are specially formatted to print straight from your home computer on standard letter sized paper. Once downloaded, you will have your complete stencil booklet with patterns and instructions. Just click, buy and print!
The books below feature the fleur de lis stencils used as examples of stenciling floors on this page and another that I think you might find interesting since you are seeking home improvement ideas. Each book will come to you as a downloadable pdf file in your e-mail. Just check your e-mail after purchase for the link to connect to your file and print or save. It's that easy!
All designs can be adjusted to fit your project size. Instructions are included. Pages are 8.5" x 11".
If you'd rather get your Stencil Books in Print, just click the blue button below each book.
Click on the picture for Project Ideas!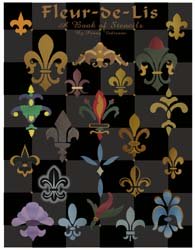 Fleur de lis: Book of Stencils
This collection includes 22 designs including the stencil used in the concrete stenciling for homeowner video above. Ten are easy single overlay. Six have 2 overlays and six have 3 overlays for a maximum amount of detail.
This purchase is of a PDF file which has 63 pages.
Price: $9.95
To get this book in print for just $19.95 click here: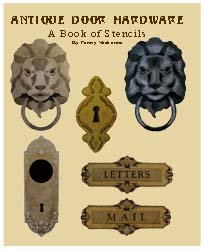 Antique Door Hardware: A Book of Stencils
This collection includes 5 designs- Lion Head Door Knocker, Key Bow, Lock Plate and Mail Box Plaque (with two word options). These images should add a little fun and even some humor to the doors in your home while they introduce a touch of the past.
This purchase is of a PDF file with 25 pages.
Price: $9.95
To get this Book in Print for just $19.95 click here:
Hey! Don't forget that I (and everyone else) want to see what you have done with stenciling floors. Just click on Stenciling Projects to get your masterpiece showcased here on this web site. Won't that be exciting! Or if you have any questions or want to share information join in on the Stencil Blog. Well, I hope to hear from you soon.
Happy Stenciling,
Penny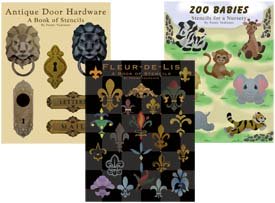 P.S. If you'd rather get your Stencil Pattern Books in Print, then visit our Printer's Book Shop for the same designs in book format that will be mailed to you. You'll find all of the stencils used as examples throughout this site.
Would you like to build a web site like this one and turn a passion into a business? Well, if I did it, you can too! Don't think that you have to be a web designer and know all about computer codes. With Solo Build It! it's easy. They have the tools to help you create a successful web site. Want more information? Just click on Powered by Solo Build It!and watch a cool video that will explain everything. I know you'll get excited like I did.
---
Return to Home Page from Stenciling Floors.
Return to Decorating with Stencils from Stenciling Floors.