A Christmas Art Craft Project!
If you're looking for something new to create for the holidays you're gonna love this Christmas Art Craft Idea. If you have to be unique then you already know that the best way to accomplish that is to make it yourself. Well, here's seven different Christmas Tree Skirt ideas for this year and if you don't find the exact one you will be inspired!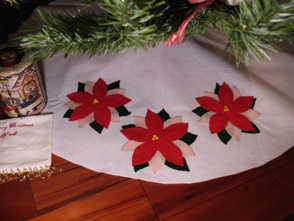 Using a variety of colors in craft felt, I cut out patterns from many of the Free Christmas Stencils that you can find on this web site. I want to tell you all about this Christmas Art Craft Project but I want to show you too, so join me in the video below and let's make some Christmas Tree Skirts!
To create the skirt from a 36" (one yard) square of fabric, fold in half and then in half again. Cut a quarter circle along the open ends of the square so that when you open your fabric back out you'll have a complete circle. Also, before you unfold your fabric, cut a small circle in the folded corner of the square for the hole to fit around the Christmas Tree Trunk.
You will also need to cut a straight line from the center circle to the outside so that you can drape the Christmas Tree Skirt around the tree but I usually do this after I have decorated because it makes it easier to work on when the fabric is still intact.
This Christmas Tree Skirt is made from a Poinsettia cut out in three different colors: green, red and pink. Then I used a hole punch tool to make three small circles in yellow for the center. You can find the Poinsettia Stencil at Printable Christmas Stencils along with some other fun Christmas Art Craft Ideas including making napkin rings.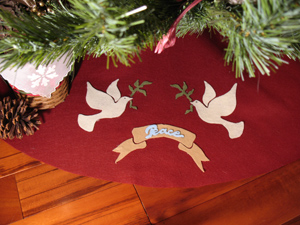 I trace the stencils onto the felt and cut them out. Since the trace marks are left on the felt I always turn the pattern over after it's cut and use the side that doesn't show any marking. Think about this before you cut out each pattern. If your stencil has to point in a certain direction you need to turn the fabric over and trace on the back side. Take the doves for instance, I used the same pattern but turned one over and traced it in the opposite so that when both were cut they would face each other.
I've included this Dove Stencil for you for free at the bottom of this page. Enjoy!
And don't forget that this is only one of many, many Christmas Craft Ideas.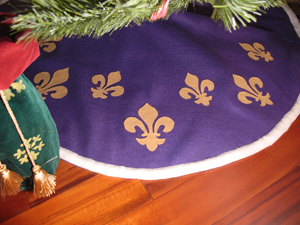 Maybe you have a theme in your Christmas that doesn't include the traditional. That's always a fun way to go and a very unique way to decorate. I created this regal looking Christmas Tree Skirt with some gold tone Fleur de lis on a purple felt. I trimmed it with a thin line of white fur.
I'm from New Orleans and the Fleur de lis is very popular. However, it is a very classic design the world over. Maybe there is a unique design that is popular in the region you live. Incorporate that into your Christmas Decorations and Christmas Art Craft Projects!
When you finish with your Christmas Tree Skirt try out a few more Homemade Christmas Crafts!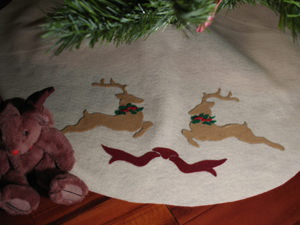 You can do whatever you want when you are the designer behind this Christmas Art Craft. This soft ivory colored felt was so beautiful I knew I could do something with it. Then I remembered the reindeer stencils and knew it was the perfect match. The Reindeer are available below.
It's so simple too! Just two little Reindeer facing each other. I used a simple ribbon cut from a burgundy felt but there is so much more you can do with this. Add words like Peace, Love, Joy or a family name.
Wouldn't these Christmas Tree Skirts make a wonderful gift. You can have the last name of a newly married couple embroidered onto one for a First Year Together Christmas Gift. Wouldn't that be unique!
Want to see another great idea for these reindeer? Don't miss the Christmas Art Projects where you'll find out how to use stencils to create 3-D decorations.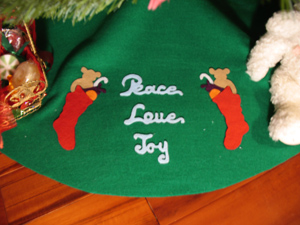 Speaking of gifts, this one would be perfect for Babies First Christmas. Instead of the Peace, Love and Joy you can have the little ones name and birth date embroidered on the Christmas Tree Skirt. Gifts like these that come from our hearts and our hands cannot be duplicated. They create lasting cherished mementos that will be admired for years to come. And you will be remembered as the cherished relative or friend who thought so much to make this for this special little gift.
Since this is for a child, some of that red ball fringe would be a perfect finish around the edges. I know it's tacky any other time of the year but for Christmas Art Craft Projects like this it's perfect.
Find the Stuffed Stocking Stencil at Free Christmas Stencils.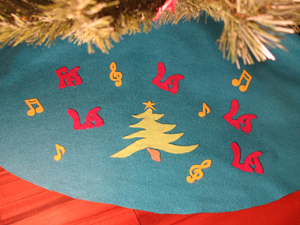 So you're not the traditional Christmas Art Craft kinda artist! No problem - that probably explains why you make your own things in the first place. You want to use the non-traditional colors (and there are so many options) and you want to add an artistic spin to the design. After all you are in charge.
This Christmas Tree Skirt is a Retro Design. I used a beautiful cyan or turquoise blue with a neon green tree, some hot pink letters and neon yellow notes. It would look great with one of those aluminum trees.
I just ordered some neon green ball fringe to trim the edges. I can't wait until it arrives. I think it will be the perfect finish.
You can find the patterns for this project at Christmas Tree Stencil! And isn't it great - they're free.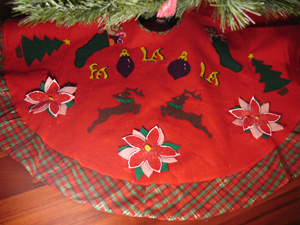 Let's get back to the real traditions of Christmas and what it's really all about. Family! This little Christmas Tree Skirt was designed by the kids. Sure, I cut out all the patterns but they arranged them and glued them with safe slow drying school glue. We all had a blast and this will be a cherished part of Christmas for years to come.
So, after all, what I came to realize from all this talk about Christmas Tree Skirts is that they are much more that just the old blanket that I have been draping around our trees for all these years. Instead they are an opportunity to make family traditions and cherished memories. They may only be displayed for just a few weeks but they can come to mean so much with the passage of time. How wonderful it will be in the years to come to open the decorations boxes from the attic and relive the memories of this Christmas Art Craft.
We are thrilled to introduce our selection of Stencil Designs . Instant gratification at its finest! You don't need a special printer - these designs are specially formatted to print from your home computer on standard letter sized paper. Once downloaded, you will have your complete stencil booklet with patterns and instructions. Just click, buy and print!
The books below will work well with all of your Christmas Art Craft and Stencil Projects. Each book will come to you as a downloadable pdf file in your e-mail. Just check your e-mail after purchase for the link to connect to your file and print or save. It's that easy!
All designs can be adjusted to fit your project size. Instructions are included. Pages are 8.5" x 11".
If you'd rather get your Stencil Books in Print, just click the blue button below each book.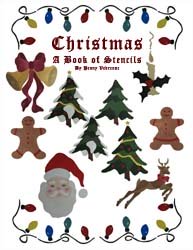 Christmas: A Book of Stencils
This collection includes 9 designs. They are Santa Claus, a Reindeer, a Christmas Tree (with options for decorations), a Candle with Holly Accents, Bells with a Bow, a Gingerbread Boy and Girl, and a String of Lights.
This purchase is of a PDF file which has 42 pages.
Price: $9.95
To get this Book in Print for just $19.95 click here: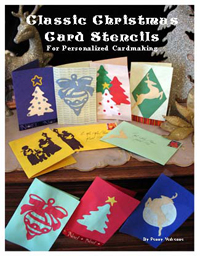 Classic Christmas Cards
Here's a neat little book that I created for Christmas Card Making. The designs can be used as stencils or masks. You can use them to apply paint or cut out colored paper and paste. Stencils included are the Christmas tree and star, the reindeer, the ornament and bow and of course the carolers. Also, included is a pattern so that you can make matching envelopes. These stencils are great for all of your Christmas Art Projects.
And it's only $4.50.
To get this Book in Print for just $14.95 click here: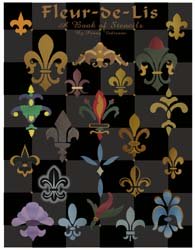 Fleur de lis: Book of Stencils
This collection includes 22 designs. Ten are easy single overlay. Six have 2 overlays and six have 3 overlays. This book has the stencil used for the Fleur de lis Christmas Art Craft Tree Skirt displayed on this page.
This purchase is of a PDF file which has 63 pages.
Price: $9.95
To get this Book in Print for just $19.95 click here: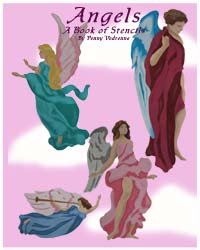 Angels: A Book of Stencils
These will be wonderful additions to your Christmas Art Activities and Crafts.
This collection includes 4 designs- Angel in Thought, Young Angel, Angel with Trumpet and Guardian Angel. Angels are a classic addition to your Christmas Arts and Crafts.
This purchase is of a PDF file with 32 pages.
Price: $9.95
To get this Book in Print for just $19.95 click here: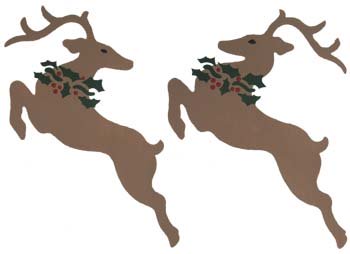 Flying Reindeer Stencils
So, do you like the Reindeer Prints pictured here? They're very easy 2 overlay stencils in a down-loadable pdf file so that you can get your stencils right away (they will be e-mailed to you). Complete instructions included. Click on the picture for project ideas.
Price: $4.00
Not Available in Print.


Hey! Don't forget that I (and everyone else) want to see what you have done with your Christmas Art Craft and Stencils. Just click on Stenciling Projects to get your masterpiece showcased here on this web site. Won't that be exciting! Or if you have any questions or want to share information join in on the Stencil Blog. Well, I hope to hear from you soon.
Happy Stenciling,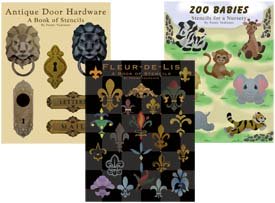 P.S. If you'd rather get your Stencil Pattern Books in Print, then visit our Printer's Book Shop for the same designs in book format that will be mailed to you. You'll find all of the stencils used as examples throughout this site.


Now here's the video I promised you and don't forget about the Free Peace Dove Stencil below!


Would you like to build a web site like this one and turn a passion into a business? Well, if I did it, you can too! Don't think that you have to be a web designer and know all about computer codes. With Solo Build It! it's easy. They have the tools to help you create a successful web site. Want more information? Just click on Powered by Solo Build It! and watch a cool video that will explain everything. I know you'll get excited like I did.


Well, here's that Free Christmas Art Craft Dove that I promised you. Enjoy!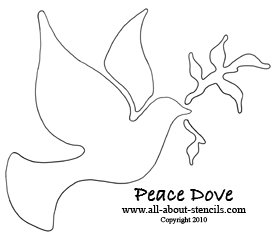 ---
Return to Home Page from Christmas Art Craft.
Return to Christmas Crafts from Christmas Art Craft.