Homemade Christmas Crafts: Decorating Cloth Napkins with Stencils
Here at All About Stencils we offer many Homemade Christmas Crafts and ideas. Well, this one is a great way to dress up your holiday table, dress up a gift or accent a special decoration.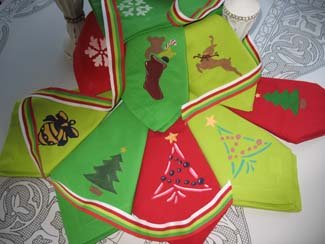 I'm talking about painting an image on a plain cloth napkin like the ones in the picture here. Aren't they cute? And it's so easy. The technique for stenciling on fabric is much the same as on another surface. All of these (except one) are single layer stencils, so I just held the stencil down with one hand and dabbed my paint on with the other.
Remember, dabbing, blotting, stippling the paint in an up and down motion over the edges of the stencil openings helps keep paint from seeping under and smudging.
I recommend fabric paints for this project but sometimes I use acrylic craft paint and that works fine too. Just make sure you read all the directions on the paints you buy. You want to check the washability and durability of the paints. Also, make sure the paint is suitable for this project. And as I always say, when in doubt-test it out! It's worth one napkin and some paint to see how it will all play out, right? So, just brush a few strokes of paint on a napkin and then throw it in the wash. If you like the results, move forward.
If you want to know more about stenciling on fabrics just click over to our How To Garment Stenciling Page. You'll find many tips and hints about how to make this venture most successful.
By the way, the stencils we are using for this Homemade Christmas Crafts project come from our Free Christmas Stencils Page so after you finish here, head over there to get your free stencils. You'll also find we have many holiday crafts and fun projects for you to try. The reindeer is available below.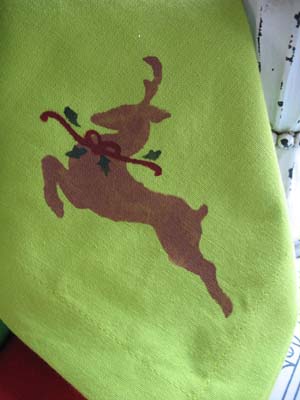 How about the prancing reindeer? He's just a single layer stencil and easy to apply. But I thought he needed something more so I painted a quick ribbon across his neck and a few holly leaves. That's the magic of stencils - they get you started and then you use your creativity to personalize the image. After all it is art! And you are the Artist.
The reindeer is part of the Classic Christmas Card Stencils Book (see below). Creating Cards and Gift Tags is another great Homemade Christmas Crafts project that you might want to try and we offer some ideas for you here at All-About-Stencils.
Hey, I just added the reindeer as a separate book because there was overwhelming interest. Scroll down and enjoy!
And if you scroll all the way to the bottom of the page you'll find a video about using stencils to decorate a glass vase and make a festive candle holder.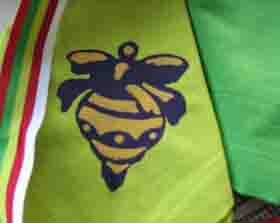 This is the only two-layer (or two overlay) stencil that I used for this Homemade Christmas Crafts project. A two layer stencil is a great way to get two (or more) colors on an image (notice the purple and yellow). They are a bit more complicated and more work is involved but it's well worth it!
The first color (purple) was painted on using the outline of the ornament and the second color (yellow) was painted on through the openings (islands) of the stencil. Look for this one in our Free Christmas Stencils.


This is the Retro Tree Design. Just a couple of notes here on ways to add personality to your Christmas Art Projects and Homemade Christmas Crafts. Notice on the red napkin there are some small white wisps of paint on each purple ornament to give them a shiny, glossy look. Once you get your image in place with the stencil, use lighter colors in small amounts to create highlights or a darker shade to create shadows. This will add life and depth to your painting and make it look more hand painted.
The next tip is the ribbon used in place of a napkin ring. Like this one, ribbons add a nice splash of color. Plus they can make different colored napkins blend well together.

If you like the Retro Tree in the photo above and the Traditional Tree in the photo below then you should know that you can get the Free at Christmas Tree Stencil.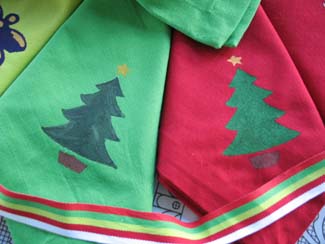 Here is a simple Christmas Tree. Notice how the trees sport two slightly different colors. Once you have painted the trees on with the stencil, use a small paint brush to create branches with another green. Also, it's a little hard to see, but I ran a darker yellow along the lowest parts of each arm on the star for a little shadow effect.
Well, I hope you enjoyed the stenciled napkins in your Homemade Christmas Crafts this year. Don't forget that they aren't just for your table. They can make a nice gift. You can make a beautiful set to give or line a basket using painted napkins and fill it with baked goodies.
And hey! Don't forget that I (and everyone else) want to see what you have done with your Homemade Christmas Crafts or Christmas Art Projects with free stencils (or any of your stenciling arts and crafts for that matter). Just click on Stenciling Projects to get your masterpiece showcased here on this web site. Won't that be exciting! Or if you have any questions or want to share information join in on the Stencil Blog. Well, I hope to hear from you soon.
Happy Stenciling,
Penny
P.S. In an effort to bring you a complete solution for all of your stenciling needs, we now have a catalog for you to browse a large variety of designs. So, check out our Stencil Designs for your next project.
Below is a sample of the design books that we offer. Some are the stencils used as examples on this page. Each book will come to you as a down-loadable pdf file in your e-mail. Just check your e-mail after purchase for the link to connect to your file and print or save. It's that easy!
All designs can be adjusted to fit your project size. Instructions are included. Pages are 8.5" x 11".
If you'd rather get your Stencil Books in Print, just click the blue button below each book.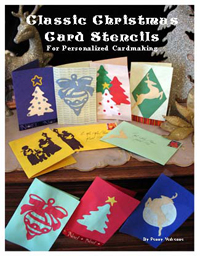 The reindeer stencil used above is part of the Classic Christmas Card Stencils Collection which is available to you in this e-book. Stencils included are the Christmas tree and star, the reindeer, the ornament and bow and of course the carolers. Included is a pattern so that you can make matching envelopes. It has complete instructions and many ideas for creating a variety of cards.
And it's only $4.50
To get this Book in Print for just $14.95 click here: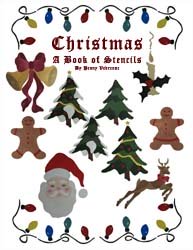 Christmas: A Book of Stencils
This collection includes 9 designs. They are Santa Claus, a Reindeer, a Christmas Tree (with options for decorations), a Candle with Holly Accents, Bells with a Bow, a Gingerbread Boy and Girl, and a String of Lights.
This purchase is for a pdf file with 42 Pages.
Price: $9.95
To get this Book in Print for just $19.95 click here: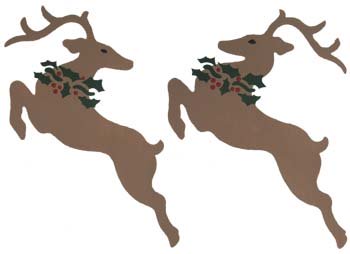 Flying Reindeer Stencils
So, you liked the Reindeer? They're very easy 2 overlay stencils in a down-loadable pdf file so that you can get your stencils right away (they will be e-mailed to you). Complete instructions included. Click on the photo for more homemade Christmas Crafts and ideas for him.
Price: $4.00
Sorry, no print option for this design (only download).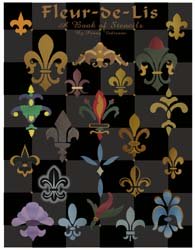 Fleur de lis: Book of Stencils
This collection includes 22 designs. Ten are easy single overlay. Six have 2 overlays and six have 3 overlays. You may not think of the Fleur de lis as a Holiday decoration but as a classic and traditional design it has much of offer to your Homemade Christmas Crafts.
This purchase is of a PDF file which has 63 pages.
Price: $9.95
To get this Book in Print for just $19.95 click here: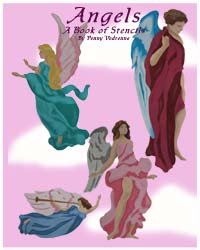 Angels: A Book of Stencils
These stencils will be wonderful additions to your Homemade Christmas Crafts.
This collection includes 4 designs- Angel in Thought, Young Angel, Angel with Trumpet and Guardian Angel. Angels are a classic addition to your Christmas Arts and Crafts.
This purchase is of a PDF file with 32 pages.
Price: $9.95
To get this Book in Print for just $19.95 click here: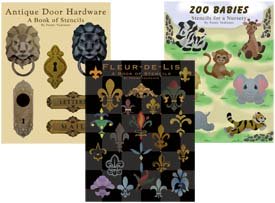 P.S. If you're looking for Stencil Pattern Books in Print (like these or the ones pictured above) then visit our Printer's Book Shop for a large variety of stencil collections. These books are easy to follow and come with complete instructions. You'll find all of the stencil designs used as samples throughout this site.
Would you like to build a web site like this one and turn a passion into a business? Well, if I did it, you can too. Don't think that you have to be a web designer and know all about computer codes and complicated html stuff. I didn't. With Solo Build It! it's easy and they have the tools in place to help you build pages and teach you how to create a successful web site. Want more information? Just click on Powered by Solo Build It! and watch a cool video that will explain everything. I know you'll get excited like I did.
Oh wait! Here's that video I promised you. Enjoy!
---
Return to Home Page from Homemade Christmas Crafts.
Return to Holiday Crafts from Homemade Christmas Crafts.