Snowflake Crafts
Artful snowflake crafts keep the focus on the simple pleasures of the Holiday season.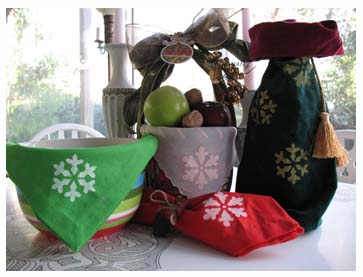 You know the old saying, "less is more." What could be more beautiful than simple decorations for a setting that is unassuming, honest, welcoming and warm? And what could be simpler than a snowflake? It's an image that let's us travel to the days of our Christmas youth and all the years in between.
Here are a few ideas that I have for you to bring the snowflake into your Holiday decorations by painting them on fabrics and much more!
By the way, did you know that snowflakes are always in the six sided shape of a hexagon? Well, if you are looking for a pattern to fold a piece of paper so that you can make paper snowflakes, here is the one I created. Just click to download the Snowflake Fold Template. This pattern will be the start of many great snowflake crafts and it's free.
To make cutout paper snowflakes, fold the paper for a six sided snowflake (using the template above). Cut away a few pieces of the paper. Unfold carefully and flatten. Now you have a snowflake cutout design. To make a stencil, place the cutout on a full sheet of paper (or stencil film if you want a permanent stencil for multiple uses). Trace around all the edges and then cut out with a craft knife. Now you have one cutout and one stencil. You're ready to start creating some fabulous crafts with these simple designs.
Don't forget that you can put the designs on a copy machine and reduce or enlarge the size to fit your project size.
Set a unique and festive Holiday table this year by decorating cloth napkins. I found a great pack of colorful cotton napkins at a discount department store and painted a small snowflake in the corner. When the napkin is folded or strung through a napkin ring, the snowflake is the centerpiece. Make sure to find a napkin that is made from a smooth fabric that does not have a texture to it. You can find fabric paints at your local crafts supply store. When applying paint to the napkin through the stencil use an up and down, dabbing motion to apply paint to the fabric. A back and forth motion with the brush will push paint under the stencil and smear your image. Use a brush made for stenciling. Foam brushes work well too. Keep the brush on the dry side. A brush loaded with too much paint can cause paint to seep under the stencil. Heavier color is achieved by applying several light layers of color with drying time in between.
Along with the "less is more" theme, I tied my napkins with a thin rope chord and glued a couple of wooden Christmas trinkets to each end instead of using a fancy napkin ring.
I mentioned that you can find fabric paints at your local craft supply store, but if you are not able to find these, regular acrylics work well too. However, they may not wash as well and tend to be a little stiffer when dry.
Good golly – let's get jolly! Do you like to wear your Christmas spirit? Then paint some snowflakes on a t-shirt or sweatshirt. Maybe you know someone who likes to wear Christmas art. Then make a wearable gift for them. Paint several snowflakes across the front. Use a different color for each and then top it off with some spray glitter. There is so much you can do with simple snowflake crafts.
Have you seen those nice cloth or velvet wine bags at the discount stores? If you find some plain ones they are great for enhancing with stenciled snowflakes. Just secure your stencils in place and tap on a little paint. The one in the picture above is red and green velvet with a gold cord and tassel. So I painted my snowflake designs in gold paint and then used a light coat of gold spray glitter. Slide the bag over a nice bottle of wine and you have a fine gift for even the hardest to please.
Stencil a snowflake on the corner of a nice linen handkerchief. You can give it as the gift itself or wrap a treasure inside. I like to hang them over the side of a basket and fill the basket up with goodies like the one pictured above which is overflowing with red and green apples. I like to browse the flea markets and thrift stores to find vintage hankies. They lend an old world feel to your snowflake crafts.
Do you need more information about stenciling on fabrics? Don't worry! We have the how to instructions for you at Fabric Stenciling. It's really quit easy.
You're not stressing over a gift list are you? Don't worry! I have some great ideas for creating unique gifts with snowflake designs. It's easy to make gifts that you can tailor make to fit the interests of your friends or family. And you may just find that you save a little money too. Need I mention the fun you'll have designing and creating all those gifts with snowflake crafts?
Here's one more snowflake crafts project. If you are looking for an easy and elegant centerpiece for your Holiday table, I have just the thing. A 3-D Snowflake Centerpiece! I'll show you how to use simple snowflake patterns to create an arrangement that you can be proud.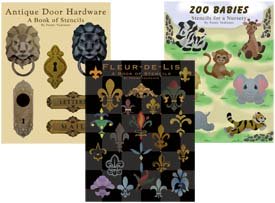 In an effort to bring you a complete solution for all of your stenciling needs, we now have a catalog for you to browse a large variety of designs that you can open at your computer and print or save. Just check out our Stencils Catalog for your next project.
If you'd rather get your Stencil Pattern Books in Print (like these), then visit our Printer's Book Shop for a large variety of stencil collections. You'll find all of the stencil designs used as samples throughout this site.
Well, I know you're ready to get started on some snowflake crafts. I hope this information inspired you to create some wonderful Christmas art!
Happy Stenciling,
Penny
P.S. Would you like to build a web site like this one and turn a passion into a business? Well, if I did it, you can too. Don't think that you have to be a web designer and know all about computer codes and complicated html stuff. I didn't. With Solo Build It! it's easy and they have the tools in place to help you build pages and teach you how to create a successful web site. Want more information? Just click on Powered by Solo Build It! and watch a cool video that will explain everything. I know you'll get excited like I did.
---
Return to Home Page from Snowflake Crafts.
Return to Christmas Crafts from Snowflake Crafts.