Christmas Craft Activities and Free Christmas Stencils
Below you'll find two beautiful patterns for a Christmas Craft Activities Project that is useful in so many ways (not just the obvious). I'll even tell you some of the ways I put them to good use.


Stencils are patterns. Just because we associate stencils with paint does not mean we can't be creative in other ways with them. Here we'll explore using them to cut out fabric for making Christmas Stockings. And don't miss the video below!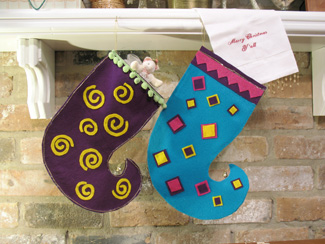 I always like to do things a little different. But then again I am a traditional girl. So, you see I have inner conflicts to deal with. But that's good for you because I usually come up with a wide variety of Christmas Craft Activities and I want to tell you all about it.
Take Christmas Stockings for example. Pretty simple and basic right. Well, they can be but they don't have to be. Just look at these Elf Stocking. Not typical right? But cute anyway. Best of all they were easy and fun to make. The pattern is below and here are the details.
First I cut the pattern from sheets of felt. I used Retro colors like Cyan Blue, Hot Pink, Florescent Yellow and Bright Purple. The top of the Purple Stocking with the Yellow Swirls is trimmed with Light Green Ball Fringe.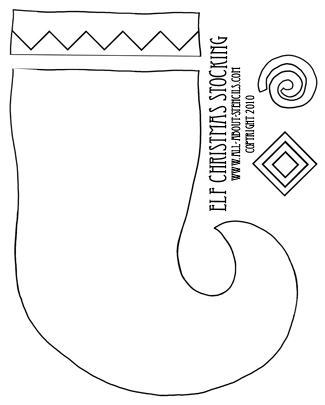 I put the two main parts of the stocking together with my hot glue gun because I was making a few and I needed the quickest way possible to get done. However, if you like to sew, then by all means stitching them together would be a much better solution.
This pattern has all the pieces to make both stockings. The three diamonds should be cut from a variety of colors and I used only two together (one on top of the other).
For a little extra pizzazz I trimmed all of the edges with a thin gold wire thread end even put a bell hanging from the tip of the toe (don't know if you can see it in the picture).
But that's just the basics and it's from here that you need to let your creativity take over for this Christmas Craft Activities project. Add sequins or glitter. Put diamonds and swirls on one stocking. Make a stocking with circles in the same way as the diamonds. The possibilities are endless.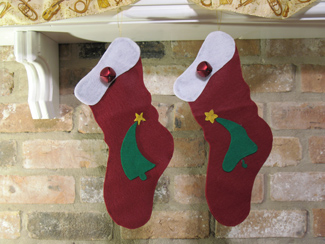 OK - On to the traditional. This pattern is more like the stockings that hang from the mantles in our dreams. They are very simple and maybe not elegant but certainly classic. Not to mention easy to make.
Again I glued the two side together but If you can sew you might consider making some crossing hand stitches over the edges with a thick Golden Yellow embroidery thread. This would give it more of a country homemade look.
For the patterns that are glued onto the stocking (the Christmas Trees and the swirls and diamonds) I used the stencils to lightly sketch the design onto the felt and then cute out the pattern with a pair of scissors. Now think about that. If you make a mark heavy enough that it shows up too much just turn your pattern piece over and glue the side with the markings to the stocking.
You can find these Christmas Tree Stencils free at Christmas Stencils.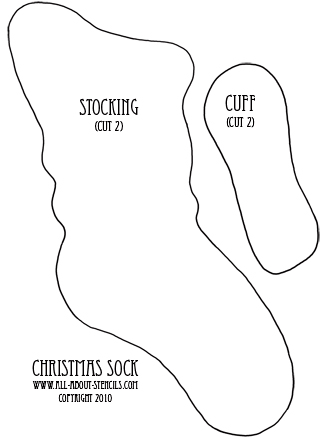 I glued a big red bell in the center of the white cuff. And don't forget to attach a loop to the back of your stocking so you can hang them by the fire.
To print the patterns,Just right-click on the stencil and select print. After you've printed your pattern cover it with a clear protective coating like clear shelf liner before you cut it out. This way if you ever use it with paint it won't get ruined with only one use.
Children love doing Christmas Craft Activities, but after a while, there's no room left on the fridge to display their little masterpieces. But, the holidays offer a unique time because they can make gifts for the whole family that will be highly cherished. And what fun you will all have!
You know, these stockings can be used for much more than just hanging by the fire. I use them as gift bags. It's so much more fun to give a few small goodies in one of these cute stocking and I find that people like them so much they save them for years to come. Also, consider adding a flat bottom to the Elf Stocking and filling it up with candy for a center piece.
We are thrilled to introduce our selection of downloadable stencils in The Stencils Store. Instant gratification at its finest! You don't need a special printer - these designs are specially formatted to print straight from your home computer on standard letter sized paper. Once downloaded, you will have your complete stencil booklet with patterns and instructions. Just click, buy and print!
The books below are related to Christmas Craft Activities. Each book will come to you as a downloadable pdf file in your e-mail. Just check your e-mail after purchase for the link to connect to your file and print or save. It's that easy!
All designs can be adjusted to fit your project size. Instructions are included. Pages are 8.5" x 11".
Click on any of the book cover pictures for more Project Ideas!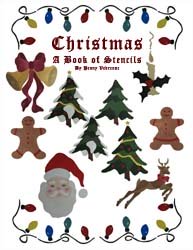 Christmas: A Book of Stencils
This collection includes 9 designs. They are Santa Claus, a Reindeer, a Christmas Tree (with options for decorations), a Candle with Holly Accents, Bells with a Bow, a Gingerbread Boy and Girl, and a String of Lights.This book contains all the most cherished images for all of your Christmas Craft Activities.
This purchase is of a PDF file which has 42 pages.
Price: $9.95
To get this book in print for just $19.95 click here: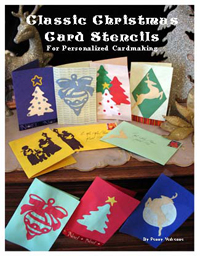 Classic Christmas Cards
Here's a neat little book that I created for Christmas card making. The designs can be used as stencils or masks. You can use them to apply paint or cut out colored paper and paste. Stencils included are the Christmas tree and star, the reindeer, the ornament and bow and of course the carolers. Also, included is a pattern so that you can make matching envelopes. It has complete instructions and many ideas for creating a variety of cards. You will get your book right away because it's a pdf file. Look for an e-mail with the link to download the book right after purchase.
And it's only $4.50
To get this book in print for just $14.95 click here: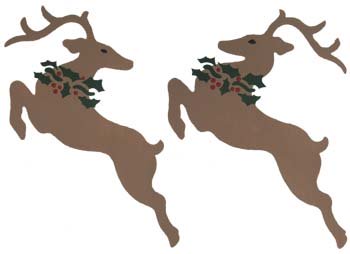 Flying Reindeer Stencils
Do you like the Reindeer Prints pictured here? They're very easy 2 overlay stencils in a down-loadable pdf file so that you can get your stencils right away (they will be e-mailed to you). Complete instructions included. Click on the picture for more Christmas Craft Activities.
Price: $4.00
This stencil book is not available in print.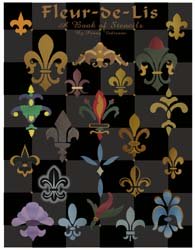 Fleur de lis: Book of Stencils
This collection includes 22 designs. Ten are easy single overlay. Six have 2 overlays and six have 3 overlays. Consider including the Fleur de lis into your Christmas Craft Activities.
This purchase is of a PDF file which has 63 pages.
Price: $9.95
To get this book in print for just $19.95 click here:
Hey! Don't forget that I (and everyone else) want to see what you have done with your Christmas Craft Activities and Stencils. Just click on Stenciling Projects to get your masterpiece showcased here on this web site. Won't that be exciting! Or if you have any questions or want to share information join in on the Stencil Blog. Well, I hope to hear from you soon.
Happy Stenciling,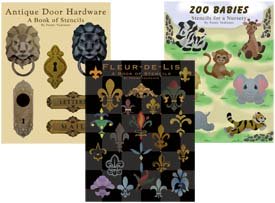 P.S. If you'd rather get your Stencil Pattern Books in Print, then visit our Printer's Book Shop for the same designs in book format that will be mailed to you. You'll find all of the stencils used as examples throughout this site.
Would you like to build a web site like this one and turn a passion into a business? Well, if I did it, you can too! Don't think that you have to be a web designer and know all about computer codes and complicated html stuff. I didn't. With Solo Build It! it's easy and they have the tools in place to help you build pages and teach you how to create a successful web site. Want more information? Just click on Powered by Solo Build It! and watch a cool video that will explain everything. I know you'll get excited like I did.
Wait! Here's that video I promised you. It's about a Christmas Art Craft Project making tree skirts.
---
Return to Home Page from Christmas Craft Activities.
Return to Christmas Crafts from Christmas Craft Activities.