How to Make a Snowflake
Rediscover how to make a snowflake and invite a familiar image back to your holiday decorations.




When decorating for the holidays, you don't have to deck the halls. Remember, it's the simple things that make your home feel warm and inviting. What could be simpler than a snowflake? I want to show you how many different ways you can decorate with them.
First, let's start with paper snowflakes. We made them as children and now we can add a more artistic flair to them while they still remind us of joyous holidays past. Creating a snowflake design will be the beginning of several projects.
By the way, did you know that snowflakes are always in the six sided shape of a hexagon? Well, for these make a snowflake crafts you'll need a pattern to help you fold a piece of paper for a six sided snowflake. Here is the one I created. Just click to download the Snowflake Fold Template . This pattern will be the start of many make a snowflake projects and it's free.
To make cutout paper snowflakes, fold the paper for a six sided snowflake (using the template above). Cut away a few pieces of the paper. Unfold carefully and flatten. Now you have a snowflake cutout design. To make a stencil, place the cutout on a full sheet of paper (or stencil film if you want a permanent stencil for multiple uses). Trace around all the edges and then cut out with a craft knife. Now you have one cutout and one stencil. You're ready to start creating some fabulous crafts with these simple designs.
Don't forget that you can put the designs on a copy machine and reduce or enlarge the size to fit your project size.
The cutout designs are great for hanging in the window just like the old days. Don't forget to use construction paper to make different colors. Make some small ones to hang as ornaments from the Christmas tree (use a hole-punch tool to make a round hole and tie up with a ribbon). If you want to add a touch of elegant flair to the age old paper snowflake, cutout a few designs in a stiff white felt, sprinkle with a small amount of gold glitter and hang them from the dining room chandelier. Add a little gold garland or ribbon (like in the picture above) for some extra glitz.
Don't be shy about using some funky colors. Retro is in so make a snowflake that is hot pink, one in cyan blue and one in neon green. Use your imagination and let your own personal style come out.
For a simple yet elegant centerpiece, you can create a 3-D arrangement using snowflake patterns. Check out this page for the details and a picture of the finished project. You'll also find some other creative ideas on what you can do with a 3-D snowflake.
One of the biggest stress creators at this time of year is finding the perfect gift for everyone on your list. Well, don't fret anymore. I have some great ideas on using snowflake designs to create a variety of gifts. You'll see that by customizing the gifts, you can make something for everyone. Also, there are some tips on embellishing the wrapping with snowflakes too.
In our effort to bring to you a complete solution for all of your stenciling needs in one place, we now have a catalog for you to browse a large variety of designs. So, check out our Stencils Catalog for your next project.


All patterns and Stencil Designs used on this web site are courtesy of Designs From Penny.

Knowing how to make a snowflake is a simple craft and I hope you can now see that they can still be a wonderful part of your holiday decorations. Have a Very Merry Christmas!
I just wanted to add a fun note about the picture above. I hope you can see the snow cover outside the window on the front lawn. This picture was taken in a New Orleans Home and snow fall (especially this thick) is extremely rare.
Happy Stenciling,
Penny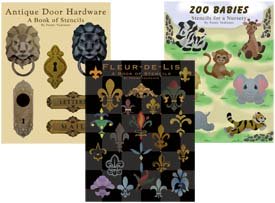 P.S. If you're looking for Stencil Pattern Books in Print (like these) then visit our Printer's Book Shop for a large variety of stencil collections. These books are easy to follow and come with complete instructions. You'll find all of the stencil designs used as samples throughout this site.
Would you like to build a web site like this one and turn a passion into a business? Well, if I did it, you can too. Don't think that you have to be a web designer and know all about computer codes and complicated html stuff. I didn't. With Solo Build It! it's easy and they have the tools in place to help you build pages and teach you how to create a successful web site. Want more information? Just click on Powered by Solo Build It! and watch a cool video that will explain everything. I know you'll get excited like I did.
---
Return to Home Page from How To Make a Snowflake.
Return to Christmas Crafts from How To Make a Snowflake.