Fun Christmas Crafts Created with Stencils
Are you ready to start your Christmas Crafts? For artist and crafters like us preparing for the Holidays is almost as exciting as waking up on Christmas Morning.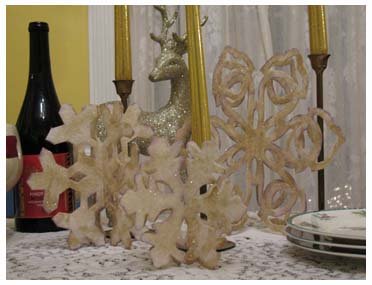 It's a great time to bring back an old-fashioned traditional Christmas with homemade Christmas crafts.
If you want to jump right in then look to the right for a list of all the Holiday Arts and Crafts Projects using Christmas Stencils which are ready for you to create. And don't forget to visit The Stencils Store for holiday and year round designs. Below is our featured Christmas Crafts Design Book of Stencils and a couple others I think you might like.
OK - Normally when we think about using stencil designs we imagine pressing paint into the openings. Right now I'm going to ask you to wipe that image out of your mind because we are going to do Christmas Art Projects that use stencils in a whole new way. Watch the video below and you'll find exciting new ways to use stencils!
Do you remember why the Grinch stole Christmas? He did it because he was tired of all the commercialism. I can sympathize. I long for the times when Christmas was more about spending time with loved ones and less about stressing over finding the perfect gift; when little handmade mementos were more valuable than a department store gift card. Just call me sentimental, but my favorite part of Christmas is getting together with friends to make cookies, spending time with the kids coloring Santa Claus pictures and conjuring up any Christmas crafts that I can think up.
Want to see a video that will show you how to create raised images through stencils? Here is a Stenciling Art technique you don't want to miss.
In the picture below are a few decorated cloth napkins. They were easy to do and you can get the designs at Free Christmas Tree Stencils.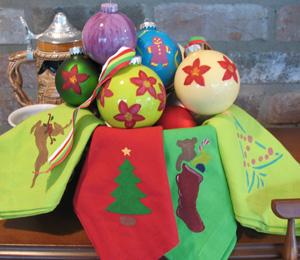 With the state of things today, there are many reasons to return to the simpler times when we exchanged homemade Christmas crafts. Here are just a few of the best reasons:
You'll save money by making homemade gifts, cards and decorations! These days everyone can use a little of this. But don't feel guilty. A gift should never have a dollar obligation amount attached to it. It really is about what comes from the heart and a homemade gift shows that you took the time to make something special for a loved one and what is more valuable than your time. Besides with some great ideas you'll be delivering gifts that everyone will enjoy!
Speaking of saving money, don't miss out on our Free Christmas Stencils. Plus, don't miss the Cross Stencil Designs.


Looking for a stress buster? Well, creating Christmas crafts is a great way to reduce stress for a couple of good reasons. First, if you make some great gifts and decorations, that's less time in the stores and malls (and what's more stressful than fighting the crowds and worrying about if what you bought is the perfect gift). Second, it's very relaxing and enjoyable to create. Not to mention that you will feel uplifted and motivated to think about the nice gifts that you are making for the special people in your life.
Want to make someone feel really special? I will always remember the time a friend of mine cried because she loved my homemade gift so much. The truth is that if you give someone a gift that came from your hands that is truly an item that they cannot get anywhere themselves. No matter how much money they have or what resources they can pull from, a homemade gift is unique!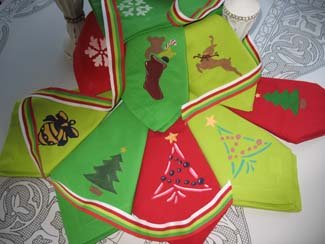 Christmas should be about the people in our lives, right? Then I have a great idea! Plan some time to get together with friends and family to work with Christmas craft patterns. It's a great way to share ideas and work out some one-of-a-kind decorations. Have a wine and cheese and crafts party. Better yet, get the kids involved. They love making things and can you think of a better way to encourage their creativity. Arts and crafts are great for people of all ages, so don't leave out Grandma and Grandpa too. I bet they can add a few hints to the projects on hand.
In fact, children love doing craft projects, but after a while, there is no room left to display their little masterpieces. But, the holidays offer a unique time because they can make gifts for the family that will be highly cherished.
That being said, I have come up with some great Christmas Card Ideas. Of course, you can use Christmas stencils the usual way and paint the image onto a card, but there are many other ways. I took a few stencils from my collections and explored just how many ideas I could come up with using them to decorate Christmas cards and put all the information here.
I know when you take the time to relax and immerse yourself into a fulfilling project you will not only get into the spirit of the season you will also make someone feel very special because you took the time to make something special for them (and it's OK if that person is you)!
Now, I know you can come up with many creative Christmas crafts. After all, it's that personal touch that you're shooting for, right? And don't forget that even in the end the Grinch found out that Christmas was something that comes from the heart!
We are thrilled to introduce our selection of downloadable stencils in The Stencils Store. Instant gratification at its finest! You don't need a special printer - these designs are specially formatted to print straight from your home computer on standard letter sized paper. Once downloaded, you will have your complete stencil booklet with patterns and instructions. Just click, buy and print!
The books below are related to Christmas Crafts. Each book will come to you as a downloadable pdf file in your e-mail. Just check your e-mail after purchase for the link to connect to your file and print or save. It's that easy!
All designs can be adjusted to fit your project size. Instructions are included. Pages are 8.5" x 11".
If you'd rather get your Stencil Books in Print, just click the blue button below each book.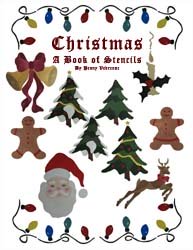 Christmas: A Book of Stencils
This collection includes 9 designs. They are Santa Claus, a Reindeer, a Christmas Tree (with options for decorations), a Candle with Holly Accents, Bells with a Bow, a Gingerbread Boy and Girl, and a String of Lights.
This purchase is for a 42 Page PDF file that will be e-mailed to you directly.
Price: $9.95
To get this Book in Print for just $19.95 click here: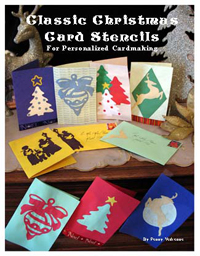 Classic Christmas Cards
Here's a neat little book that I created for Christmas card making. The designs can be used as stencils or masks. You can use them to apply paint or cut out colored paper and paste. Stencils included are the Christmas tree and star, the reindeer, the ornament and bow and of course the carolers. Also, included is a pattern so that you can make matching envelopes. It has complete instructions and many ideas for creating a variety of cards.
And it's only $4.50.
To get this Book in Print for just $14.95 click here: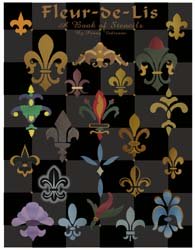 Fleur de lis: Book of Stencils
This collection includes 22 designs. Ten are easy single overlay. Six have 2 overlays and six have 3 overlays. You may not normally think of these designs for your Christmas Crafts but they do add an elegant touch.
This purchase is of a PDF file which has 63 pages.
Price: $9.95
To get this Book in Print for just $19.95 click here: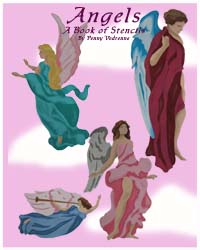 Angels: A Book of Stencils
These will be wonderful additions to your Christmas Crafts.
This collection includes 4 designs- Angel in Thought, Young Angel, Angel with Trumpet and Guardian Angel. Angels are a classic addition to your Christmas Arts and Crafts.
This purchase is of a PDF file with 32 pages.
Price: $9.95
To get this Book in Print for just $19.95 click here: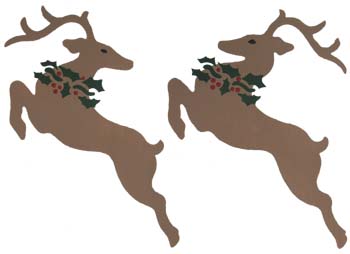 Flying Reindeer Stencils
So, do you like the Reindeer Prints pictured here? They're very easy 2 overlay stencils in a down-loadable pdf file so that you can get your stencils right away (they will be e-mailed to you). Complete instructions included. Click on the picture for project ideas.
Price: $4.00
Not Available in Print.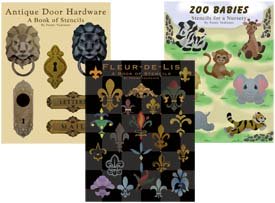 If you're looking for Stencil Pattern Books in Print (like these or the one above) then visit our Printer's Book Shop for a large variety of stencil collections. These books are easy to follow and come with complete instructions. You'll find all of the stencil designs used as examples throughout this site.
Hey! Don't forget that I (and everyone else) want to see what you have done with your teddy bear stencil stencil. Just click on Stenciling Projects to get your masterpiece showcased here on this web site. Won't that be exciting! Or if you have any questions or want to share information join in on the Stencil Blog. Well, I hope to hear from you soon.
Happy Stenciling,
Penny
P.S. I invite you to watch this informative Holiday Stencil Tutorial Video. It's great to see some new techniques in action. Plus you'll pick up on a few fun ideas to add to your holiday preparations.
Would you like to build a web site like this one and turn a passion into a business? Well, if I did it, you can too! Don't think that you have to be a web designer and know all about computer codes and complicated html stuff. I didn't. With Solo Build It! it's easy and they have the tools in place to help you build pages and teach you how to create a successful web site. Want more information? Just click on Powered by Solo Build It! and watch a cool video that will explain everything. I know you'll get excited like I did.
Wait! Here's that great video I promised you. It's about creating 3D art with stencils. Enjoy!
---
Return to Home Page from Christmas Crafts.
Return to Holiday Crafts from Christmas Crafts.