Christmas Card Ideas
It's a great time to start thinking about Christmas card ideas because after all Christmas is on the way!




Yeah, that's right. Already! Well, if you find that lately you're greeting the holidays with sighs of anxiety instead of the anxious excitement of past years than maybe it's time to make some positive changes. Bring back the simpler times when Christmas was more about sharing special moments with the people in your life and not so much about crowded afternoons in the mall stressing over the perfect gifts for everyone on your list.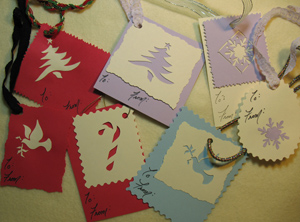 These unique gift cards were made by cutting out the stencils from colored paper. Each pattern cut out made two cards because the cut out was glued to a different colored paper and the piece of paper left over was put on top of a different colored paper. There are so many ways to create with this wonderful Christmas Projects Idea. Click on the picture for more examples.
Want to see a video that will show you how to create cards with raised images through stencils? Here is a Stenciling Art technique you don't want to miss.
I've come up with some great Christmas card ideas using Christmas card templates and stencils. Of course, you can use Christmas stencils the usual way and paint the image onto a card, but there are many other ways to use stencils. I took a few stencils from my collections and explored just how many ideas I could come up with using them to decorate Christmas cards.
If you like the cute Christmas Cards pictured here you can get the e-book collection of stencils used to make them. Just scroll to the bottom of this page for details. But before you get there this page is packed with Christmas Card Ideas so read on and Enjoy!
I invite you to watch this informative Holiday Stencil Tutorial Video. It's great to see some new techniques in action. Plus you'll pick up on a few fun Christmas Card ideas to add to your holiday preparations.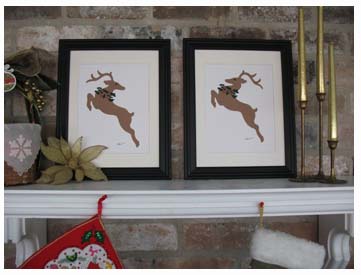 You may have come here for the Christmas Card Making ideas but since you're in the Holiday Spirit I thought you might like to try some other Christmas Crafts like these cute Reindeer Christmas Art Prints. I switch my usual painting over the fireplace out for these in December. It's easy and unique!
So, now I want to share my card making and Christmas card ideas with you because I know when you take the time to relax and immerse yourself into a fulfilling project like this you will not only get into the spirit of the season you will also make someone feel very special because you took the time to make something special for them!
Let's start with the basics of card making and then move on to the creative Christmas card ideas, alright? Cut a sheet of colored paper (construction paper) down to a 6x8 inch rectangle. Fold in half to create a 4x6 inch card.
Have you found a Christmas stencil that you like? If not, you'll find many options at your local arts and crafts supply store or on-line. They come as plastic pre-cut plastic stencils ready for painting or printable stencils that you can find on the internet or in book format. Each type has advantages and disadvantages. The pre-cut stencils are ready to go but you need to either go shopping and pick one up or wait for it to come in the mail. They are also more expensive. The printable stencils need to be cut out and that means extra work. However, they are less expensive (or free) and since they are printable you don't have to shop or wait. Plus printable stencils can be resized to fit your project area with a copy machine or on your computer.
For more Christmas stencils and other great ideas go to our Stencil Catalog. It's a great place to find printable stencils. Or keep scrolling down for a few examples of the books you'll find there.
The most basic way to use a stencil in card making is with paint. Just place your stencil on the front of the card. You can tape down the stencil or hold in place. Use a stippling technique or up and down motion with a stencil brush or foam brush to apply paint in the stencil openings. The stippling technique is done to keep paint from seeping under the edges of the stencil openings like a normal back and forth brushing motion does.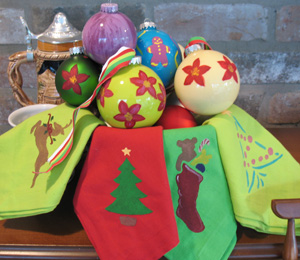 If you would like to personalize your Christmas Decorations, there is no better way than with stencils. See the details on these Christmas Art Activities and you'll even find the stencils for free!
Need more information on basic stenciling techniques? Just click over to our section on How To Stencil for everything from beginning techniques to adding details for a hand painted look.
Now - back to Christmas Card Ideas:
However, besides painting, there is another great way to use stencils as Christmas card templates. Trace the openings of the stencil onto colored paper, cut out and glue to the front of the card. No paint to mess with and you can really capture clean lines and color contrast with the paper.
If you found a nice printable stencil, you can eliminate the steps of cutting out the stencil openings and tracing the design onto the paper. Just place the paper with the stencil on top of the colored paper and cut along the lines with a craft knife. Press down firmly to cut through both pieces of paper. Also, make sure that the two pages stay together as you cut. If you are having trouble with this, trim around the stencil and tape it to the colored paper. Glue the image to the front of the card. That's it! Easy, right?
I want to share with you this Card Making Video. You'll find plenty of ideas and some new techniques.


You may be thinking about doing something creative with your gift wrapping so don't miss these Christmas Craft Ideas about using stencils for decorating plain gift bags. Don't miss the video below!
Well, here are some great Christmas card ideas for adding creative touches to your card making project:
Words are powerful. How about putting some traditional holiday greetings on the card behind your stencil image? It's easy. Just type your message (Happy Holidays or Merry Christmas) on a Word Processor. Set the margins so that the message will print on your 4x6 inch cover and print on the card stock. Experiment with different fonts and colors for your card. I found that using a light gray instead of black makes a nice background and doesn't distract from the main image.
If you use a craft knife to cut out a stencil image traced onto the color paper, you not only end up with the pieces needed to glue to the card, the left over paper is also now another stencil. You can use this one to apply paint to a second card.
Be creative and use these stencils in the negative. There are many ways to do this. For example, let's say you cut out a Christmas Tree stencil for one card and now you have a piece of colored paper that has an image of a tree cut out of it. Cut that piece into a 4x6 inch rectangle with the tree in the middle and glue it to the front of another card of a different color. Or you could trim around the tree and create just an outline.
Don't forget that stencil patterns can be flipped to face in a different direction. For example, a reindeer can face to the left on one card and to the right on another.
If you use a stencil to trace an image onto your paper, your cut out image will have trace marks on them. Gently erase the marks or turn the paper over and glue with the clean side facing up.
Use other items to decorate cards. Glue a festive ribbon along the bottom or use some spray glitter to give it a glamorous look.
Use a hole punch tool to make cute circles from the construction paper and glue randomly over the card as snow or just decoration. These make great Christmas ornaments on a tree.
Paper tends to get rippled when glued, so after the glue has dried, place the cards in a heavy book to flatten them back out.
Now, I know you can come up with many other creative Christmas card ideas. After all, it's that personal touch that you are shooting for, right? And I hope you share those ideas with us at the Stencil Blog.

But most of all I hope you find Peace, Love and Joy in your Holidays! And I hope you enjoyed all of these Christmas card ideas.
Happy Stenciling,
Penny
P.S. If you're looking for Stencil Designs, that you can open at your computer and print now or save (No waiting on the Mail Man), just check out our Stencils Catalog for your next project. As I promised, below are a few examples of the books you'll find. I think these will fit in nicely with your Christmas Card Ideas and plans.
Each book will come to you as a down-loadable pdf file in your e-mail. Just check your e-mail after purchase for the link to connect to your file and print or save. It's that easy!
All designs can be adjusted to fit your project size. Instructions are included. Pages are 8.5" x 11".
If you'd rather get your Stencil Books in Print, just click the blue button below each book.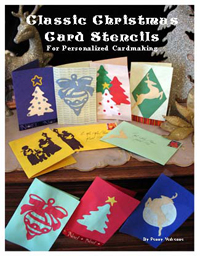 Classic Christmas Cards
Here's a neat little book that I created for Christmas card making. The designs can be used as stencils or masks. You can use them to apply paint or cut out colored paper and paste. Stencils included are the Christmas tree and star, the reindeer, the ornament and bow and of course the carolers. Also, included is a pattern so that you can make matching envelopes. It has complete instructions and many ideas for creating a variety of cards. The pdf file has 9 pages.
And it's only $4.50.
To get this Book in Print for just $14.95 click here: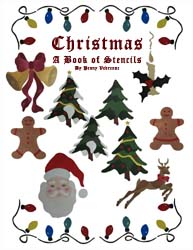 Christmas: A Book of Stencils
This collection includes 9 designs. They are Santa Claus, a Reindeer, a Christmas Tree (with options for decorations), a Candle with Holly Accents, Bells with a Bow, a Gingerbread Boy and Girl, and a String of Lights (all of the most popular images for your Christmas card ideas and crafts).
This purchase is of a PDF file which has 42 pages.
Price: $9.95
To get this Book in Print for just $19.95 click here: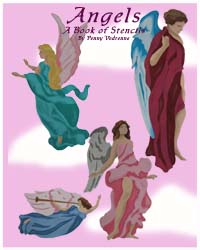 Angels: A Book of Stencils
This collection includes 4 designs- Angel in Thought, Young Angel, Angel with Trumpet and Guardian Angel. Beautiful images for your Christmas card ideas or plans.
This purchase is of a PDF file with 32 pages.
Price: $9.95
To get this Book in Print for just $19.95 click here: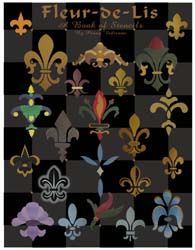 Fleur de lis: Book of Stencils
This collection includes 22 designs. Ten are easy single overlay. Six have 2 overlays and six have 3 overlays.
This purchase is of a PDF file which has 63 pages.
Price: $9.95
To get this Book in Print for just $19.95 click here: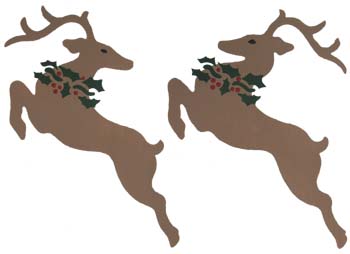 Flying Reindeer Stencils
Do you like the Reindeer Prints pictured here? They're very easy 2 overlay stencils in a down-loadable pdf file so that you can get your stencils right away (they will be e-mailed to you). Complete instructions included. Click on the picture for project ideas.
Price: $4.00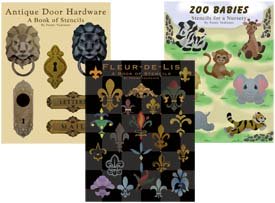 P.S. If you're looking for Stencil Pattern Books in Print (like these or the Christmas Card Ideas Book above) then visit our Printer's Book Shop for a large variety of stencil collections. These books are easy to follow and come with complete instructions. You'll find all of the stencil designs used as examples throughout this site.



Stencil designs used in this web site are courtesy of Designs From Penny.

Would you like to build a web site like this one and turn a passion into a business? Well, if I did it, you can too! Don't think that you have to be a web designer and know all about computer codes and complicated html stuff. I didn't. With Solo Build It! it's easy and they have the tools in place to help you build pages and teach you how to create a successful web site. Want more information? Just click on Powered by Solo Build It! and watch a cool video that will explain everything. I know you'll get excited like I did.
Oh wait! Here's that great video I promised you:
---
Return to Home Page from Christmas Card Ideas.
Return to Christmas Crafts from Christmas Card Ideas.