Christmas Tree Stencils (Free!)
Here are some beautiful Free Christmas Tree Stencils plus some great ideas for using them in your Holiday Crafts.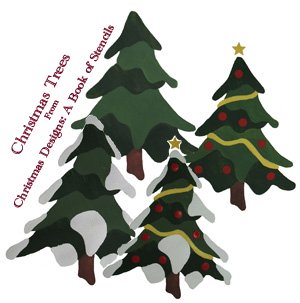 First I would like to show you these cute Christmas Tree Stencils. Actually it's just one stencil that comes with a variety of decoration options. It's a multi layer stencil that finishes with more detail than a single layer stencil.
You can dress it out with garland, ornaments and snow. Or you can use any one decoration by itself. If you want you can just leave the tree plain. Variety is great when you want to create a few different images like painting gift bags or decorating cloth table napkins.
This stencil is part of the Christmas Designs Book of Stencils available below with a couple of other Holiday related stencil collections that I put together for you.
Now on to the free stencils and project ideas. But don't miss the video at the bottom of the page!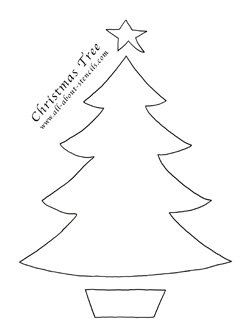 Just right-click on the stencil and select print. Keep reading for some wonderful tips for using and preserving your free stencil patterns. I hope you create some impressive art with these free stencils and find inspiration!
Don't know what to do with these printable Christmas tree stencils? No problem! Just look around on this site and you'll get loads of ideas. The first place to start is at Homemade Christmas Crafts where I show you how I used these great Christmas tree stencils and some others to decorate cloth napkins. See two pictures below!
Wait! Don't just print your Christmas tree stencils from this page and leave. You need to check out the Holiday Crafts Section for many fun projects.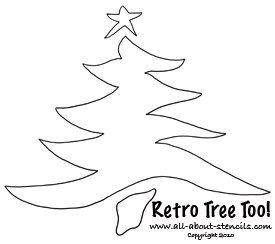 Children love doing arts and craft projects, but after a while, there's no room left on the fridge to display their little masterpieces. But, the holidays offer a unique time because they can make gifts for the whole family that will be highly cherished. And what fun you will all have!
Want more? Then take a sleigh ride over to Printable Christmas Stencils for more free Holiday designs.
See how this cute Retro Christmas Tree Stencil and the Holiday Music Stencil below are combined to create a precious Christmas Tree Skirt. You can get all the details at Christmas Art Craft!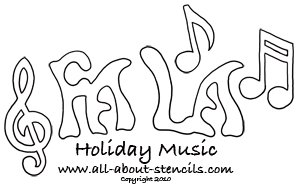 You'll save money by making homemade gifts, cards and decorations with these free Christmas tree stencils! These days everyone can use a little of this. But don't feel guilty. A gift should never have a dollar obligation amount attached to it. It really is about what comes from the heart and a homemade gift shows that you took the time to make something special for a loved one and what is more valuable than your time. Besides with some great ideas you'll be delivering gifts that everyone will enjoy!
Another tid-bit about stencils: remember, open sections of a stencil are called islands. These are the areas that allow color to be applied on the surface under the stencil. Bridges are the stencil material that separates the islands and keeps the shape of a stencil. These areas block color or paint from reaching the surface.


Looking for a stress buster? Well, creating Christmas Crafts is a great way to reduce stress for a couple of good reasons. First, if you make some great gifts and decorations, that's less time in the stores and malls (and what's more stressful than fighting the crowds and worrying about if what you bought is the perfect gift). Second, it's very relaxing and enjoyable to create. Not to mention that you will feel uplifted and motivated to think about the nice gifts that you are making for the special people in your life.
Wait! Don't just print your Free Christmas Stencils from this page and leave. You need to check out the Christmas Crafts Section for many more fun projects.
So, did you notice that the Retro Tree in the napkins is different than the Retro Pattern above? Well, you can find this one at Christmas Tree Stencils and some other project ideas!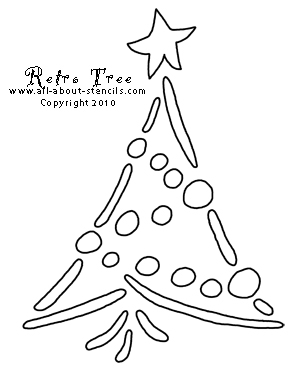 Cut-and-paint stencils are less expensive (unless of course they are free like these - like these Free Christmas Tree Stencils!). You're not paying for the manufacture, warehousing and shipping of a product. If you can find down-loadable stencil designs you can have your stencil immediately and no delay to your project. Here we offer some free stencils to get you started and a few in book format of our more complex designs. Do you want to see our catalog? Hop over to our Stencils Page.
Are you new to working with paper stencils? If so (or even if not) you should know that you can prepare your paper stencils so that they can be used again and again. Yeah! That's right. The one you just printed can become a long term free stencil. It's easy. Do you have some of that clear, wide packing tape? Just use it to run even strips covering all of the paper surfaces before you cut out the stencil. Burnish or rub the tape down to get the air pockets out. That's it.
If you think you'll be printing many of the free stencil patterns that we have then go get a roll of clear shelf liner and use that to cover your stencils. It's so much easier!
For more tips and hints about working with paper stencils please go to Stencil Download.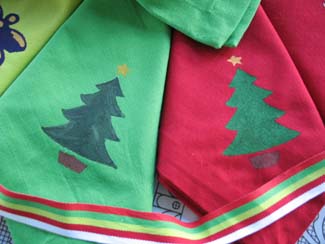 Look how these cute Christmas Tree Stencil Designs worked out great on these decorated napkins. For more on this project go to our Homemade Christmas Crafts Project.
By the way, I like to cover just the top side of the paper with a clear protective coating. If the bottom is slick it can encourage paint to bleed under the stencil and smudge your surface. The underside may get wet when you wash it but just let it dry and you can flatten it back out by storing it in a book.
Want more free stencils and stencils to print? No problem! You'll find more at Free Stenciling Patterns (including a 2-Layer Fleur de lis Stencil). But that's not all. Keep browsing around the site and you'll find free stencils galore!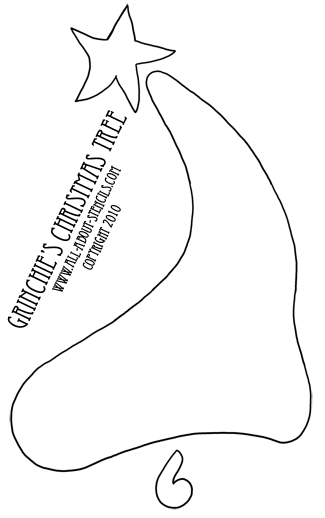 I know when you take the time to relax and immerse yourself into a fulfilling project you will not only get into the spirit of the season you will also make someone feel very special because you took the time to make something special for them (and it's OK if that person is you)!
Now, I know you can come up with many creative Christmas crafts. After all, it's that personal touch that you're shooting for, right? And don't forget that even in the end the Grinch found out that Christmas was something that comes from the heart!
We are thrilled to introduce our selection of downloadable stencils in The Stencils Store. Instant gratification at its finest! You don't need a special printer - these designs are specially formatted to print straight from your home computer on standard letter sized paper. Once downloaded, you will have your complete stencil booklet with patterns and instructions. Just click, buy and print!
The books below are related to Christmas Crafts. The first two have Christmas Tree Stencils. Each book will come to you as a downloadable pdf file in your e-mail. Just check your e-mail after purchase for the link to connect to your file and print or save. It's that easy!
All designs can be adjusted to fit your project size. Instructions are included. Pages are 8.5" x 11".
If you'd rather get your Stencil Books in Print, just click the blue button below each book.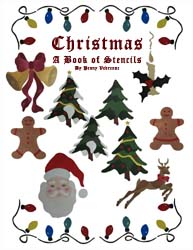 Christmas: A Book of Stencils
This collection includes 9 designs. They are Santa Claus, a Reindeer, a Christmas Tree Stencil (with options for decorations), a Candle with Holly Accents, Bells with a Bow, a Gingerbread Boy and Girl, and a String of Lights.
This purchase is for a 42 Page PDF file that will be e-mailed to you directly.
Price: $9.95
To get this Book in Print for just $19.95 click here: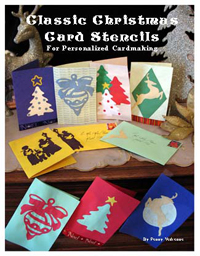 Classic Christmas Cards
Here's a neat little book that I created for Christmas card making. The designs can be used as stencils or masks. You can use them to apply paint or cut out colored paper and paste. Stencils included are the Christmas tree and star, the reindeer, the ornament and bow and of course the carolers. Also, included is a pattern so that you can make matching envelopes. It has complete instructions and many ideas for creating a variety of cards.
And it's only $4.50.
To get this Book in Print for just $14.95 click here: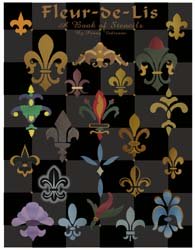 Fleur de lis: Book of Stencils
This collection includes 22 designs. Ten are easy single overlay. Six have 2 overlays and six have 3 overlays.
This purchase is of a PDF file which has 63 pages.
Price: $9.95
To get this Book in Print for just $19.95 click here: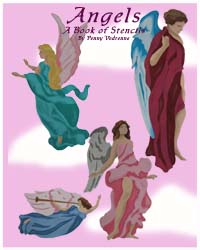 Angels: A Book of Stencils
These will be wonderful additions to your Christmas Arts and Crafts.
This collection includes 4 designs- Angel in Thought, Young Angel, Angel with Trumpet and Guardian Angel. Angels are a classic addition to your Christmas Arts and Crafts.
This purchase is of a PDF file with 32 pages.
Price: $9.95
To get this Book in Print for just $19.95 click here: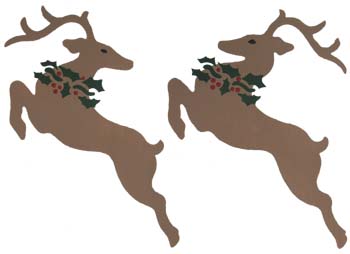 Flying Reindeer Stencils
Do you like the Reindeer Prints pictured here? They're very easy 2 overlay stencils in a down-loadable pdf file so that you can get your stencils right away (they will be e-mailed to you). Complete instructions included. Click on the picture for project ideas.
Price: $4.00
And hey! Don't forget that I (and everyone else) want to see what you have done with your Christmas Tree Stencil Patterns. Just click on Stenciling Projects to get your masterpiece showcased here on this web site. Won't that be exciting! Or if you have any questions or want to share information join in on the Stencil Blog. Well, I hope to hear from you soon.
Happy Stenciling,
Penny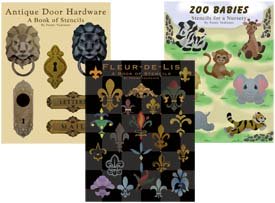 P.S. If you'd rather get your Stencil Pattern Books in Print, then visit our Printer's Book Shop for the same designs in book format that will be mailed to you. You'll find all of the stencils used as examples throughout this site.
Would you like to build a web site like this one and turn a passion into a business? Well, if I did it, you can too! Don't think that you have to be a web designer and know all about computer codes and complicated html stuff. I didn't. With Solo Build It! it's easy and they have the tools in place to help you build pages and teach you how to create a successful web site. Want more information? Just click on Powered by Solo Build It! and watch a cool video that will explain everything. I know you'll get excited like I did.
Oh wait! Here's the great video I promised you. Enjoy!
---
Return to Holiday Crafts from Christmas Tree Stencil.