Free Stencil Patterns!
Come get your Free Stencil Patterns, right now, from your computer! Get that project started today.


OK - you made your way to our free stencil patterns page but this is only one of many pages we have with free stencils for you to work into your next stenciling project. Just go to Free Stencils (find the link on the left) or check out all of our pages to find more. Of course, I hope you remember All-About-Stencils for all of your stencil art needs!
Don't know what to do with them? No problem! Just look around on this site and you'll get loads of ideas. Wait! Don't just print your stencils from this page and leave. I've added a couple of helpful tips and ideas here too.


Need to know more about basic stencil painting? Stippling is simply tapping or dabbing the loaded brush throughout the stencil openings. This technique produces a more even tone and less depth.
Swirling is moving the brush in a circular, swirling motion against the openings. This technique produces an effect of depth because more color will be along the edges of the openings and the centers will appear lighter. I always think of the swirling technique as producing a finished image that has a worn down, vintage look.
If you're new to stenciling you should go to How To Stencil. It's where you'll find all the basic techniques to help you discover how easy and rewarding stenciling can be.
Don't miss the project idea video at the bottom of this page.
If you're looking for a little prehistoric fun in your next paint project then don't miss these Free Dinosaur Stencils!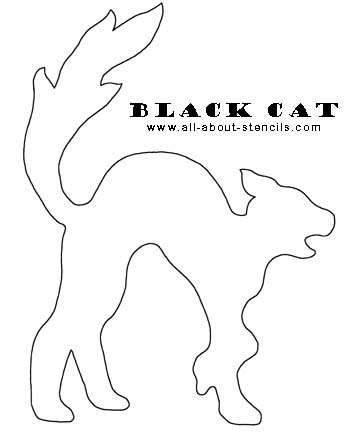 Here's a great Halloween free stencil pattern for you to kick off the scary holidays! If you want more of these, go to Free Halloween Stencils.
Are you new to working with paper stencils? If so (or even if not) you should know that you can prepare your paper stencils so that they can be used again and again. Yeah! That's right. The one you just printed can become a long term free stencil. It's easy. Do you have some of that clear, wide packing tape? Just use it to run even strips covering all of the paper surfaces before you cut out the stencil. Burnish or rub the tape down to get the air pockets out. That's it.
By the way, I like to do just the top side of the paper. If the bottom is slick it can encourage paint to bleed under the stencil and smudge your surface. The underside may get wet when you wash it but just let it dry and you can flatten it back out by storing it in a book.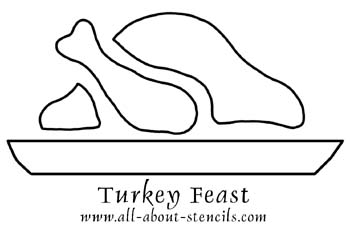 Get ready for Thanksgiving. It's a holiday that's big for crafts. Here's a free stencil pattern but if you wan more go to Thanksgiving Crafts.
Working with paper stencils has a few advantages. You can adjust the size of your paper stencil to fit the size of your project. Just take the page to a copier and reduce or enlarge. Then cut out the stencil openings. It's that easy!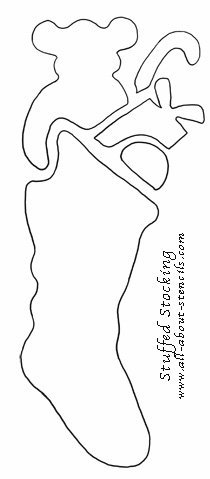 Well, you know I just had to give you a Christmas stencil. This site is loaded with great Free Christmas Stencils and plenty of stenciling ideas on how to use them. You'll find hours of fun creating and not to mention you may save a few dollars creating your own gifts, decorations and wrapping. And you'll make some special folks very happy with all your creations (and you get to show off too - and that's always fun)!
What comes next? Don't miss these Free Valentine Stencils and the Heart Stencil Designs.
Stencils allow us to put art easily into our lives no matter what our idea of art is and where we wish to admire it. That being said, Tribal Stencils are most popular with tattoo enthusiasts but once you look at these designs you may find many other ways to display and create with them.
Now for a very popular design that is not only good for your year round decorating, it has been popular for centuries. Pineapple Stencils are a sign of hospitality and welcome so of course we have free stencil patterns for you!
Now here's another great design that can be used for decorating year round.
Toile Stencils are rare because Toile Designs are complex and detailed and stencils create simplified images. However, I have designed a toile stencil for you to try in your next project. Again, this is a very simple design as far as this design requires. I used this pattern on a throw pillow project so follow the link or click on the stencil to see what you can do with it and learn more about Toile Stencils.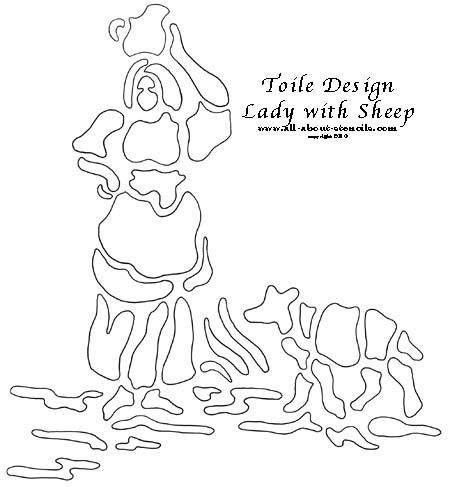 And hey! Don't forget that I (and everyone else) want to see what you have done with your Free Stencil Patterns. Just click on Stenciling Projects
to get your masterpiece showcased here on this web site. Won't that be exciting! Or if you have any questions or want to share information join in on the Stencil Blog. Well, I hope to hear from you soon.
Happy Stenciling,
Penny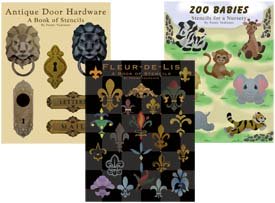 P.S. If you're looking for Stencil Designs (like these), that you can open at your computer and print now or save (No waiting on the Mail Man), just check out our Stencils Catalog for your next project.
If you'd rather get your Stencil Pattern Books in Print, then visit our Printer's Book Shop for the same designs in book format that will be mailed to you. You'll find all of the stencils used as examples throughout this site.
Would you like to build a web site like this one and turn a passion into a business? Well, if I did it, you can too! Don't think that you have to be a web designer and know all about computer codes and complicated html stuff. I didn't. With Solo Build It! it's easy and they have the tools in place to help you build pages and teach you how to create a successful web site. Want more information? Just click on Powered by Solo Build It! and watch a cool video that will explain everything. I know you'll get excited like I did.
Wait! Wait! Here's that project idea video I promised you. You can find the pattern for free at Dolphin Stencil. Enjoy!
---
Return to Home Page from Free Stencil Patterns.
Return to Free Stencils from Free Stencil Patterns.