Free Pumpkin Stencils!
Here are some fun free pumpkin stencils! Just right-click on the image and select print. I hope you create some impressive art with these free stenciling patterns.




Don't know what to do with them? No problem! Just look around on this site and you'll get loads of ideas for arts and crafts. Wait! Don't just print your stencils from this page and leave. You need to check out the Halloween Crafts Section for many more fun projects.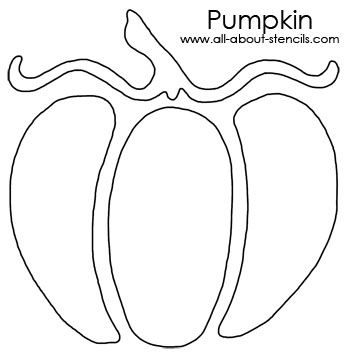 Are you new to working with paper stencils? If so (or even if not) you should know that you can prepare your paper stencils so that they can be used again and again. Yeah! That's right. The one you just printed can become a long term free stencil. It's easy. Do you have some of that clear, wide packing tape? Just use it to run even strips covering all of the paper surfaces before you cut out the stencil. Burnish or rub the tape down to get the air pockets out. That's it.
By the way, I like to do just the top side of the paper. If the bottom is slick it can encourage paint to bleed under the stencil and smudge your surface. The underside may get wet when you wash it but just let it dry and you can flatten it back out by storing it in a book.


Working with paper stencils has a few advantages. You can adjust the size of your paper stencil to fit the size of your project. Just take the page to a copier and reduce or enlarge. Then cut out the stencil openings. It's that easy.
(Pssssst! For free pumpkin carving stencils, check out these Jack O Lantern Stencils! Here you'll find the face patterns so commonly associated with Halloween pumpkins.)
At the bottom of this page you'll find a video with some great ideas of what you can do with these free pumpkin stencils.


Can you print on transparency film? If so, then your stencil making is easy. Just make sure that your printer will accommodate the thickness of the film.
Were you looking for Free Pumpkin Carving Stencils ? We have those too!
So, now you have the free pumpkin stencils but what are you going to do with them? I have a few fun project ideas for you with these Pumpkin Stencils and even a video so we can work together on our Halloween Crafts! Won't that be fun.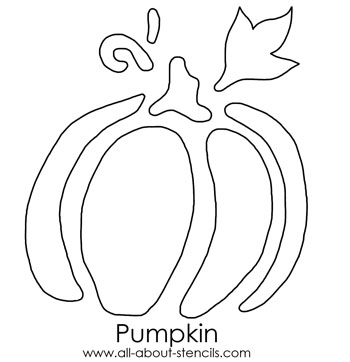 Cut-and-paint stencils are less expensive (unless of course they are free stencils to print like these!). You're not paying for the manufacture, warehousing and shipping of a product. If you can find downloadable stencil designs you can have your stencil immediately and no delay to your project. Here we offer some free stencils to get you started and a few in book format of our more complex designs. Do you want to see our catalog? Hop over to our Stencils Page.
Want more free stencils and stencils to print? No problem! You'll find more at Free Stenciling Patterns (including a 2-Layer Fleur de lis Stencil). But that's not all. Keep browsing around the site and you'll find free stencils galore!
You can't beat these free pumpkin stencils! I hope they have inspired you to get started right away making art with stencils.
And hey! Don't forget that I (and everyone else) want to see what you have done with your free pumpkin stencils or any of your stenciling art. Just click on Stenciling Projects to get your masterpiece showcased here on this web site. Won't that be exciting! Or if you have any questions or want to share information join in on the Stencil Blog. Well, I hope to hear from you soon.
Happy Stenciling,
Penny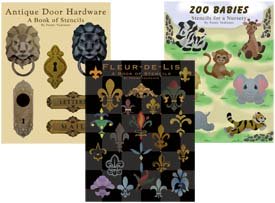 P.S. If you're looking for Stencil Pattern Books in Print (like these), then visit our Printer's Book Shop for a large variety of stencil collections. These books are easy to follow and come with complete instructions. You'll find all of the stencil designs used as samples throughout this site.


Would you like to build a web site like this one and turn a passion into a business? Well, if I did it, you can too. Don't think that you have to be a web designer and know all about computer codes and complicated html stuff. I didn't. With Solo Build It! it's easy and they have the tools in place to help you build pages and teach you how to create a successful web site. Want more information? Just click on Powered by Solo Build It! and watch a cool video that will explain everything. I know you'll get excited like I did.
Well, here's that video I promised you. Enjoy!
---
Return to Home Page from Free Pumpkin Stencils.
Return to Free Stencils from Free Pumpkin Stencils.