Easy, No Mess Pumpkin Crafts
Done with the pumpkin carving yet? No! Can't stand the mess? Here's a pumpkin crafts idea for you. Use a plastic craft pumpkin to carve your jack o lantern this year. No Mess! No Fuss! And boy did it come out cute.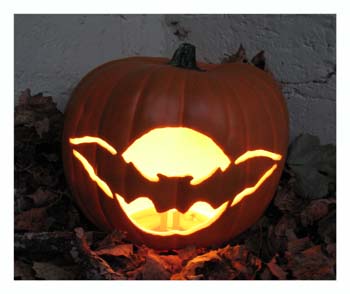 You can do it whenever you get the time and best of all, when the holiday is done you can pack it away and display it again next year.
So, you want to give it a try? Great! Here's what I did.
I found a couple of nice plastic pumpkins at my local arts and crafts supply store called craft pumpkins. They had orange ones and white ones in several different sizes. They looked pretty realistic and they weren't much more expensive than the real ones either (just a dollar or so). Also, they're light weight and easy to work with.
(Pssst! For some free Jack O Lantern Stencils click here!)
There are a few advantages to carving a craft pumpkin over the real thing. First is that you don't have the mess of scooping out the slimy insides like with a real pumpkin. Second you don't have to worry about it rotting on your doorstep and attracting those flies. In fact, you can store it away and display it again next year. Overall, it was just easier to work with and I loved how light it is. You don't have to fight with it so much when you are trying to carve it. And best of all you can paint you stencil onto the craft pumpkin or carve it.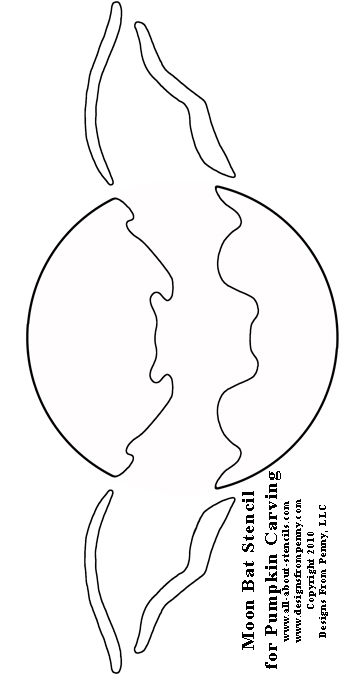 Here's the free stencil for you. Just print and follow these steps - It's that easy!
To paint jack o lantern stencils on a craft pumpkin is the same as painting a real pumpkin. Check out the Halloween Pumpkin Stencils page for more details on how to apply paint to a pumpkin using a Halloween stencil. It's real easy.
However, carving a craft pumpkin is a little different from carving a real pumpkin. You'll need to cut out the stencil islands and trace it onto the pumpkin instead of using a punch tool. The punch tool is not very effective in penetrating the plastic. Trim the excess paper from around the outside of the stencil with scissors making sure to leave at least a ½ inch border on all sides for the tape. Line up the pattern on the pumpkin and tape both sides of the stencil, top and bottom. To tape the corners, you may need to crease the stencil. Depending on the roundness of the pumpkin, this may distort your design so try to make the creases where the pattern will be the least distorted. Trace the stencil onto the pumpkin surface and remove.
Use a sharp, triangular blade X-Acto or craft knife instead of a carving saw. A smooth up and down saw motion is best to keep control of the blade. Only use gentle pressure to avoid stressing and breaking the tool or the pumpkin. It's best to start in the center of the design and work your way out. You may need to rotate the pumpkin in your lap to keep the side that you are cutting closer to your hand. To cut sharp corners, remove the saw blade and re-insert it at the new angle. Use your finger to push the cut pieces out from the inside of the pumpkin. Cut large areas into smaller ones for easier removal.
Also, the plastic pumpkins are flammable so you need to use a battery operated tea light candle inside or install a night light kit. Instead of cutting a lid on top, cut a circle in the bottom to sit the pumpkin over the light source.
The whole project took me about 30 minutes and it was so much easier than carving the real thing. As far as Halloween Crafts and pumpkin crafts projects go, this was one of my favorites. Happy Stenciling!
If you're working on your pumpkin crafts then don't miss the Scary Pumpkin Stencils!

Wait! That's not all! We have some free pumpkin carving stencils for you too. They are great for all of your pumpkin crafts.
Don't miss the video at the bottom of this page for more Halloween Crafts and Ideas.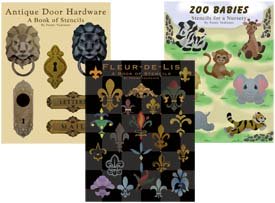 In an effort to bring you a complete solution for all of your stenciling needs in one place, we now have a catalog for you to browse a large variety of designs that you can open at your computer and print or save. Just check out our Stencil Design Books for your next project.
If you'd rather get your Stencil Pattern Books in Print (like these), then visit our Printer's Book Shop for a large variety of stencil collections. You'll find all of the stencil designs used as samples throughout this site.



Stencil Designs and pumpkin crafts stencils used as examples on this web site are courtesy of Designs From Penny.


Would you like to build a web site like this one and turn a passion into a business? Well, if I did it, you can too. Don't think that you have to be a web designer and know all about computer codes and complicated html stuff. I didn't. With Solo Build It! it's easy and they have the tools in place to help you build pages and teach you how to create a successful web site. Want more information? Just click on Powered by Solo Build It! and watch a cool video that will explain everything. I know you'll get excited like I did.
Wait, wait! Here's that Halloween Craft Video I promised you. Enjoy!
---
Return to Home Page from Pumpkin Crafts.
Return to Halloween Crafts from Pumpkin Crafts.