Scary Pumpkin Stencils - Ooooohhhh!
Here are scary pumpkin stencils that you can use to carve a pumpkin (or paint a pumpkin if you don't want the mess of carving) and to decorate in many other ways for you Spooky Halloween Event.


If you are looking for scary pumpkin stencils to carve a Jack-O-Lantern, then this one is Gonna Getcha'. Watch out for those grabby claws and the bushy eyebrows that can't seem to hide his bulging eyes. Just print him out and then slither on over to the Pumpkin Carving section for a step by step plan on how to carve your own pumpkin complete with pictures.
Don't miss the Halloween craft idea video at the bottom of this page!
Well this is just one out of four of the free Halloween stencils that you will find on our Free Pumpkin Carving Stencils section. Don't miss the Scary Cat, The Witch and the Skull too.



OK...If you're like me you might only carve a real pumpkin once. The mess and work is ... Well, let's just say once was enough for me. Not to worry! I have a great idea that is much easier, no mess and best of all you'll end up with a Jack-O-Lantern that will last year after year. Yeah - that's right! Next year you can just fish him out of the attic, put him on the porch and start handing out candy.
I painted this stencil on a white craft pumpkin (isn't he cute). I'll tell you all about it at Halloween Pumpkin Stencils . However, if you don't feel like it's Halloween unless you are carving something then I can tell you how to use the free stenciling patterns to cut the pumpkin at Pumpkin Crafts.
You may even have time left over to make some treats using Cookie Stencils (don't miss the article on creating scary cookies). Cookie Stencils (don't miss the article on creating scary cookies).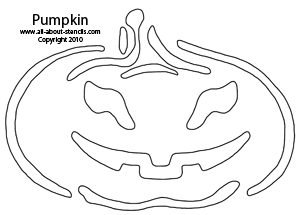 Maybe I misunderstood and you aren't looking for scary pumpkin stencils to use for your Jack-O-Lantern but wanted scary pumpkin stencils to decorate a Trick or Treat Bag or maybe decorations for the windows. Well here you go. Again, just print him out and go.
Don't miss out because we have more Free Pumpkin Stencils like this one. There are many ways to have fun with Scary Pumpkin Stencils!
Are you new to working with paper stencils? If so (or even if not) you should know that you can prepare your paper stencils so that they can be used again and again. Yeah! That's right. The one you just printed can become a long term free stencil. It's easy. Do you have some of that clear, wide packing tape? Just use it to run even strips covering all of the paper surfaces before you cut out the stencil. Burnish or rub the tape down to get the air pockets out. That's it.
By the way, I like to do just the top side of the paper. If the bottom is slick it can encourage paint to bleed under the stencil and smudge your surface. The underside may get wet when you wash it but just let it dry and you can flatten it back out by storing it in a book.
We are thrilled to introduce our selection of downloadable Stencil Designs. Instant gratification at its finest! You don't need a special printer - these designs are specially formatted to print straight from your home computer on standard letter sized paper. Once downloaded, you will have your complete stencil booklet with patterns and instructions. Just click, buy and print!
The book below has a Halloween theme that I think you might like. Each book will come to you as a downloadable pdf file in your e-mail. Just check your e-mail after purchase for the link to connect to your file and print or save. It's that easy!
All designs can be adjusted to fit your project size. Instructions are included. Pages are 8.5" x 11".
If you'd rather get your Stencil Books in Print, just click the blue button below each book.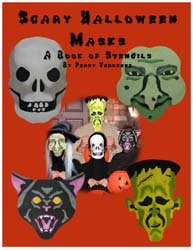 Scary Halloween Masks
Create your own costume with these 4 fun masks - a Witch, a Skull, Frankenstein's Monster and a Black Cat.
This purchase is of a downloadable PDF file with 32 pages. All designs can be adjusted to fit. Instructions are included. Check your e-mail after purchase for the link to connect to your file and print or save. It's that easy!
Price: $9.95
To get this Book in Print for just $19.95 click here:
And hey! Don't forget that I (and everyone else) want to see what you have done with your scary pumpkin stencils. Just click on Stenciling Projects to get your masterpiece showcased here on this web site. Won't that be exciting! Or if you have any questions or want to share information join in on the Stencil Blog. Well, I hope to hear from you soon.
Happy Stenciling,
Penny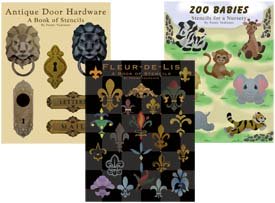 P.S. If you'd rather get your Stencil Pattern Books in Print, then visit our Printer's Book Shop for stencil designs in book format that will be mailed to you. You'll find all of the stencils used as examples throughout this site.


Would you like to build a web site like this one and turn a passion into a business? Well, if I did it, you can too! Don't think that you have to be a web designer and know all about computer codes and complicated html stuff. I didn't. With Solo Build It! it's easy and they have the tools in place to help you build pages and teach you how to create a successful web site. Want more information? Just click on Powered by Solo Build It! and watch a cool video that will explain everything. I know you'll get excited like I did.
OK! Here's that Halloween craft ideas video I promised you. Enjoy!
---
Return to Home Page from Scary Pumpkin Stencils.
Return to Halloween Crafts from Scary Pumpkin Stencils.