Celtic Stencils
Celtic Stencils like the art of the period often depict intricate knotwork and repeating patterns. It has seen a recent revival due to its popularity in Tattoo Stencils.


Celtic art is ornamental, avoids straight lines and only occasionally uses symmetry. This style often involves complex symbolism without the imitation of nature central to the classical tradition. Celtic art shows an influence by a variety of styles and from other cultures in their knotwork, spirals, key patterns, lettering, zoomorphics, plant forms and human figures.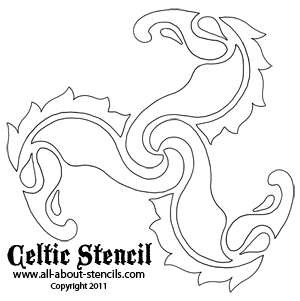 Celtic stencils like this one depict a style of art that has evolved over a huge expanse of time, geography and cultures. Celtic Art shows some artistic continuity in Europe from the Bronze Age and also the preceding Neolithic age. However, archaeologists generally use "Celtic" to refer to the culture of the European Iron Age from around 1000BC onwards, until the conquest by the Roman Empire. Art historians typically begin to talk about "Celtic art" only from the La Tène period (broadly 5th to 1st centuries BC) onwards.
This stencil design is from our extensive Free Stencils Collection. There you will find many other styles like Art Deco Stencil and Toile Stencils. My goal is to motivate you to create by showing you how easy it is to be an artist with stencils.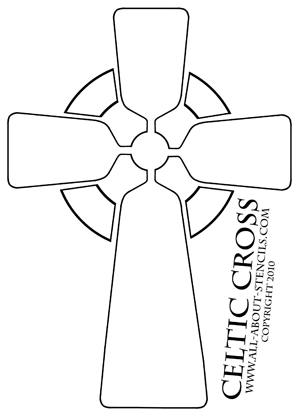 It is said that the Art Nouveau Style has been influenced to some extent by the Celtic Stencil Style. To learn more about this art form go to Art Nouveau Stencil and get a free stencil too.
Hey! Do not forget that I (and everyone else) want to see what you have done with your Celtic Stencils. Just click on Stenciling Projects Stenciling Projects to get your masterpiece showcased here on this web site. Won't that be exciting! Or if you have any questions or want to share information join in on the Stencil Blog. Click here to Join the Stencil Blog Well, I hope to hear from you soon.
Happy Stenciling,
Penny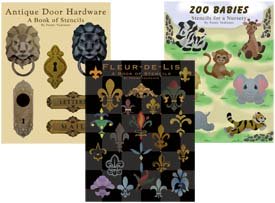 P.S. We are thrilled to introduce our selection of downloadable and printable Stencil Designs. Instant gratification at its finest! You don't need a special printer - these designs are specially formatted to print from your home computer on standard letter sized paper. Once downloaded, you will have your complete stencil booklet with patterns and instructions. Just click, buy and print!
If you'd rather get your Stencil Pattern Books in Print, then visit our Printer's Book Shop for the same designs in book format that will be mailed to you. You'll find all of the stencils used as examples throughout this site.
Would you like to build a web site like this one and turn a passion into a business? Well, if I did it, you can too! Do not think that you have to be a web designer and know all about computer codes. With Solo Build It! it's easy. They have the tools to help you create a successful web site. Want more information? Just click on Powered by Solo Build It!  and watch a cool video that will explain everything. I know you'll get excited like I did.
---
Return to Home Page from Celtic Stencils.

Return to Stencil Designs from Celtic Stencils.